Who is Love Babbar?
Love Babbar is a famous Youtuber, graduated from NSUT Delhi who has also worked as a Software Engineer at Amazon.
What is a DSA Sheet?
A sheet that covers almost every concept of Data Structures and Algorithms.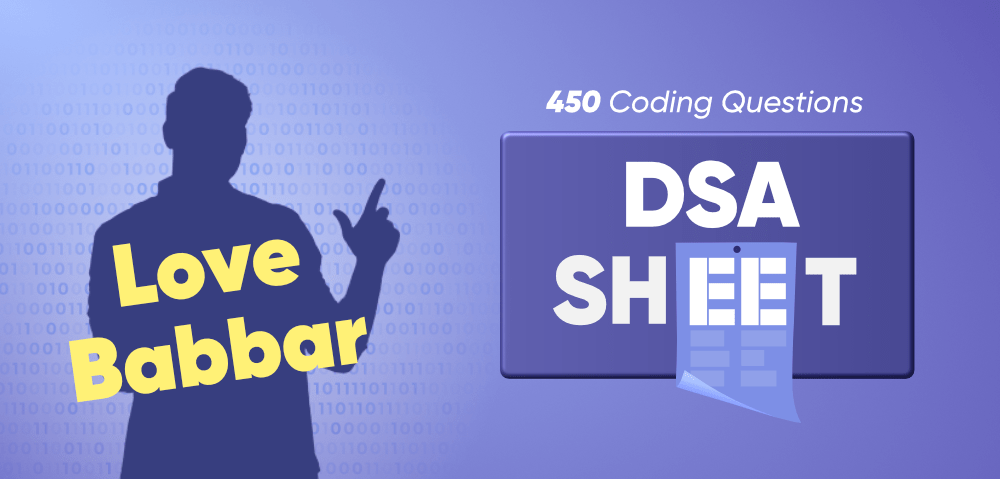 So, this DSA sheet by Love Babbar contains 450 coding questions which will help in:
Understanding each and every concept of DSA.
Clearing the DSA round for the Interviews, as these are the questions generally asked in the companies like Amazon, Microsoft, Google, etc.
Basic Knowledge of Data Structures and Algorithms.
Know how to use STL as it will make data structures and few techniques easier to implement.
Below is the topic-wise distribution of 450 questions:
This sheet can be completed within 2-3 months without any cheat day. So, Start solving this 450 DSA Cracker from today itself. Keep a track of all the problems mentioned below: Practice Love Babbar DSA Sheet
Arrays
Matrix
Strings
Searching and Sorting:
LinkedList:
Bit Manipulation:
Greedy
Backtracking
Dynamic Programming
Stacks and Queues
Binary Trees
Binary Search Tree:
Graphs
Heap
Trie