How to get Technical Content Writing Internship at Geeksforgeeks.org?
To all the students who're good at article writing and at the same time knowledgeable enough to write about a particular topic with some good research practices – GeeksforGeeks offers the Technical Content Writing Internship for them. This internship program by GeeksforGeeks is very much recommended to all the students as it'll not help you to expand your knowledge for the preferred topic or domain but will also add the much-needed value to your resume that eventually gives you an edge over others during placements.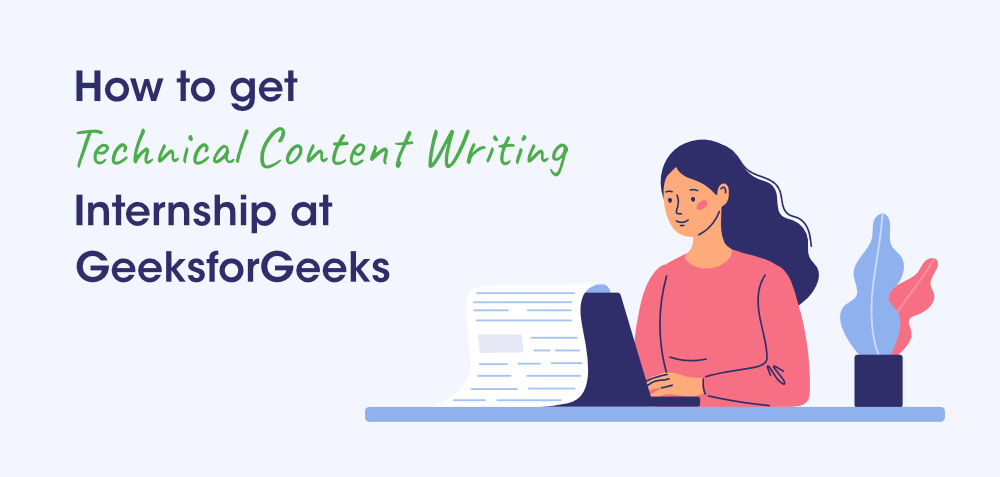 You can apply for the internship program by simply clicking on the 'Apply for Internship' button from GeeksforGeeks Write Portal. Now, let's take a look at all the details for the selection process of Technical Content Writing Internship at GeeksforGeeks:
Firstly, what you need to do is write two sample articles on a topic of your area of interest and submit your articles on https://write.geeksforgeeks.org/. In case, if you have already written two articles, you can directly click on apply internship button.
If you are not sure about which topic to write about, then you can opt to choose a topic from here. Here, we have a pool of topics from which you can choose and write as per your interest. Please ensure that you write on those topics which are not published on GeeksforGeeks already.
Also, your first 2 articles for your selection should not be under these categories or similar types: Function, Method, Difference Between, Interview Experiences, Placements, and Internships.
Once your two articles are published, please go to https://write.geeksforgeeks.org/internship, apply for the Internship/Freelance, download the Offer Letter and upload the signed Offer Letter there.
How to Write an Article?
Click on https://write.geeksforgeeks.org/ and start writing your article under the "Write an Article" section.
Once you have written the article, click on "Submit for Review". It is strongly recommended to completely check your article before submitting it for review. The articles which are incorrect or promotional or plagiarized may lead to rejection.
For article publication or any feedback, you will be notified at your registered Email address. In case of feedback, you are expected to make the suggested changes and resubmit them for review.
Benefits of Technical Content Writing Internship at GeeksforGeeks?
It helps you during the placements as you study thoroughly before writing about a topic.
You get feedback for what you write, and thus you know where you should improvise accordingly.
You get the prestigious certification for all the duration you write that also boosts your resume.
Allows you to connect and share your skills with others across the world.
As it is a Work from Home internship, so there's a lot of flexibility, and you get adequate time to do your own stuff too along with the internship.
And yes, it is a PAID INTERNSHIP i.e., you'll get paid for the content that you write to help others.
Note: Do remember that your initial 2 articles (sample articles) will not be considered for any kind of remuneration. Also, once you become eligible for the remuneration (i.e. when your 10 articles get successfully published at GeeksforGeeks), you're recommended to apply for the remuneration before the end of the month as the remuneration amount is generally credited in the first week of the next month. For example – for August month, if you will apply before 31st August, then you will get the remuneration on the first week of September however if you'll apply after 31st August then you'll get the remuneration amount on the first week of October.
General Guidelines
Plagiarism of content from other websites or resources is highly discouraged.
The Amount paid per Article will be the best as per industry standards and will depend upon the content and quality of your article.
The articles with these tags or similar are not eligible for Remuneration: Interview Experiences, Placements, and Internships.
Publication of an article is a multi-stage process, and it takes a minimum of 7 working days for an article to get published, in general. If your article does not get published within 7 days, kindly drop an e-mail to review-team@geeksforgeeks.org regarding the publication of your article.
Frequently Asked Questions (FAQs)
Q-1. Can individuals (other than students) apply for the Technical Content Writing Internship at GeeksforGeeks?
Ans. No, Technical Content Writing Internship is only available to the students who're currently studying. Though, other individuals can apply for the Freelance Technical Content Writing program.
Q-2. What will be the duration of the internship program?
Ans. You can opt for any of the following internship periods at your convenience from these: 2 months, 3 months, or 6 months.
Q-3. Will I get any certificate after the completion of the Internship?
Ans. Yes, you'll get GeeksforGeeks Technical Content Writing Internship Certificate for all the duration you write.
Q-4. How will I get the remuneration for my articles?
Ans. Drop a mail at careers@geeksforgeeks.org after the successful publication of at least 10 articles. Our team will provide you a remuneration link which will be the same whenever you will apply for the remuneration.
My Personal Notes
arrow_drop_up