Must Do Coding Questions for Companies like Amazon, Microsoft, Adobe, …
As the placement season is back so are we to help you ace the interview. We have selected some most commonly asked and must do practice problems for you.
You can also take part in our mock placement contests which will help you learn different topics and practice at the same time, simulating the feeling of a real placement test environment.
Note : Now you can track your progress of these questions Must Do Interview Preparation Course.
Preparing for Product-Based Companies ? Check Out Must Do Coding Questions for Product Based Companies
Topic :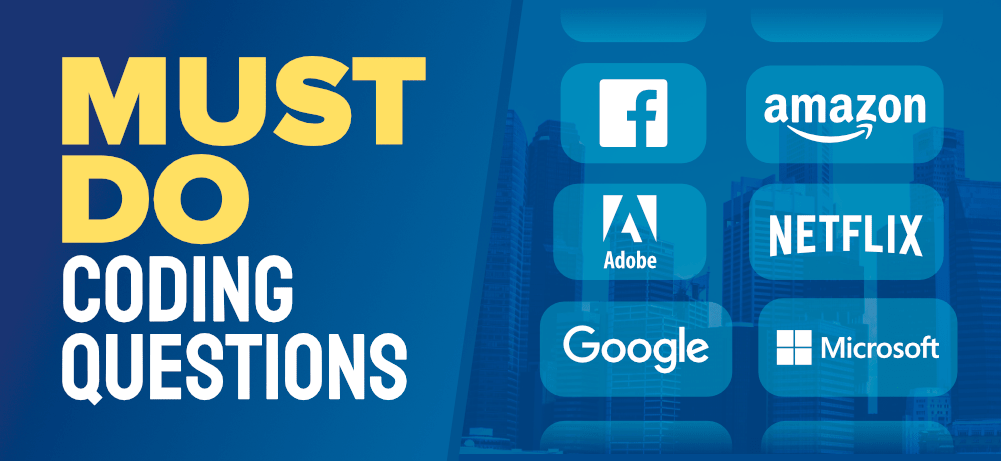 Arrays
Solved the above? Go for some more Questions
Get fulfilled all your interview preparation needs at a single place with the Complete Interview Preparation Course that provides you all the required stuff to prepare for any product-based, service-based, or start-up company at the most affordable prices. Practice 200+ coding interview questions with the help of this course and get yourself interview prepared for your dream company.
String
Solved the above? Go for some more Questions
Linked List
Stack and Queue
Tree
Solved the above? Go for some more Questions
Heap
Recursion
Hashing
Graph
Greedy
Dynamic Programming
Divide and Conquer
Backtracking
Bit Magic
Some More Questions on Arrays
Some More Questions on Strings
Some more Questions on Trees
Important Links :
Learn any programming language from scratch and understand all its fundamentals concepts for a strong programming foundation in the easiest possible manner with help of GeeksforGeeks Language Foundation Courses – C Programming | Java Foundation | Python Foundation | C++ Foundation

Start learning Data Structures and Algorithms to prepare for the interviews of top IT giants like Microsoft, Amazon, Adobe, etc. with DSA Self-Paced Course where you will get to learn and master DSA from basic to advanced level and that too at your own pace and convenience.
If you like GeeksforGeeks and would like to contribute, you can also write an article and mail your article to review-team@geeksforgeeks.org. See your article appearing on the GeeksforGeeks main page and help other Geeks.
Please write comments if you find anything incorrect, or you want to share more information about the topic discussed above
My Personal Notes
arrow_drop_up