The Math object is used to perform mathematical operations on numbers.
Example:
<!DOCTYPE html>
<html>
<body>
<h2>GeeksforGeeks</h2>
<script>
// Return PI value(3.141592653589793)
document.write(Math.PI);
</script>
</body>
</html>
chevron_right
filter_none
Output: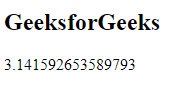 There are many Math object properties and Methods in JavaScript which are listed below:
Math object properties:
Math object Methods:
My Personal Notes
arrow_drop_up
---
---
If you like GeeksforGeeks and would like to contribute, you can also write an article using contribute.geeksforgeeks.org or mail your article to contribute@geeksforgeeks.org. See your article appearing on the GeeksforGeeks main page and help other Geeks.
Please Improve this article if you find anything incorrect by clicking on the "Improve Article" button below.