Kerberos provides a centralized authentication server whose function is to authenticate users to servers and servers to users. In Kerberos Authentication server and database is used for client authentication. Kerberos runs as a third-party trusted server known as the Key Distribution Center (KDC). Each user and service on the network is a principal.
The main components of Kerberos are:

Authentication Server (AS):
The Authentication Server performs the initial authentication and ticket for Ticket Granting Service.

Database:
The Authentication Server verifies the access rights of users in the database.

Ticket Granting Server (TGS):
The Ticket Granting Server issues the ticket for the Server

Kerberos Overview: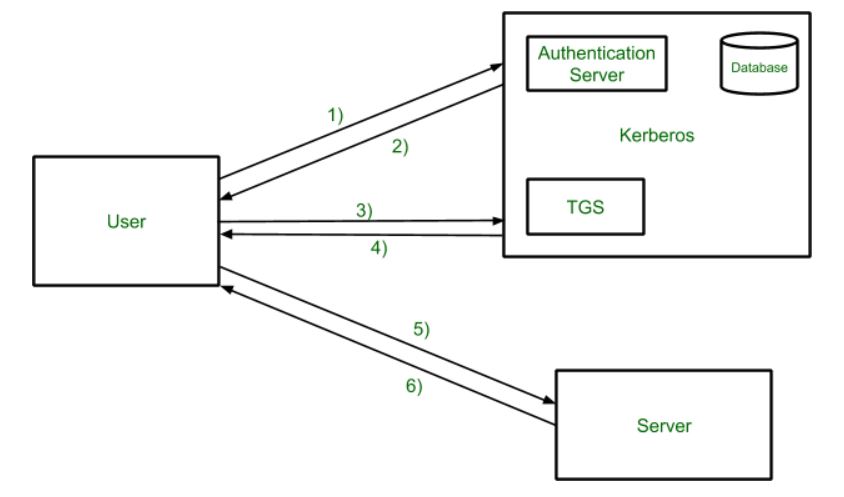 Step-1:
User login and request services on the host. Thus user requests for ticket-granting service.

Step-2:
Authentication Server verifies user's access right using database and then gives ticket-granting-ticket and session key. Results are encrypted using the Password of the user.

Step-3:
The decryption of the message is done using the password then send the ticket to Ticket Granting Server. The Ticket contains authenticators like user names and network addresses.

Step-4:
Ticket Granting Server decrypts the ticket sent by User and authenticator verifies the request then creates the ticket for requesting services from the Server.

Step-5:
The user sends the Ticket and Authenticator to the Server.

Step-6:
The server verifies the Ticket and authenticators then generate access to the service. After this User can access the services.
Kerberos Limitations
Each network service must be modified individually for use with Kerberos
It doesn't work well in a timeshare environment
Secured Kerberos Server
Requires an always-on Kerberos server
Stores all passwords are encrypted with a single key
Assumes workstations are secure
May result in cascading loss of trust.
Scalability
Is Kerberos Infallible?
No security measure is 100% impregnable, and Kerberos is no exception. Because it's been around for so long, hackers have had the ability over the years to find ways around it, typically through forging tickets, repeated attempts at password guessing (brute force/credential stuffing), and the use of malware, to downgrade the encryption.
Despite this, Kerberos remains the best access security protocol available today. The protocol is flexible enough to employ stronger encryption algorithms to combat new threats, and if users employ good password-choice guidelines, you shouldn't have a problem!
What is Kerberos Used For?
Although Kerberos can be found everywhere in the digital world, it is commonly used in secure systems that rely on robust authentication and auditing capabilities. Kerberos is used for Posix, Active Directory, NFS, and Samba authentication. It is also an alternative authentication system to SSH, POP, and SMTP.
My Personal Notes
arrow_drop_up