Kerberos provides a centralize authentication server whose function is to authenticate users to servers and servers to users. In Kerberos Authentication server and database is used for client authentication. Kerberos run as a third-party trusted server known as the Key Distribution Center (KDC). Each user and service on the network is a principal.
The main components of Kerberos are:
Authentication Server (AS):
The Authentication Server performs the initial authentication and ticket for Ticket Granting Service.
Database:
The Authentication Server verifies access rightd of users in database.
Ticket Granting Server (TGS):
The Ticket Granting Server issues the ticket for the Server
Kerberos Overview: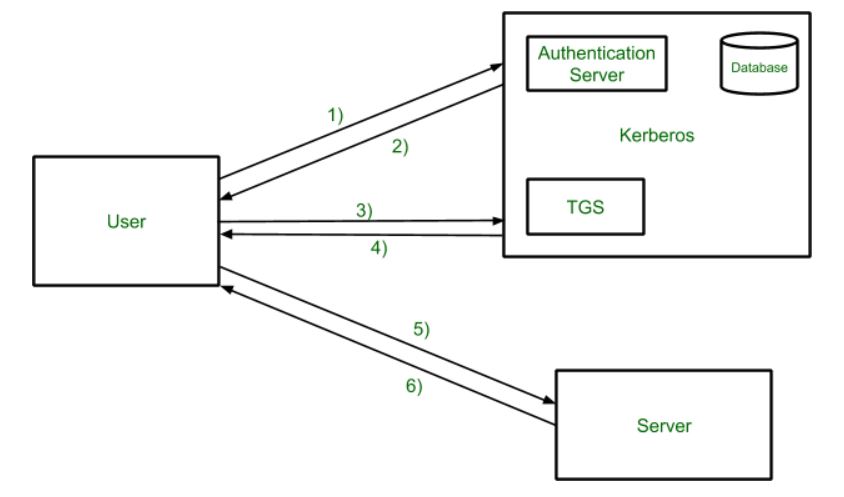 Step-1:
User logon and request services on host. Thus user request for ticket-granting-service.
Step-2:
Authentication Server verifies user's access right using database and then gives ticket-granting-ticket and session key. Results are encrypted using Password of user.
Step-3:
Decryption of message is done using the password then send the ticket to Ticket Granting Server. The Ticket contain authenticators like user name and network address.
Step-4:
Ticket Granting Server decrypts the ticket send by User and authenticator verifies the request then creates the ticket for requesting services from the Server.
Step-5:
User send the Ticket and Authenticator to the Server.
Step-6:
Server verifies the Ticket and authenticators then generate the access to the service. After this User can access the services.
My Personal Notes
arrow_drop_up
---
---
If you like GeeksforGeeks and would like to contribute, you can also write an article using contribute.geeksforgeeks.org or mail your article to contribute@geeksforgeeks.org. See your article appearing on the GeeksforGeeks main page and help other Geeks.
Please Improve this article if you find anything incorrect by clicking on the "Improve Article" button below.