Bridge the Gap Between Engineering and Your Dream Job – Complete Interview Preparation
In India, lakhs of students enroll themselves in engineering colleges every year to establish a successful career in the engineering discipline. And why not, as engineering has always been responsible for opening the doors of various lucrative career opportunities in the job market. However, if we take a look at several facts & figures in recent times, it shows something different:
As per the reports, approx. 72% of engineering graduates haven't got any job opportunities during campus placement for the session 2019-20.
Also, according to a survey report of 1000 candidates, only 26-27% of individuals are confident of landing up a job with their desired package as per their skills.
Now, many of us would think that these stats are showing the lack of job opportunities, right…? A big NO!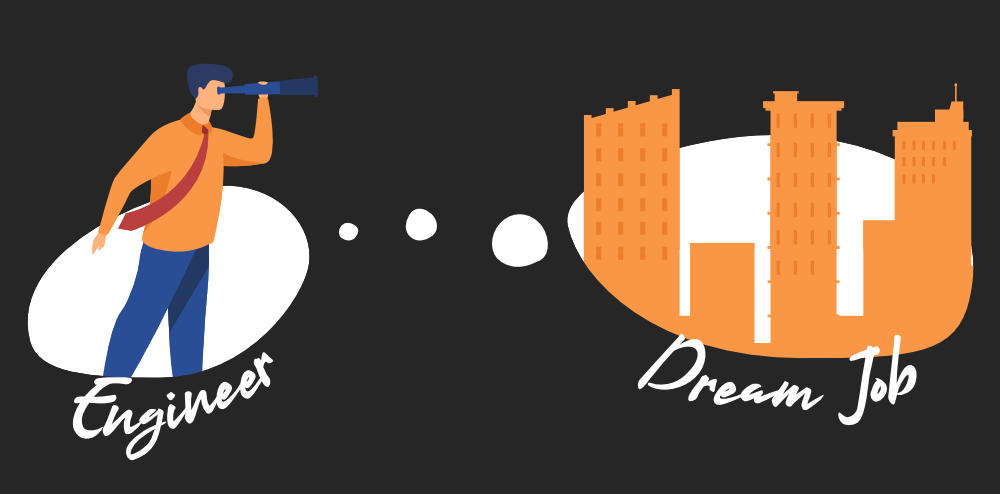 Are There Enough Job Opportunities for Tech Graduates?
However, it is quite true that there is a massive crowd of engineering students every year who compete with each other for landing up a job in their dream company but no one can also deny this fact the job opportunities in the tech world are growing exponentially. Whether we talk about leading IT giants such as Google, Facebook, Microsoft, etc., or any startup company, they all are coming with numerous career opportunities regularly in various domains and technologies for the students.
So, if there exists both – engineers and job opportunities, why unemployability rate is still rising among the tech graduates, and where does the problem lie…?
Let's make it clear — the problem lies in the approach itself. It can be understood as – according to the organizations, more than 70% of tech graduates are actually not employable because of the lack of required skill set in the industry. Despite following the 4-year engineering curriculum, students don't find themselves in a position having industry-related and practical knowledge required for placements.
However, there is nothing wrong with the engineering curriculum as it gives you vast exposure to various subjects and areas of computer science but it is up to you to equip yourself with the relevant skillset that is required to get job opportunities. Before moving further, take a look at the below-mentioned stats of tech graduates:
Around 40% of engineers in India aren't able to write error-free and clean code.
Among all the students, only 42-45% of engineering students do some worthwhile internships and projects.
Nearly 3-4% of engineers in India possess new-age tech skills such as AI, ML, etc.
Now, you can understand why there is a need for the students to have a specific approach towards the job market and prepare themselves with an appropriate skillset that can ensure them the desired job in their dream company that too with an effective salary package.
How to Make Yourself Industry-Ready?
But again, the question arises – how can a student equip himself with the required skill set for the jobs? So, there should be a strategical approach behind this placement preparation such as firstly you need to identify which subjects or tech skills are having the most weightage during placements. Then you need to look out for worthwhile content and resources to accordingly upskill yourself. You also need to practice your skills before actual interviews, guidance from mentors or industry experts, and several other processes.
And wait…would not it be great if you can get to cover all these placement preparation strategies & resources in a single place?
Yes, you can!!! With the help of the Complete Interview Preparation Course offered by GeeksforGeeks, you can excel in your interview preparation as the course consists of almost everything that you would need to get into your dream job and that too within much affordable price. And yes, if you're considering it similar to one of those thousands of courses available over the web then you must look into the details of the course, mentioned below, to get all your doubts clear.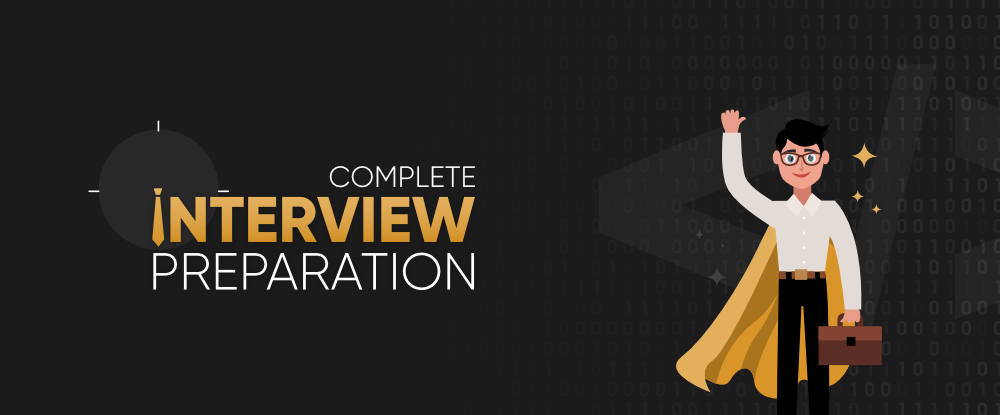 The GeeksforGeeks Complete Interview Preparation course is a one-stop solution for the students (and for working professionals as well!!) that consists of every single requirement of yours for placement preparation. You'll be provided with premium lectures, theory, practice tests, assessment tests, and much more that can help you to land up your dream job. The course is extensively designed in such a way that it focuses more on the smart learning process as different subjects hold different weightage during placements.
In addition, whether you're looking for a job in any leading product-based company, service-based company, or even startup venture, this course is here to get you the job you want! Here, you'll get to learn:
Understanding of Programming Languages (C++ & Java)
Object-Oriented Programming (OOPs) Concepts
Libraries (C++ STL / Java Collection)
Data Structures & Algorithms (Basic to Advanced Level)
Object-Oriented Analysis and Design Concepts & Case Studies
Computer Science subjects like Operating System, Computer Networks, DBMS, etc.
Aptitude and Reasoning
Resume Building
Some of the remarkable features of the Complete Interview Preparation course are listed below:
200+ algorithmic coding problems
Track-based learning + Weekly assessment tests
Premium Lecture videos by Mr. Sandeep Jain (CEO & Founder, GeeksforGeeks) and other industry experts
Subject-wise Theoretical content + Objective Questions designed by subject experts.
Lifetime access to the Course + Course Completion Certificate
Access to the GeeksforGeeks Jobs portal + Internship Opportunities at GeeksforGeeks
FAQ's about interviews and how to crack them
If you want to take the review of the course then you can go through the Testimonials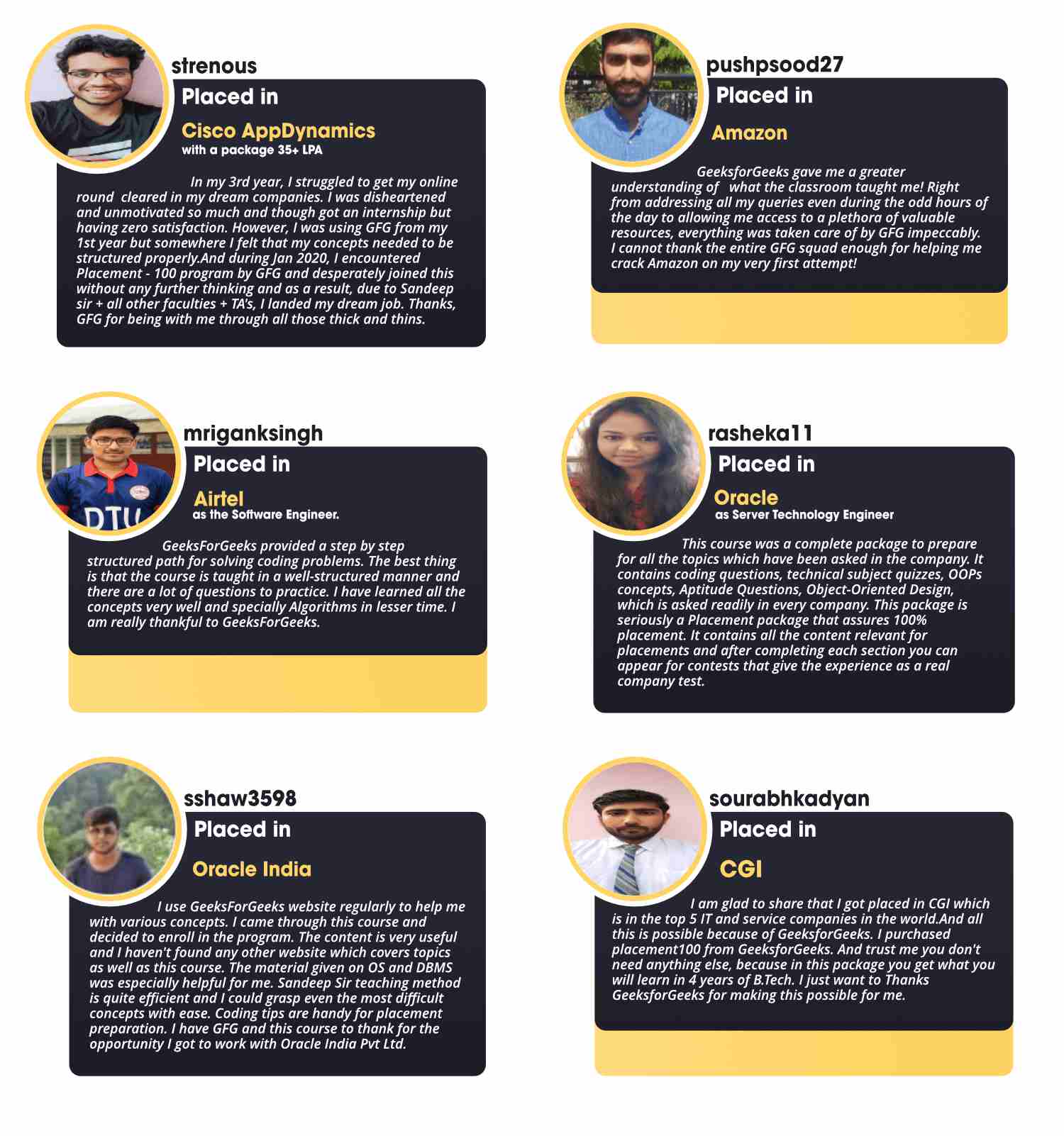 As mentioned above, this is the right time for all the students (especially final year ones!!) to upskill themselves to land up their dream job. Despite wobbling under the pressure of unemployment and rejection by the companies, students need to take a step forward and make them industry-ready by equipping themselves with the required learnings & skillset. And the Complete Interview Preparation course can help you out in this process and can effectively reduce this unwanted gap between engineering and placements!!
My Personal Notes
arrow_drop_up