10 Best Tips to Prepare for Aptitude Test For Campus Placement in 2023
Aptitude Tests are used by many recruiters around the world. Their purpose is to test technical skills, attitudes, and soft skills related to the search for a figure to be included in the company. Beyond specific professional skills, Aptitude tests are generally designed to assess a candidate's logical reasoning and thinking performance. Generally, aptitude tests contain multiple-choice questions and they are timed as well. Since tests like this one are required in many national-level exams, candidates like yourself should prepare beforehand to crack aptitude tests for campus placement. We've compiled the best tips that can help you ace the test with flying colors.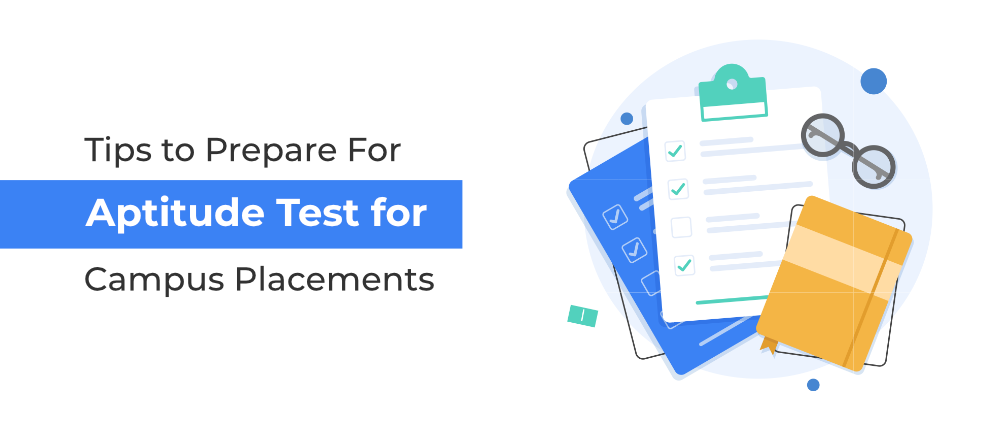 As you know, an aptitude test is used to evaluate performance and reactions on specific tasks. Hence, it became an assessment tool widely used by large companies in personnel selection processes. To pass the aptitude test, we've compiled the 10 best tips below:
1. The Approach is the Key
Being agitated before and during an exam is absolutely normal, but it is necessary to learn to manage these feelings to avoid them negatively affecting our exam. Determination during preparation and strong nerves during the examination. No second thoughts or hesitation, therefore, but discipline and courage. This is the right attitude to be able to pass the exam in the best possible way.
Although willpower and commitment were not lacking during the preparation for the exam, emotionality can often play a bad trick while we take it. Consequently, making mistakes becomes easier and the concepts studied become confusing in the mind. Hence, it is important to learn to control your nerves.
2. Practice, Practice, and Practice!
You cannot be sure about what is going to be in the actual text, however, there are plenty of online assessments that provide you with a good indication of what to expect. The more you practice, the more prepared you will be and the less likely you are to catch yourself unprepared or off guard. Furthermore, the practice allows you to clearly understand your weaknesses or areas in which you have major gaps and to focus on them.
You will sharpen your competencies in those areas, to offer you a better prospect of success. The web is a colossal source with regard to aptitude tests. Indeed, on the internet, there are many resources, models, and tests that you can counsel considering the prospective interview.
3. Do Not Procrastinate
Never put off what you could do today until tomorrow. Thus, do not procrastinate and don't always give yourself alibis to avoid studying. Organize your days and build a schedule: define the time you dedicate to each activity from the beginning, providing moments of rest and leisure. Try not to import exhausting study rhythms but plan sensibly and realistically.
Related Article – Aptitude for Placements
4. Time Management During the Exam
Generally, there is a time in which the aptitude test must be solved, and it would be good to respect the timetable. Then it is essential to try to answer all the questions. Take a moment to answer the questions, do not be impulsive, and think. It is essential to rationally use the time available by calculating the average time available for each question before starting the test, which should always be kept in mind.
This timing is simply defined by the total time available divided by the number of exercises that make up the test; the calculation helps the candidate not to spend excessive time solving each question. Generally, the average time available per question in the aptitude tests varies from 1 to 2 minutes, depending on the tests. However, the fact that some exercises are less complex and can be solved in less than the average time allows different management of the time available.
5. Think Carefully and Be Confident
Do not believe everything the examiner tells you. He might tell you that there is no right answer among those proposals, but if you are sure that there is, you can assert your reasons. It could be a way to see if you have grit or if you are a worker who accepts everything the boss says without doing the good of the company. It is essential to try to answer all the questions.
Take a moment to answer the questions, do not be impulsive, and think. Besides, try not to delete the answers. Always think before you mark the one you think is correct. If you delete it means that you have answered straight away, and the examiner may consider this move as superficial.
6. Use the Resources Available
In the library, it is possible to find several volumes that help the candidate to learn more about the tests, with concrete examples to fill out. The internet is also a great ally: on the net, there is a large range of online material available on pre-employment testing to improve your test performance. With the right level of preparation, you will be able to pass the test without problems.
7. Be Careful About the Trap Questions
In the questions of the aptitude test there will probably be a neutral answer, that is, it is neither right nor wrong. It may be okay to choose it if it is a difficult situation, however, too many neutral answers could invalidate your test or pass as too cautious. The trap questions, whose sole purpose is to unmask those who, at least in that test, lacked sincerity. Some questions are the same as others, only formulated completely differently. If a person responds differently, then it means that he was not being sincere. In less striking cases, it would only be an indication of mental confusion and indecision, but the situation would not improve anyway.
The aptitude tests do generate a state of agitation and fear in the candidate. Because they test your ability to understand, analyze, and interpret situations unknown. The important thing in these cases is not to panic. If you follow the advice given in this article you will surely pass the test without too much difficulty.
8. Old Practice Paper is Must for Practice
When preparing for aptitude tests, practice with the help of old practice papers is a must. Candidates can find many online aptitude tests where the old practice question paper is updated. It'll help them to test their capability and measure where they're lacking. While practicing from old practice papers, you should ensure that they put a timer while solving the questions. It'll increase your speed and efficiency.
9. Avoid Answering in Sequence
Some test takers place a strong emphasis on answering each question in the correct sequence. However, rather than waste time on questions that take too long, it is advisable to finish easy ones first and then tackle difficult ones. There is no need to answer the questions in any particular sequence. It's also important that you practice on the same device that you'll use for the actual test. We highly advise that you use a desktop computer rather than a phone, tablet, or laptop. These other devices can be limited; you can't utilize the convenience of a mouse.
10. Pay Attention to the First Five Questions
When taking a computerized aptitude test, pay close attention to the first five questions. This is due to the fact that computer-based assessments often base the remaining questions on your responses to the first five questions. The crucial thing to remember here is that the first five questions will be more difficult, but with practice, answering these questions correctly will have a significant influence on your entire score, improving it significantly.
Bottom Line
Cracking aptitude tests is not a tough nut to crack if you do the needful beforehand. Topics like Profit and loss, probability, permutations and combinations, averages, ratio and proportion, mensuration, mixtures, numbers, time and distance, and time and work come in the aptitude test. After revising these topics, each day takes one or two topics depending on your capability. Watch Youtube videos and keep practicing to master the questions and topics to pass the aptitude round.
My Personal Notes
arrow_drop_up