HTML | onoffline Event Attribute
The onoffline event attribute works when the browser work in offline mode. It is supported by <body> tag only. It is an opposite of ononline event attribute.
Supported Tags
Syntax:
<element onoffline = "script">
Attribute Value: The script event is run when onoffline attribute is called.
Example:
HTML
<!DOCTYPE html>
<html>
<head>
<title>onoffline event attribute</title>
<style>
h1 {
color:green;
}
body {
text-align:center;
}
</style>
</head>
<body onoffline = "gfg()">
<h1>GeeksforGeeks</h1>
<h2>onoffline Event Attribute</h2>
<script>
function gfg() {
alert ("Browser working in offline mode");
}
</script>
</body>
</html>
Output: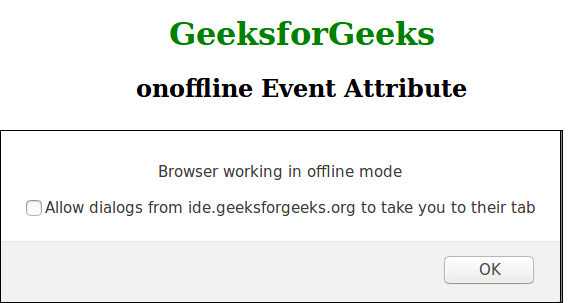 Supported Browsers: The browser supported by onoffline event attribute are listed below:
Chrome 3
Edge 12
Firefox 9
Internet Explorer 9
Opera 15
Safari 4
My Personal Notes
arrow_drop_up