The HTML form Attribute is used to specify that the element can contain one or more forms. This attributes can be used on the following elements such as:

Syntax:

<element form="form_id"> 
Attribute Value: It contains single value form_id which contains the value i.e form_id which specify the one or more than the button element belongs to. The value of this attribute should be the id of the <form> element.
Example:

html
<!DOCTYPE html>
<html>
<head>
<title>
HTML button form Attribute
</title>
</head>
<body style="text-align:center">
<h1 style="color:green;">
GeeksforGeeks
</h1>
<h2>
HTML <button> form Attribute
</h2>
<form id="myGeeks"></form>
<button id="btn" name="myGeeks" form="myGeeks"
onclick="geek()">
Click me!
</button>
</body>
</html>
Output: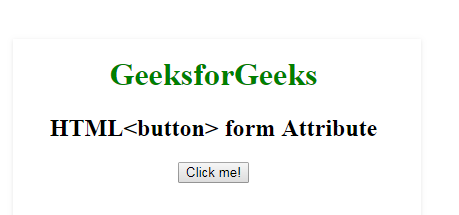 Supported Browsers: The browser supported by HTML form Attribute are listed below:

Google Chrome
Internet Explorer 10.0 +
Firefox
Opera
Safari
My Personal Notes
arrow_drop_up