The size attribute in HTML is used to specify the initial width for the input field and a number of visible rows for the select element.
The size attribute can be used with the following elements:
Attribute Values: It contains a numeric value that specify the number of visible options in the drop-down list. It has a default value which is 4.
<input> size Attribute: This attribute specifies the visible width of input element.
Syntax:
<input size = "value">
Example:
html
<!DOCTYPE html>
<html>
<head>
<title>HTML size Attribute</title>
<style>
h1,
h2 {
text-align: center;
}
</style>
</head>
<body>
<center>
<h1 style="color: green;">
GeeksforGeeks
</h1>
<h2>
HTML size Attribute
</h2>
<!-- It is the default size -->
Name:
<input type="text">
<br>
<br>
<!-- It's user specified size with value 50 -->
Email-id:
<input type="text" size="50">
</center>
</body>
</html>
Output:

<select> size Attribute: This attribute specifies the number of visible options in a drop-down list.
Syntax:

<select size = "value"> option values...</select>
Example:

html
<!DOCTYPE html>
<html>
<head>
<title>HTML size Attribute</title>
<style>
h1, h2 {
text-align: center;
}
</style>
</head>
<body>
<h1 style = "color: green;">
GeeksforGeeks
</h1>
<h2>
HTML size Attribute
</h2>
<p>Sorting Algorithms</p>
<select size="3">
<option value="merge">
merge sort
</option>
<option value="bubble">
bubble sort
</option>
<option value="selection">
selection sort</option>
<option value="quick">quick sort</option>
<option value="insertion">insertion sort</option>
</select>
</body>
</html>
Output: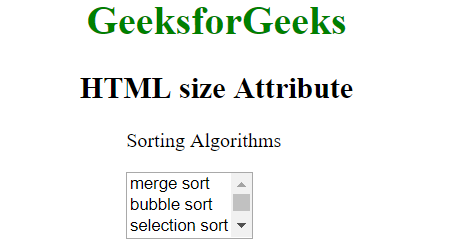 <hr> size Attribute: This attribute specifies the height of the horizontal line.
Syntax:

<hr size = "value">
Example:

html
<!DOCTYPE html>
<html>
<head>
<title>HTML size Attribute</title>
<style>
h1, h2 {
text-align: center;
}
hr {
background: green;
}
</style>
</head>
<body>
<h1 style = "color: green;">
GeeksforGeeks
</h1>
<h2>
HTML size Attribute
</h2>
<hr size = "26">
</body>
</html>
Output:

Supported Browsers: The browsers supported by size attribute are listed below:

Google Chrome
Internet Explorer
Firefox
Opera
Safari
My Personal Notes
arrow_drop_up