5 Reasons Why You Should Go For A Digital Portfolio
A portfolio is a collection of various projects, experiences, skills, or any other thing you want to showcase. But physical portfolios are a thing of the past. Today everything is online and easily accessible and that is what portfolios should be too. Digital portfolios are exactly the same as physical portfolios, except that they are electronic, or in simple terms, present on the web. If you are a student or a working professional, having a digital portfolio will make you stand out. This is because everyone has a resume today and anyone can draft a cover letter. But showcasing your skills through a digitalized medium makes you look creative and more importantly, tech-savvy.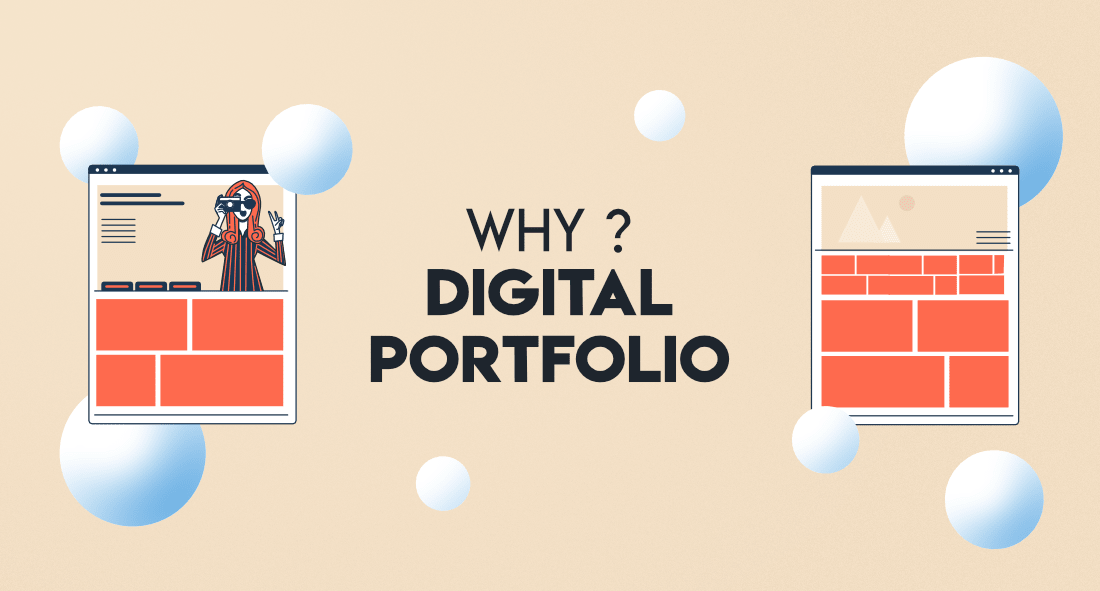 If you decide to build your digital portfolio from scratch, the procedure can be quite intimidating because it requires a great deal of commitment, creativity, desire, and time. It may even look daunting to create one at first since you may have to learn a few technologies and languages if you want to make a dynamic and customized digital portfolio which is especially relatable in the case of computer science or design students. Once you build it, it will certainly attract recruiters.
These portfolios can either be created by developing them from scratch using technologies like web design, JavaScript, HTML, CSS, Bootstrap with adding some features that are unique to your portfolio and hosting them online or can be made by using boilerplates that does not require excessive coding and will help you speed up but can be paid. In this article, we focus on 5 reasons why you should build a digital portfolio, and we hope it will motivate you enough to get started for the same!
1. Ease of Sharing
There are various occasions where taking a resume with you turns out to be a nightmare and may even fire back. This can be if it is a rainy day and your resume gets wet. Or, it is possible that the sheets crumple and give a wrong impression to the recruiter or interviewer. There are times when you forget where you kept your resume and either bang your head here and there to find it or finally take out another print. In such cases, it is much more efficient to send the digital portfolio as there is no mess of keeping the pages straight and clean as you can simply send the link of the portfolio.
2. Ease of Maintaining
What happens when you have made a new project or gathered an experience from somewhere, or even added something to your skills? You will have to again restructure your resume. To add this new skill, project, experience, or even a little accomplishment, you will have to displace a few items, change font size, etc. to save space from places since most of the resumes are single-paged, highly compact A4 sized sheets with limited spaces and gaps. A better alternative to this is a digital portfolio. Whenever you feel like adding something, simply add a few lines of code, and there you go! There is no need of spending hours on restructuring lines, details, and font sizes.
3. Making An Impression On The Recruiter
Someone said that the first impression is the last impression, so why not amend it while going for a job interview? There are hundreds of candidates, everyone with a white sheet of paper that looks similar to all other resumes out there. There is no way a recruiter can remember you individually since it is impossible to recollect the uniqueness of every person with an identical-looking resume. To make a lasting impression on the interviewer, it is best to have a digital resume with all sorts of creativity as that will make you stand out from the crowd.
4. Reflects Your Story
Resumes used to be great, but they can be just too boring and technical at times. Recruiters can forget half of the information they read since there is nothing very different or unique. Here, digital portfolios can come in handy as you can take the recruiters through your personal story. You can demonstrate your skills, interests, and hobbies via images, gif, or even small videos. You can add project links with a little description along with the project's final UI that may help the interviewer understand you better. You can start from the beginning of your journey and slowly move the recruiter through different phases as you like, making it appealing and more memorable.
5. Accessibility via Online Platforms
It is quite easy to be noticed by a lot of people if you post your portfolio online on any professional platforms like LinkedIn or Twitter. It can be accessed anywhere and at any time of the day. These days most social platforms have a link section for you to add your portfolio website which people can go to if they visit your website. While the description section is limited, you can add the portfolio link for people to view it. It will not only grow your reach and popularity but can also make you desirable by a recruiter.
These were the main reasons why you should have your personal digital portfolio. There are a few more reasons like it saves paper, and you can maintain the same portfolio for years by adding new stuff to it. So go ahead to make one for yourself now, if you don't have a digital portfolio!
My Personal Notes
arrow_drop_up