5 Reasons Why Enterprise Level Brands Should Invest in Augmented Reality Apps
In the midst of the pandemic, it's getting increasingly challenging to keep businesses up and running. However, advancements in app development are offering a growing range of options for both consumers and businesses. By incorporating emerging technologies such as Augmented Reality (AR), enterprises are transforming the way we work, shop, and play.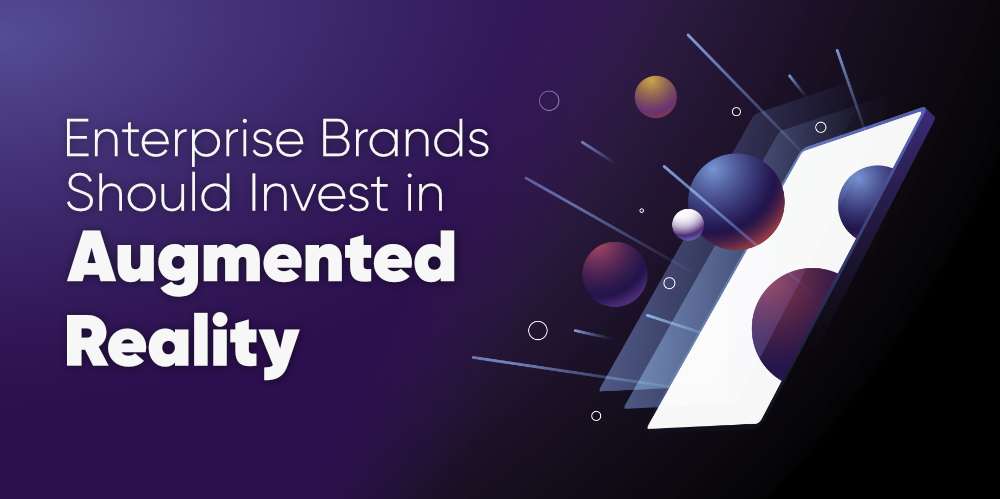 Business owners know that if they wish to remain competitive in today's online landscape, they're going to have to adapt to innovative digital marketing trends rather quickly. More importantly, customer experience (CX) has always been a driving factor for success.
Brands know that facilitating online purchasing and offering novel shopping experiences is the way to win customers over. And since customers are more tech-savvy, they expect to encounter experiences that will blow them away.
It's time to identify why you, as an enterprise-level brand, should invest in Augmented Reality?
1. Don't Get Left Behind
Research shows an increasing number of businesses are adopting some sort of AR technology in their brand or product.
According to Statista, 35% of surveyed companies have AR or VR technologies in at least one business unit. Only 11% do not plan or know whether they want to implement the technology. Moreover, the international market for AR products will increase by 80% by 2024, claims Global Market Insights.
The above research clearly shows that even if you're not offering apps that incorporate features with AR capabilities, others already are or plan to do so in the near future. AR is presenting an amazing opportunity for extending the "brand-consumer" relationship with its immersive experiences.
In fact, it is quite an effective marketing strategy as it instantly grabs a customer's attention and brings the user into the story. And since the hype of new AR-backed shopping experiences can draw customers to a brand, you're losing customers to the competition if you don't offer it.
But another important aspect that you should consider is that the current pandemic condition could take a couple of years to clear up. While transferring onto the digital platform has now become mandatory, it's only a matter of time that brands will need to offer a better way to shop online. At the moment, AR is one of the best solutions.
And this brings us to the next point.
2. AR Offers Try-Before-You-Buy Shopping Experiences
Nearly 70% of consumers expect retailers to launch an AR app. By superimposing virtual objects onto real-world images, shoppers want to be able to try products quickly and easily before they settle on a purchase.
How can this benefit enterprises?
For starters, this is helping to bring the brand directly to the customer, bridging the gap between in-store and online shopping experiences. Businesses can then present omnichannel shopping experiences that offer consistent and personalized services. And the more connected a brand remains with its customers, the better opportunity to nurture brand loyalty.
Take, for example, how IKEA is utilizing AR to pave the way for higher success. The brand is leveraging technology to help customers decide on a purchase by letting them virtually place a piece of furniture in their homes. Customers love this feature because it saves the hassle of lifting and shifting furniture or returning items that just don't look right.
But generally speaking, this feature has a great deal of potential for all enterprises. With the current COVID-19 scenario, instead of enterprises worrying about social distancing and sanitization, they can focus on connecting with their customers and offering the same, if not better, service through AR apps.
3. Enhances Customer Engagement
Keeping customers satisfied is Marketing 101. The happier your consumers are, the more they're willing to interact with your brand. But making the shopping experience effortless, engaging, and fun is the secret to your success.
Apps utilizing AR technologies are helping to create immersive and interactive environments for users, creating digital 'At the moment' shopping experiences. This unique feature significantly enhances customer engagement levels, allowing shoppers to be more excited and engaged with a brand and its products. And that means there is a greater chance of a sale. We'll talk more about this later.
Brands that apply AR into their strategies can reap multiple rewards. The focus should be on how to appeal to your audience and allow them to share their experiences with others.
For instance, since 36% of mobile AR users in the US are aged between 25 and 34 years old, a great approach would be to bring your AR offering into the limelight with the help of — yeah, you guessed it– social media. As people share their augmented snapshots, new customers will be attracted to try it too.
And that is why many brands are investing in deeply engaging apps that answer the question, "What will this product look like on me?" AR-enhanced clothing stores can help customers see an item in 3D and experiment with outfits. But this is only the beginning of futuristic fashion. There's more just around the corner.
4. Improves Your Bottom Line
The longer a consumer engages with brands, the chances of a conversion increases. As you enhance CX with AR apps, shoppers can explore additional products prior to purchase. This is an excellent opportunity to pump up sales and revenue.
But let's look at it from another angle. Remember how Avon used to give out free samples? Traditional marketing and advertising methods often utilized these strategies to lure customers to a brand while allowing them to get an idea about the product.
But now, AR allows customers to sample a product without even actually distributing it. Sephora's app helps shoppers to explore their entire selection of makeup. Customers can relax and enjoy the shopping experience as they continue to try on more colors as the brand showcases more products in less time.
Not only that, businesses can effortlessly reach a much larger target audience. With about 3.5 billion smartphone users worldwide, you are holding onto a technology that already has a huge fan base. The ability to save resources, shrink marketing and advertising costs, and expand outreach has the power to influence the bottom line positively.
5. Gather In-Depth Information About Consumer Preferences
Enterprises are focusing on developing apps that incorporate more services and align better with consumer demand. With the help of AR solutions, they can integrate analytics tools to collect, track, and decipher data about consumers.
An in-depth understanding of customer preferences and behaviors presents endless opportunities for your business. It can help refine marketing campaigns, target audience reach, growth strategies, etc.
More importantly, analytics can help brands create more personalized content and accurate product recommendations, enhancing engagement, and potentially boosting revenue. According to Instapage, personalized shopping cart recommendations influenced 92% of shoppers to buy products. And Econsultancy quoted that 80% of companies saw an improvement on the bottom line due to personalization.
Final thoughts
Augmented Reality is successfully blurring the lines between reality and the digital landscape. It has taken mobile utility applications to the next level.
AR-backed solutions have now become more than just a possibility. They are significantly enhancing the way brands interact with customers and changing the way they work. As we've mentioned above, many enterprises have invested in AR apps and are already ahead of their league.
The question now is, "What are you doing to impress your customers?"
My Personal Notes
arrow_drop_up