7 Reasons Why Programmers Should Use Linux
Linux is an operating system just like Mac or Windows OS. A few years ago, it was primarily used for servers and wasn't considered a very friendly choice for personalized desktops. The reason was its UI, which was complicated for an average user to understand. But, in this digital era, Linux has been steadily improved by developers, and now, you can find Linux in cars, home desktops, or enterprise servers.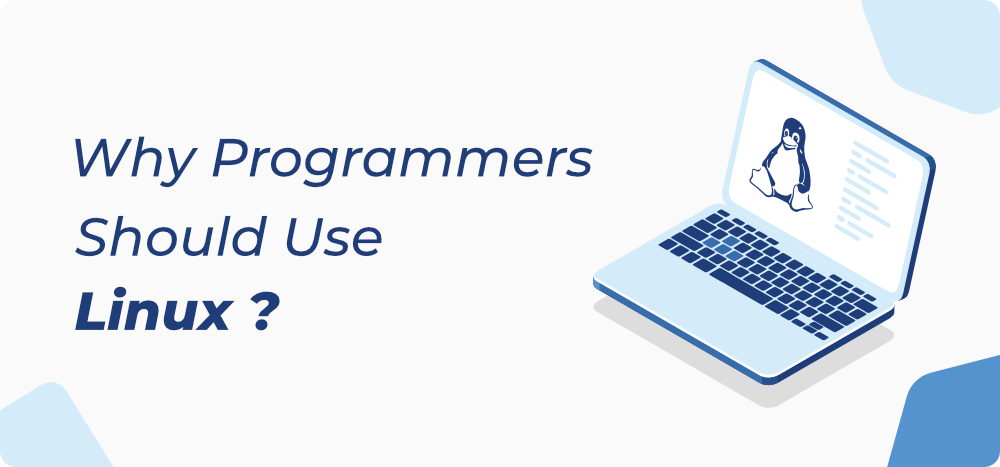 Every ten (out of 1000) across the globe are using this license-free operating system instead of involving themselves in the struggle of checking third-party drivers for Windows 10, or Mac OS X 10.11. Thinking about the reasons behind the growing popularity of Linux over proprietary OSs like Windows XP, Haiku, Mac, etcetera!! Let's try listing top reasons which illustrate a clear picture of the increasing usage of Linux amongst programmers, developers, or testers working for a business venture.
1. Linux Design is Highly Secured
Linux is developed and deployed with higher security aspects, by which the programmers may easily avoid or eliminate viruses and other harmful malware. If you try to make changes in the system design or associated configuration, you require permissions from the user logged in as the root, i.e. Linux administrator. Such a highly-secured design won't let the assaulters do much damage to the system consisting of a variety of reading and writing privileges. Thus, one may browse the Internet or run other files/programs without worrying if or not the system will get infected. And unlike Windows, Linux won't be generating logs or uploading data from your systems, thereby making it exceedingly privacy-focussed. If, in case you are still afraid of the vulnerability of viruses or malware, you may install an antivirus like Avast or Norton to secure your systems further.
2. Linux is Offering a Dozen of Customization Options
Customization is a sort of modification that an individual prefers to apply either to software or other entities attached to the hardware. When it comes to customizable options offered by Linux, this means that Linux is offering an advantage to its users to customize its options as per the complexity of computing environments. A few desktop environments offered by Linux are Cinnamon, Unity, GNOME, and KDE. Apart from this customization, users have an option of tweaking the desktop utilities (which could be disk repair, backup, or file management and networking programs) in Linux, adding newer fonts and icons delivering amazing effects, reskinning desktop themes with Conky Linux, and so on. Additionally, shell scripting in Linux can potentially be used to do special operations in a simple and easy-going manner. All such customization options make Linux efficient in providing various ways users may use to change display icons according to their choice, thereby creating a better customer experience on an overall basis.
3. Linux Optimally Uses All the Hardware Resources Available
One can't deny the fact that hardware systems tend to become outdated as soon as newer versions of operating systems are released. The reason is that newer operating systems need advanced technical specifications that outdated hardware fails to reciprocate. Still thinking if Linux supports such obsolete hardware!! Yes, with a variety of modules available in its installation procedure, users may pick a range of hardware requirements (like Intel 486SX, 386SX, 486DX) and let the Linux UI optimally use the available resources. Besides, Linux may be ported to non-Intel architectures such as MIPS, Alpha AXP, SPARC, PowerPC, and Motorola 68K after you select a particular distribution of Linux. All this has made Linux an extremely resource-efficient Operating System that can suitably run on many hardware specifications (like taking less than 256 MB CPU memory for smoother operation) other operating systems cannot even dream of. Magic … isn't it?
4. Linux Will Let You Write a Variety of Bash Scripts
Bash scripts are another form of shell scripts incorporated by a variety of commands for executing various tasks in a Linux-based environment. Those tasks can be managing the mailing lists, removing duplicates while extracting business or non-business email addresses, or adding the accurate formatting whose results are read well by other programs. Such scripts could be hard to understand at the initial stage, but they are capable of flexibly and quickly joining existing programs into powerful Linux solutions. Scalably, these bash scripts understand the behavior and needs of users and map them efficiently on the live terminal of Linux. This is really time-saving as the syntax of bash is easy to use and a few efforts are required for identifying performance errors at the times of debugging. All such merits encourage Linux programmers a lot to create and execute bash files for automating frequently performed Linux operations.
5. Linux Community is Readily Available for 24-Cross-7 Support
Linux offers commendable community support through various forums over the Internet. Such forums have enabled Q&A sessions that encourage discussions related to kernel, shell, or frameworks supporting Linux applications. You may think how one will be benefited through such discussions – a lot of volunteers ( who can either be programmers or analysts) are readily available for clarifying all your queries with their passion for Linux. Many enterprises like Novell, Red Hat are enrolled with a paid support option which is helpful in sharing information and tips related to Linux OS (or associated applications). Such 24-Cross-7 Support successfully boosts up customer loyalty as the community members are helping users to find somebody who has done something similar to what they might try to do!! All this helps organizations build relationships with their customers on the grounds of satisfaction, loyalty, and better engagement with the multiple forum threads having solutions to all their Linux-based problems.
6. Linux Product Versions Support Reliability and Stability
Reliability and stability are interrelated to each other because a product or an OS can't be stable in the market if the degree of accuracy in its quality results can't be measured with trustworthiness. Linux, in this context, has rocked the 2021 market with its reliable and stable products like Ubuntu, Fedora, Gentoo, Debian. All of them have an availability rate of 99 percent approx. According to the statistics, from 1 million servers running currently, 96.3 percent of them are preoccupied with the programming capabilities of Linux. Also, 90 percent of the current cloud infrastructure is practically operating on Linux so that IT systems may be maintained and managed at reduced costs. The reason for such popularity is that after every patch or update is downloaded, there is no need for rebooting a Linux server. With this characteristic, Linux OS has demonstrated an uptime of 99.9 percent. This makes Linux more reliable and stable while managing the existing/ ongoing business processes at reduced costs.
7. Linux Complies Well with Open Source Licensing
Open-Source means that anyone reviewing the source code may modify, inspect, or enhance it without any restrictions on its original rights. The licensing of the Linux Operating System supports this aspect and this is the reason why the developers or programmers of different countries can develop their own Linux versions with no strings attached? Indeed, this is quite helpful as countries may now begin with using such OSs for defense, manufacturing, or communications. Therefore, many countries across the globe need not pay dollars to purchase this license-free OS for trying out to create their OWN. Some of the Linux-based operating systems are Kylin, Nova, BOSS, IGOS Nusantara Linux, and Pardus Linux. All these OS examples have helped such countries control and document their total IT costs without compromising on quality and scalability.
My Personal Notes
arrow_drop_up