SQL | Join (Inner, Left, Right and Full Joins)
A SQL Join statement is used to combine data or rows from two or more tables based on a common field between them. Different types of Joins are:
INNER JOIN
LEFT JOIN
RIGHT JOIN
FULL JOIN
Consider the two tables below:
Student
StudentCourse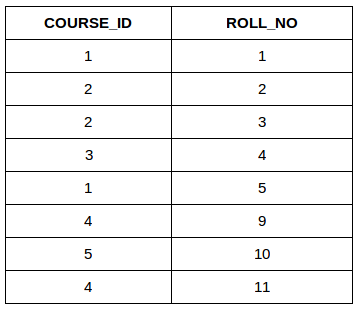 The simplest Join is INNER JOIN.

Left JOIN (Video)
Right JOIN (Video)
Full JOIN (Video)
SQL | JOIN (Cartesian Join, Self Join)
This article is contributed by Harsh Agarwal . If you like GeeksforGeeks and would like to contribute, you can also write an article using contribute.geeksforgeeks.org or mail your article to contribute@geeksforgeeks.org. See your article appearing on the GeeksforGeeks main page and help other Geeks.
Please write comments if you find anything incorrect, or you want to share more information about the topic discussed above.
My Personal Notes
arrow_drop_up