How to Write a Strong Resume For Working Professionals?
In today's job market, competition is going so high that only the A++ level resume parse through the ATS and goes right into the recruiter's table. With the emergence of the pandemic, 80% of job goers have switched jobs and this percentage will only go up as everyone is looking for career advancement. If you belong to this group and looking to switch your job to a better company or for a better package, it's important to have a strong resume that shows your core skills and work experience relevant to the job role you are applying for. Use our guide on how to write a strong resume for experienced professionals and in a professional manner.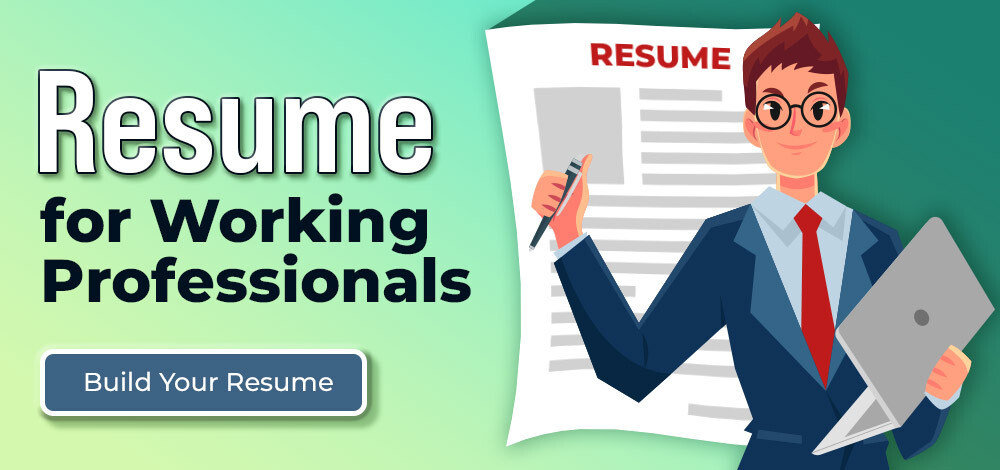 Write Your Resume in 9 Simple Steps
1. Choose the correct resume format – Stuffing your info here and there is not something that will land you the job you were dreaming of. It's crucial to have a correct resume format that is not only ATS friendly but also highlights your work experience and achievements.
There are 3 Resume Formats that you can consider while choosing the perfect resume format:
Reverse Chronological – Recruiter's fan-favorite resume format can be easily parsed through ATS. Working professionals should consider formatting their resumes in this format as it showcased their work experience and achievements in a better way.
Functional/Skill Based – This resume format is advisable for students and entry-level job seekers as it focuses on their skills rather than experience.
Hybrid – A great choice for experienced professionals as they can highlight both their work experience and skills. However, it's quite uncommon so better stick to the reverse chronological resume format as a working professional.
2. Add your personal information and contact details – If you're not providing correct personal details, recruiters will not be able to reach you. However, a career goer should know what to include and what not to include.
Necessary information to add:
Name: Your first and last name is preferred.
Phone Number: Mention your personal phone number.
Email Address: Write your professional email address only. It should be something like this – firstname.lastname@xyz.com. One study has proven that formal email addresses are much more effective to land an interview.
LinkedIn Profile Link: Include your LinkedIn profile (make the recruiter's task to spy on you easier).
Information that you don't need to include:
Your date of birth is not needed.
Your home address is not needed unless required or asked by the recruiter.
Don't upload your photo on the resume as it can lead to bias
3. Resume Summary – Writing a good resume summary is as important as writing a good bio on Tinder. The logic applies the same here – a good resume summary can help recruiters decide whether they want to move ahead with the resume or not. If you want to write a good resume, make sure to add your experience and achievements (with numbers).
4. Work Experience & Past Achievements – Your work experience section is what entices recruiters to decide if you're fit for the job or not. Use this foolproof technique to format your resume's work experience section. The resume format for this section should be in reverse chronological as it's most loved by recruiters and ATS.
Job Title – It's important to write your professional job title that will help the recruiter to scan your resume. Don't include job titles like "Data guru' or "Marketing Rockstar" as they're neither professional nor get scanned by the ATS.
Company Name – Besides the job title, mention your employer's or company's name.
Dates Employed – Don't forget to include the timeframe you worked at a particular organization. You can write the date in mm/yyyy format.
Key Responsibilities and Achievements – Make bullet points of your responsibilities in each job position and organization and what achievements you've achieved so far and describe your quantitative achievements, rather than focusing on duties and responsibilities.
5. List Your Educational Credentials – Educational front matters as much as your work experience and past achievements and listing them correctly is the right way to impress hiring managers.
Here's how you can list your education credentials:
Your highest educational degree will come at the top of the list and it should be structured like this:
Program Name, College Name (Month/Year of Enrollment – Month/Year of Graduation)
List of achievements
Structure the educational program in reverse chronological resume format.
Add relevant honors and awards you have received.
Skip CGPA/SGPA/GPA if it's lower than 6.0/4.0
6. Mention Relevant Soft and Hard Skills – Skills are just like the cherry on the top of the cake, it makes your resume stand out and look well-prepared. When you list all the skills (soft or hard ones) that are relevant to the job role and fit the job description, recruiters will also consider you suitable for the job role compared to those who don't mention their skills.
Let's get to know what are Hard Skills and Soft Skills.
Hard Skills/Technical Skills – Hard Skills are specific measurable skills. If you want to make your resume more visible and attractive with on-demand hard skills, you can register for our DSA LIVE for Working Professional course.
Soft Skills – Soft Skills are sociable skills like good communication, public speaking, leadership, etc.
Not all skill is worth mentioning while writing your resume so only include 5-6 key skills that are relevant and showcases your knowledge and proficiency.
7. Hobbies, Interests & Volunteering Work (Optional) – This section showcases who you are as a person and also exhibits your ability to lead a team. Also, if you've volunteering experience, do include them as a study shows that volunteering boosts employability and also displays your commitment to the organization.
Final Thoughts
Now that you've included every relevant experience. It's time to proofread and format your resume with the right font and spacing. Make sure you've used appropriate keywords where it's needed. Check your social media profiles and take down whatever seems inappropriate and make sure to send your resume in PDF format. Even if you've work experience of 4-5 yrs, keep your resume to 1 page.
Create your perfect resume with our Free Online Resume Builder By GeeksforGeeks – Create Your Resume Now!
My Personal Notes
arrow_drop_up