Why Is It Good For IT Professionals to Learn Business Analytics?
In today's world, where the online presence of your business determines your success, businesses rely on a huge amount of data. To sort out these data by keeping important and discarding the unnecessary, every firm needs a business analyst. Therefore, being an IT professional when you learn business analytics, the door of endless opportunities gets opened for you. Business Analytics gathers the data that companies utilize to get a comprehensive view of their customers. Moreover, today people expect personalized services with fewer complexities. Now, with this data, companies provide a personalized experience to customers across all channels.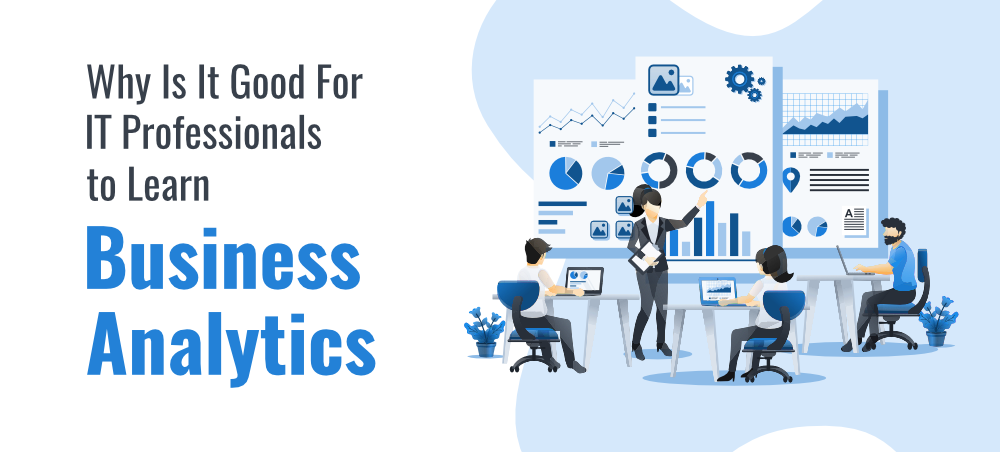 Moreover, being an IT professional turned business analyst, you will have to perform cost/benefit analysis. Along with this, you will have to align the technology according to the strategies and goals of the company. Opting for business analytics after completing an IT course will increase the job opportunities for you. If you chose the IT profession because you love numbers and data, business analytics will provide you with both in a large amount. With the continuous surge in the field of technology, the job prospects with a good salary are estimated to increase many folds in the coming years.
Now, let us look into the following points to have a better understanding of why IT professionals should learn Business Analytics.
Applications of Business Analytics in Various Industries
Most businesses and companies have realized the power of data and how it can change the scenario of their business for good. A large amount of data is generated every minute and it is manually impossible to go through it and sort it. This is where business analytics come in to help you with this data. They have multiple tools and tricks that help them analyze and investigate the data required for your business. Fields like the Banking sector, medical, agriculture, government, IT industry, and various others require a business analyst to help them with the data.
However, IT professionals are more likely to go into Business Analytics because of several reasons. IT professionals have in-depth knowledge of technical systems. Clients seek to take advice from IT professionals on how to reshape their businesses. And, IT professionals can advise them in various domains like product development, warehouse management, information system, and finance.
Why Do IT Professionals Need to Learn Business Analytics?
Most IT professionals who want to broaden their horizons go for business analytics courses. It gives a boost to their career and opens up more job opportunities. It is because IT professionals are well versed with software development and they can link business challenges and provide technical solutions. The main task of a business analyst is to gather and analyze data and sort them according to the requirements of the business. Among other people who take up a job as a business analyst, IT professionals can solve problems, identify risks, and manage technology-related restrictions more efficiently. Therefore, learning business analytics can open more doors for IT professionals.
How Business Analytics Can Give Your IT Career a Boost?
Business Analytics requires hard skills along with soft skills. Business analysts must know how to analyze data trends and convey the information to others and help them apply it on the business side. A person with a strong IT background who understands the system, product, and tools work can learn business analytics to boost their career and enjoy the hybrid role.
In other words, IT professionals can help bridge the gap between IT and business with the help of data analytics. They can assess the process, determine requirements and deliver data-driven recommendations more efficiently and report directly to stakeholders and executives. Depending on the job role, a business analyst works to improve products, hardware, tools, software, services, or process. Moreover, having a strong IT background and learning business analytics will allow you to establish initiatives and strategies that optimize costs.
Top International and National Companies That Are Hiring Business Analysts
There are various renowned companies that hire business analysts as every business requires handling the data produced at a large amount. International companies like Accenture, Indeed, IBM, General Motors (GM), Verizon are among the highest paying companies that hire business analysts. While the market for business analytics is ever-growing in India. With increasing technology and more business establishing every day, the jobs for business analysts have increased too. Companies like Manthan, LatentView, Tiger Analytics, AbsolutData, UST Global, and Cartesian Consulting are among the most sought-after companies for business analytics.
How Can Business Analytics Help IT Professionals to Establish and Run a Business?
There are times when IT professionals aim to establish a business. Learning business analytics will help them gain essential business insights. They can easily bridge the gap between technology and products/services. The main task of a business analyst is to analyze and sort data of use and use it in the business to target customers. Being an IT professional makes decision-making and acting upon it much easier and efficient. It will allow you to understand the trends, preferences, and needs of the customers based on the available data. Knowing the field will also help you understand and help your employees understand the requirement efficiently and easily. Moreover, knowing business analytics will also help you to be cost-effective in your entrepreneurship.
Conclusion: The sudden boom in data has massively transformed businesses across industries. From financial organizations to eCommerce firms, every industry is relying on these data to enhance their user experience and understand their buying pattern. So, with business analytics being one of the biggest and fastest-growing industries, IT professionals must take up a post-graduate or diploma degree in the field. It will help you stand out and compete in a highly competitive workplace. Moreover, being an IT professional and choosing to become a business analyst will double the job opportunities for you. Hence, you can embrace your love for numbers, technology, and data by becoming a business analyst!
My Personal Notes
arrow_drop_up