How Tech Professionals Can Future-Proof Their Career?
The increase in technology in the workplace has increased the demand for IT professionals. More and more companies are looking for tech professionals with solid experience in programming, data storage, web development, and other such skills. Moreover, it is estimated that the IT and computer fields will create more than 5,00,000 new jobs by the end of this decade. The growth rate from 2019 to 2029 is expected to be around 11 percent. Therefore, with new jobs, individuals continue to seek tech positions like cyber security, cloud technology, etc. The technology industry changes as fast as it grows. Every few months, the software is upgraded to a new version, or the hardware is updated and re-released.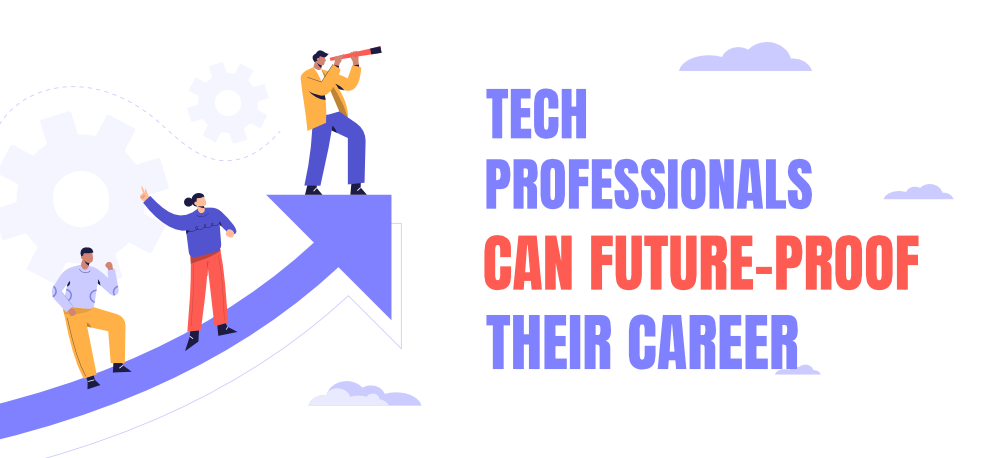 Therefore, every IT professional must future-proof their skills to stay on top of the game. You need to keep learning new things and evolve as technology evolves. So, here are a few steps that a tech professional can do to future-proof their career.
1. Monitor Advancing Technology
If you can see the changes coming in advance, it will become easier for you to adapt to the evolving technology. It is essential to take the required time to understand the new concepts before new digital trends define the industry. Moreover, it will allow IT professionals to understand what it means for their industry.
Therefore, all web developers, programmers, technicians, and other IT professionals should look out in advance for the advancing technology. It includes the new digital strategies that contribute to long-term sustainability goals. Moreover, other technological advancements in the field of robotics and Artificial Intelligence (AI) have helped companies reduce the chance of human error and increase the efficiency of the tasks.
2. Embrace Challenges and Changes
To future-proof your career, you need to be ready for the change and the challenges it will bring. Moreover, in the IT field, changes mean new challenges to overcome. For example, advancements in artificial intelligence mean that every employee must be qualified and trained enough to use it correctly. Along with this, new developments in digital sustainability mean that companies must account for the environmental impact of their actions.
3. Work on your Hard and Soft Skills
For the people working in the IT and technology sector, certain skills are very important. Therefore, to adapt to the technology you use, you need to work and prioritize your hard and soft skills. It will help you in securing your future in the field. Some of the critical IT skills comprise coding, database administration, communication, problem-solving, and decision-making.
4. Professional Development Opportunities
The right development opportunities can boost your understanding of the industry and help you maintain sharp skill sets. These can include certifications like CompTIA A+, Microsoft Technology Association (MTA), Cisco Certified Network Associate (CCNA), etcetera. These will help to keep your knowledge of IT applications fresh and up to date.
Along with this, you can join certified organizations as an IT professional. It will provide you with opportunities for further networking. Moreover, these associations will help you learn from other IT professionals. You can consider organizations like The Association of Information Technology Professionals, The Institute of Electrical and Electronics Engineers, Information Security Systems Association, etcetera. Therefore, the correct combination of certifications and organization can help you future-proof your IT skill sets.
5. Be Attentive to Your Digital Footprint
In the process of future-proofing the skill sets, IT professionals must pay attention to their digital footprint. In current times, recruiters take time to go through an applicant's digital footprint. It includes all the publicly accessible social media profiles, newsletter subscriptions, shopping history, etcetera. It plays an important role in determining the candidate for hire. A clean digital footprint speaks to the strength of IT professionals. Therefore, in this digital era, where everyone's comments, images, and posts, are visible to everyone, IT professionals should preserve a clean digital footprint.
6. Developing a Professional Network
The quickest way to gain credibility in the tech space is by networking among IT professionals. By developing quality contacts in the industry can serve as employers, references, or sources of insight someday. Moreover, by developing a quality network, IT professionals get help in their careers. It will earn you friendships with people of similar interests and help you in gaining confidence.
You can use recognized networking websites like LinkedIn to connect with other IT professionals. To increase your response rate, you can offer resources of value to potential new contacts. Moreover, you can also attend local networking events organized for IT professionals. However, amidst everything, the most important thing to remember is to stay genuine. Broadening your network and business contacts is quite similar to finding new friends. All you need to do is to keep things simple and let your personality shine.
7. Know Tech's Global Reach
IT professionals have to maintain a global mindset in today's digital age. Irrespective of their location, technology can reach individuals across the planet. Therefore, technology can influence anyone, anywhere, until the users maintain an internet connection and means of communication. Being aware of technology's reach and its limit is sustaining a global mindset. So, sometimes you might have to open yourself to the possibility of outsourcing your business. With this, you can take the help of qualified professionals in different locations to help you complete daily tasks. It will result in the further success of your business.
Therefore, honing the IT professionals' skill sets will help you to future-proof your IT careers. From working on yourself to working on communication skills, everything combined can help you secure your future. As we know that change is inevitable, it implies in the tech field too. However, the IT and technology sector tends to see changes in terms of growth more often. And these changes and growths are followed by lots of challenges. So, one must embrace these challenges and evolve with changes in order to future-proof their career.
My Personal Notes
arrow_drop_up