How to Convert a Document to PDF using MS Word?
Microsoft Word is a software tool that makes our document more attractive and beautiful with the help of different types of fonts, colors, styles, animations, 3D models, graphs, charts, page layout, and many more within a very small span of time. It is developed by the Microsoft corporations in 1983. It is the best platform for writing documents, projects, letters, notes, assignments, etc. It has a special features like editing, deleting, correcting, and formatting your file in a very less time. Almost it is used in all fields like business, schools, offices preferred this software to write their article, office letters, documents, etc.
Features of MS Word:
Different types of fonts, styles, colors, animations.
Editing and formatting document
Inserting hyperlink, images, and online videos
Spelling and grammar checker
Table with rows and column
Password protection of your document
Printing documents
Mail merge
3D graphics, models, charts, and graphs
Page layout, size, and page color, and border.
WordArt
Page number,
Steps to Convert Word Document to PDF
Step 1: Open your document in MS Word.
Step 2: Then click on the navigation menu bar and select File option.

Step 3: Now Click on Save as option.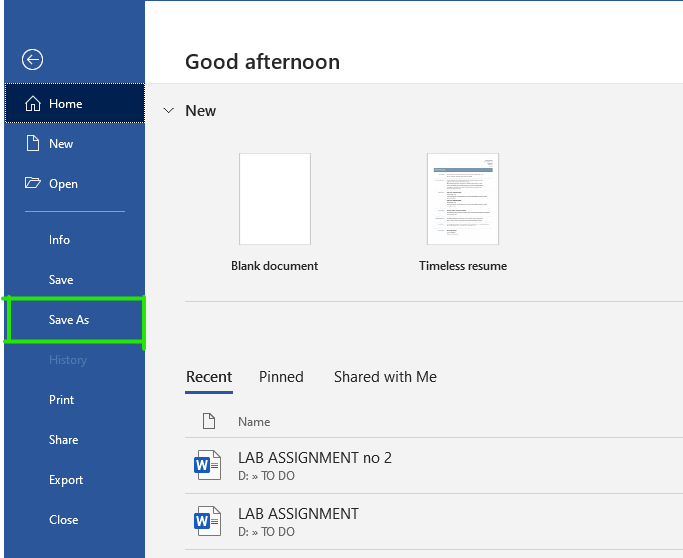 Step 4: Select Browse option.
Step 5: A save as dialog box will open.
Step 6: From the left panel of the window select the drive where you want to save the document as shown:
Step 7: Enter the name of your document in the file name section.
Step 8: Now click on the arrow down option in the save as type option as shown:
Step 9: A file format menu will open.
Step 10: Select the PDF option.
Finally, your document is converted into PDF.
There are lots of file format options available in MS Word. You can convert your Word document according to your school, office, and other requirements.
Attention reader! All those who say programming isn't for kids, just haven't met the right mentors yet. Join the Demo Class for First Step to Coding Course, specifically designed for students of class 8 to 12.

The students will get to learn more about the world of programming in these free classes which will definitely help them in making a wise career choice in the future.
My Personal Notes
arrow_drop_up