Word Processing Software :
The word "word processor" means it processes words with pages and paragraphs. Word processors are of 3 types which are electronic, mechanical, and software.
The word processing software is used to apply the basic editing and design and also helps in manipulating the text to your pages whereas the word processor, is a device that provides editing, input, formatting, and output of the given text with some additional features.
It is a type of computer software application or an electronic device. In today's generation, the word processor has become the word processing software or programs that are running on general-purpose computers.
Examples or Applications of a Word Processing Software :

Wordpad
Microsoft Word
Lotus word pro
Notepad
WordPerfect (Windows only),
AppleWorks (Mac only),
Work pages
OpenOffice Writer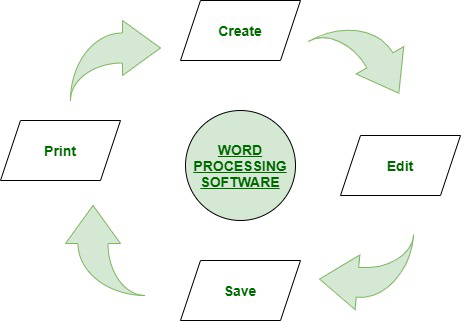 Features :

They are stand-alone devices that are dedicated to the function.
Their programs are running on general-purpose computers
It is easy to use
Helps in changing the shape and style of the characters of the paragraphs
Basic editing like headers & footers, bullets, numbering is being performed by it.
It has a facility for mail merge and preview.
Functions :

It helps in Correcting grammar and spelling of sentences
It helps in storing and creating typed documents in a new way.
It provides the function of Creating the documents with basic editing, saving, and printing of it or same.
It helps in Copy the text along with moving deleting and pasting the text within a given document.
It helps in Formatting text like bold, underlining, font type, etc.
It provides the function of creating and editing the formats of tables.
It helps in Inserting the various elements from some other types of software.
Advantages :

It benefits the environment by helping in reducing the amount of paperwork.
The cost of paper and postage waste is being reduced.
It is used to manipulate the document text like a report
It provides various tools like copying, deleting and formatting, etc.
It helps in recognizing the user interface feature
It applies the basic design to your pages
It makes it easier for you to perform repetitive tasks
It is a fully functioned desktop publishing program
It is time-saving.
It is dynamic in nature for exchanging the data.
It produces error-free documents.
Provide security to our documents.
Disadvantages :

It does not give you complete control over the look and feel of your document.
It did not develop out of computer technology.
My Personal Notes
arrow_drop_up