Quikr Recruitment Process
About Company :
Quikr is an Indian classified advertising platform. It was founded by Pranay Chulet and Jiby Thomas in 2008. Headquartered in Bangalore, Quikr has listings in over 900 cities in India in categories such as mobile phones, household goods, cars, real estate, jobs, services and education.
Quikr was recognized as one of India's hottest internet companies for 2012. Quikr was awarded the Best Classifieds website of the Year 2012 at the WAT Awards. In 2011, Quikr was presented with a 'Certificate Of Appreciation' from Harvard Business School in recognition for Quikr's support of the MBA Program. Quikr was selected by AlwaysOn as an AlwaysOn Global 250 Winner in 2010. Quikr has been shortlisted and recognized by Red Herring in 2010 and 2011. In 2010, Quikr was shortlisted as a Red Herring Asia 2010 Top 100 Finalist and in 2011 Quikr was shortlisted as a Red Herring Global 2011 Top 100 Finalist
Know more about Quikr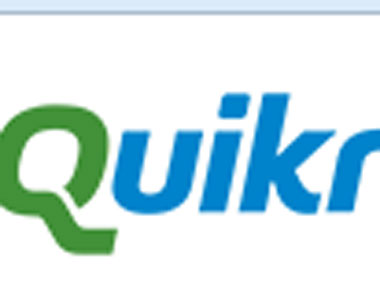 Recruitment Process :
Quikr conducts 4-5 rounds to select freshers as associate software engineer in their organisation.
Online Round
Technical Round 1
Technical Round 2
Technical Round 3
HR Round
Academic Criteria :
60 percent or above in B.Tech, Class X and XII.
No backlogs at the time of interview
Generally, students from CSE, EEE, IS, IT and ECE streams are allowed.
Written Round :
The Online round consists of two major sections namely General Aptitude Test and coding test. General Aptitude Test, has mathematical and logical questions. It also contains questions from data structures, C, C++, DBMS, Operating System and automata theory. The coding test contains 2-3 programming questions.
Technical Rounds :
The students who clear the written round are called for Technical Interview. To clear this round you should be clear with your basics. You should be prepared with Data structures and Algorithms, DBMS, Operating System, Networking. You should also be prepared with design patterns and collections. Students from branches other than CS should prepare for other two subjects related to their branch. CS students will be expected to write codes in the interview. Students should also be well prepared with their resume. They also ask questions from resume. You may be asked puzzles in this round. To be prepared for puzzles you can practice from our Puzzles section.
TIPS:
1. Don't mention anything in resume that you don't know.
2. Be honest.
HR Rounds :
Expect general HR questions as follows :
1. Tell me about Yourself
2. Why Quikr ?
3. How you see yourself after five years from now ?
4. What are your strengths and weaknesses ?
5. Questions form resume
6. Puzzles
Questions Asked in Quikr :
Interview Experiences
It is always beneficial if you know what it is to be there at that moment. So, to give you an advantage, we provide you Interview Experiences of candidates who have been in your situation earlier. Make the most of it.
Where to Apply ?
My Personal Notes
arrow_drop_up