Get Placed in TCS with TCS NQT Mock Test Series – 2021!
Tata Consultancy Services, TCS is a giant player in the IT world and it has become the world's most-valued IT services company as well with a market capitalization of around USD 170 Billion a few days ago. Needless to say, it would always be great for all the individuals, who're seeking a career in the tech world, to get into this reputed organization. Though the company itself remains one step ahead in providing you the various remarkable career opportunities and in a similar context, TCS invites you to be a part of this leading organization and start your professional career journey through their National Qualifier Test (NQT) 2021 exam.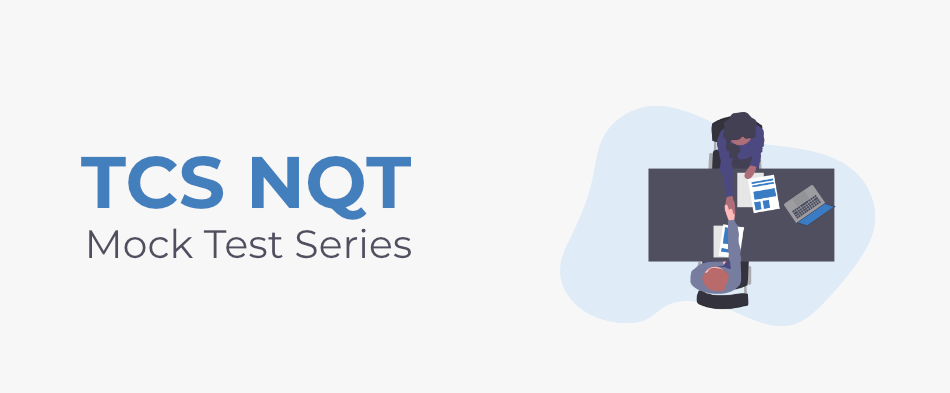 As known to everyone, the TCS NQT exam is scheduled to be held on 18th and 19th February 2021. And undoubtedly, your preparation for the same would be going at the top pace. Meanwhile, as GeeksforGeeks don't want you to miss out on this enriching career opportunity anyhow – we're providing you with a TCS NQT Mock Test Series that will help you to test your knowledge and give the final touch to your preparations for the TCS NQT exam.
What is this TCS NQT Mock Test Series…??
Every company has its own requirements from the candidates – hence the questions asked by them in interviews or examinations are also somehow different from each other. Keeping this in mind, we are trying to bring you the company-specific courses to get placed in a particular company. And TCS NQT Mock Test Series is one of these courses that is designed in such a manner that it will boost your preparation level to crack the particular exam of Tata Consultancy Services, TCS. Here in the course, we offer you selective preparation for the TCS National Qualifier examination.
In this test series, you'll get the practice questions and mock contests on each topic. There will be Full Mocks along with the Coding practice questions. Approximately you'll be provided with around 55+ mocks and 2000+ questions in this course. Also, the questions provided to you will be based on previously asked questions by the TCS.
In addition, this TCS NQT Mock Test Series is being provided to you at a discounted price of INR 499/-. You can easily register yourself for this course – all you need to do is:
Visit the official course link from here.
Click on the Signup Button and enter the required details in the form such as name, contact number, etc.
Then pay the required fee and you'll get successfully registered for the course.
The best thing about the course it does not get expire. Hence, you can take the test anytime after its start date as per your convenience.
Why you should opt for this TCS NQT Mock Test Series?
Every candidate needs to know that a satisfactory level of revision and practice is very much crucial for cracking any exam. Many times it has been observed that despite being proficient with the required skills and concepts, individuals fail to perform well in the exam due to the lack of practice. This TCS NQT Mock Test Series will not only give you the platform to practice and analyze your knowledge but you will also get familiar with the environment and type of questions that are generally asked by TCS in their exams. The questions in the test series are prepared after a lot of research regarding the previously asked questions by the organization. Hence, you should definitely opt for this course to take your preparation to the next level.
Frequently Asked Questions (FAQs)
Q1: What are the programming languages supported in the contests?
Ans: The participants will be able to submit their codes in any of the languages: C++ or Java or Python.
Q2. How much does the subscription to the test series cost?
Ans: Though the actual price of this test series is INR 999/-, it is being provided to you at a discounted price of INR 499/- only.
Q3: Can I pay through online mode for the test series?
Ans: Yes, the payment of the test series subscription can be made via online banking, credit/debit cards, UPI (Google Pay, PayTM, Phone pay, etc.).
Q4: Will I get any Placement Assistance along with the course?
Ans: Let us tell you that the opportunities from the different companies can be viewed on the hiring platform where you can see their current opening & once you have enrolled for this course you can apply for any of the openings.
So, if you don't want to miss out on the opportunity of getting placed in the world's most-valued IT services company – then do register yourself for the TCS NQT Mock Test Series and level up your preparation game!
My Personal Notes
arrow_drop_up