Difference between Router and Switch
Prerequisite – Network Devices
Both Router and Switch are the connecting devices in networking. A router is employed to settle on the littlest path for a packet to achieve its destination.
The main objective of router is to connect various networks simultaneously and it works in network layer, whereas the main objective of switch is to connect various devices simultaneously and it works in data link layer.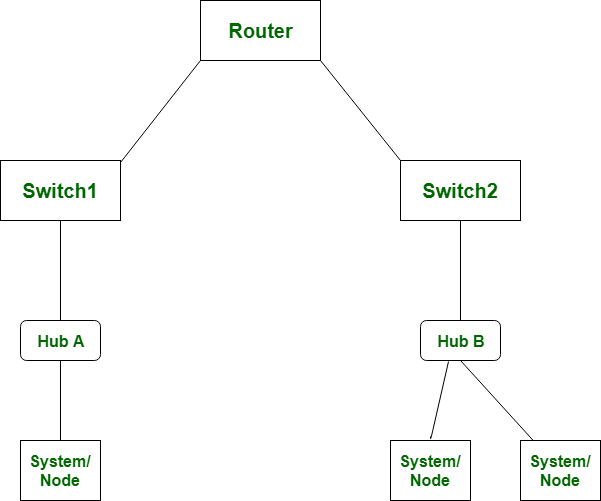 Let's see that the difference between router and switch:
| Sr.No. | Router | Switch |
| --- | --- | --- |
| 1. | The main objective of router is to connect various networks simultaneously. | While the main objective of switch is to connect various devices simultaneously. |
| 2. | It works in network layer. | While it works in data link layer. |
| 3. | Router is used by LAN as well as MAN. | While switch is used by only LAN. |
| 4. | Through router data is sent in the form of packet. | While through switch data is sent in the form of packet and frame. |
| 5. | There is less collision take place in router. | While there is no collision take place in full duplex switch. |
| 6. | Router is compatible with NAT. | While it is not compatible with NAT. |
| 7. | The types of routing are: Adaptive and Non-adaptive routing. | The types of switching are: Circuit, Packet and Message Switching. |

My Personal Notes
arrow_drop_up