Difference between Router and Switch
Both Router and Switch are the connecting devices in networking. A router is employed to settle on the littlest path for a packet to achieve its destination.
Router
Router is a networking device which works at the network layer i.e., third layer of the ISO-OSI model and are the multiport devices. It establish a simple connection between the networks in order to provide the data flow between the networks. Router transfers data in the form of packet is used in LAN as well as MAN.
It works on the network layer 3 and used in LANs, MANs and WANs. It stores IP address and maintains address on its own.
Switch
It is a point to point communication device. Basically, it is a kind of bridge that provides better connections. It is a kind of device that set up and stop the connections according to the requirements needed at that time. It comes up with many features such as flooding, filtering and frame transmission.
Main Objective
Prerequisite - Network Devices 
The main objective of router is to connect various networks simultaneously and it works in the network layer, whereas the main objective of switch is to connect various devices simultaneously and it works in the data link layer.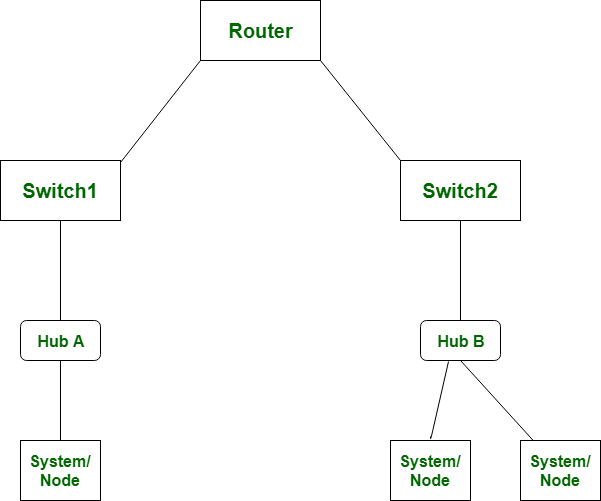 Let us see the difference between router and switch:
| | Router | Switch |
| --- | --- | --- |
| 1. | The main objective of router is to connect various networks simultaneously. | While the main objective of switch is to connect various devices simultaneously. |
| 2. | It works in network layer. | While it works in data link layer. |
| 3. | Router is used by LAN as well as MAN. | While switch is used by only LAN. |
| 4. | Through the router, data is sent in the form of packets. | While through switch data is sent in the form of frame. |
| 5. | There is less collision taking place in the router. | While there is no collision taking place in full duplex switch. |
| 6. | Router is compatible with NAT. | While it is not compatible with NAT. |
| 7. | Router is a relatively much more expensive device than switch. | Switch is an expensive device than hub. but cheaper than router. |
| 8. | maximum speed for wireless is 1-10 Mbps and maximum speed for wired connections is 100 Mbps. | Maximum speed is 10Mbps to 100Mbps. |
| 9. | Router needs at least two networks to connect. | Switch needs at least single network is to connect. |
| 10. | The types of routing are: Adaptive and Non-adaptive routing. | The types of switching are: Circuit, Packet, and Message Switching. |
My Personal Notes
arrow_drop_up