8 Time Consuming IT Tasks You Need to Automate Now
How would you feel if you need to do some tedious task repeatedly in your daily job…?
What would you do if you need to extract the information from the Excel sheet and you need to insert the bulk entries in the database manually?
How would you feel if you need to monitor some files, reset the password or restart some services again and again? Of course, it's quite a frustrating, time-consuming, and dull job for IT experts in any organization.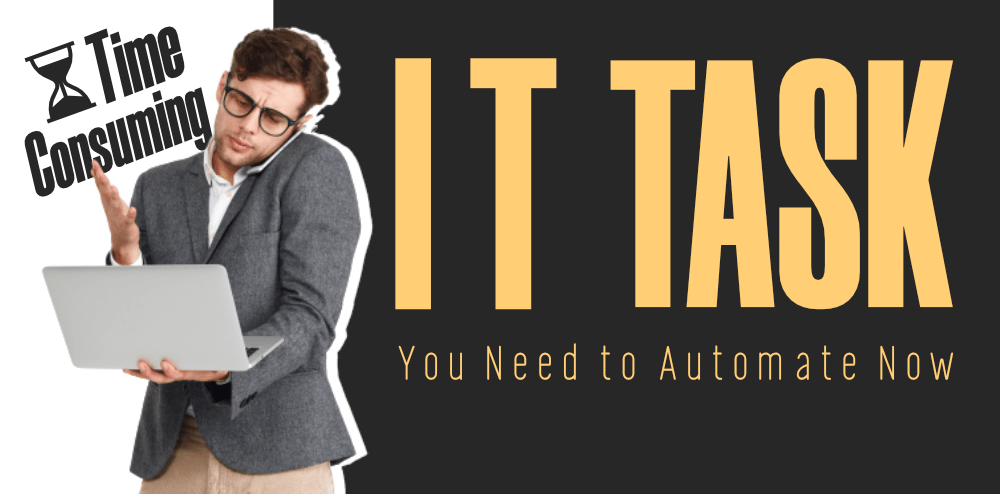 These kinds of monotonous tasks not just consume time but also make you exhausted throughout the day. So what's the solution to this problem? Well, if you're a developer then you can write some script or a program to automate these kinds of boring tasks. Being an IT expert you can also use some tools to automate these tasks.
There are so many processes in the IT sector that can be automated. Automating these kinds of tasks will help you to focus on important things instead of doing mundane fixes and updates all the time. Today in this blog let's discuss some common tasks that you can automate to save your time and efforts…
1. Password Reset
Today in every organization due to the security issue, keeping the password and relying on it for the safety of your data has become important. 20-25% of all support tickets involve passwords and it's increasing day by day with the advancement in technology. Well, time to time resetting the password is also important, and this is an easy job for anyone or the IT experts. But don't you think resetting the password several times is such a tedious job for anyone?
As a developer, you can write some script to automate these kinds of tasks. You can also take the help of some tools for automation. You can use some help desk software that includes a password reset automation. It will save time, money, and resources.
2. Identity Management
Identity management is all about ensuring that people have appropriate access to technical resources. IT security and data management comes under identity management. Identity and access management system, entitlement management system, user provisioning system, access governance system, all these are the various forms of the terminology used for identity management.
Basically in identity management, a person's identity-related information is integrated throughout a specific system. This information can be authentication privileges, authorization levels, and roles within the system. These tasks are time-consuming and you can save a lot of time if you automate these pieces.
3.
File Monitoring
In our day-to-day job we open so many files, make a lot of changes, and we move a file from one place to another place several times. We perform a lot of file-related tasks in our daily job. You can automate this task using Voleer, an advanced automation system. The program will help you to monitor all kinds of file-related tasks. You can monitor directories, files, and also logs to identify any kind of modification.
All you have to do is to choose the process you want to automate. Even you don't need to write a single line of code for that. You also have the option to customize workflows and add notifications based on your needs, using any of the 500 pre-defined steps.
4. Service Restart
Multiple times we need to restart a large number of services throughout the day such as Linux services, Windows, antivirus software, spooler processes, IIS And Apache service, and various backup services. Restarting these services is again a tedious job for employees. IT experts can make their life easier by automating these services.
You can use the tool Voleer to restart these services. It also allows you to stop and shut down the services completely. You can also automate service restart with the help of some script or task scheduler.
5. Change Service Account and Password
This is similar to the password reset. Changing the service account and password in any organization is not a difficult task for anyone but doing this simple task over and over can be a dull job for anyone. Again Voleer can help you in automating these IT processes. Voleer automatically changes the service account across multiple hosts without any involvement of the IT department.
Automating these tasks would have no interference in performing some action. You can easily modify accounts, passwords settings of print services, application services, backup systems, and many more windows services.
6. Event Log Monitoring
To run any IT sector smoothly it's important to monitor the problems that arise within the system and notify about the issue to the whole IT team.
You can save a lot of time and get rid of doing this tedious task by automating these processes. You can build multi-step corrective action tasks with expediency and efficiency. This simply means that all the services will restart automatically if any issues arise or the application general protection fault is written to the Windows event log. The IT department will have to do nothing in this case and they can focus on some other important work.
7. Freeing Up Disc Space on the Server
In your day to day life, you might have come across a situation where you need to remove some data manually from a disc space. If we talk about any organization or IT sector there is plenty of information stored on the server that does not only consume the space on the server but also becomes frustrating when we need to remove it manually. Freeing up the space-time to time is important otherwise one day it can become a nightmare for someone.
Freeing up space is also one of the most frustrating and dull jobs for someone who is taking care of the information stored on the server. A crowded server consumes a lot of valuable time when we need to remove the data. Also, it causes a variety of other issues as well (such as slowing down the server and interruption in performing other operations). IT departments can save a lot of time if they automate this process.
8. SQL Query
If you deal with the database stuff and writing the SQL query is your daily job then this one is also a tedious and boring work in case if you need to write a similar kind of query multiple times. At this moment you just wish to automate some queries which are quite often used.
There are a few ways to automate this task. You can write some script or a program to automate this task. Use some programming or scripting languages such as Java, Python, or Perl to write the script. The SQL queries can be parameterized and those parameters can be read from an Excel or XML file. Voleer tool can also be used to perform this automation process.
My Personal Notes
arrow_drop_up