Must Do Coding Questions for Companies like Amazon, Microsoft, Adobe, …
As the placement season is back so are we to help you ace the interview. We have selected some most commonly asked and must do practice problems for you.
You can also take part in our mock placement contests which will help you learn different topics and practice at the same time, simulating the feeling of a real placement test environment.
Note : Now you can track your progress of these questions Must Do Interview Preparation Course.
Topic :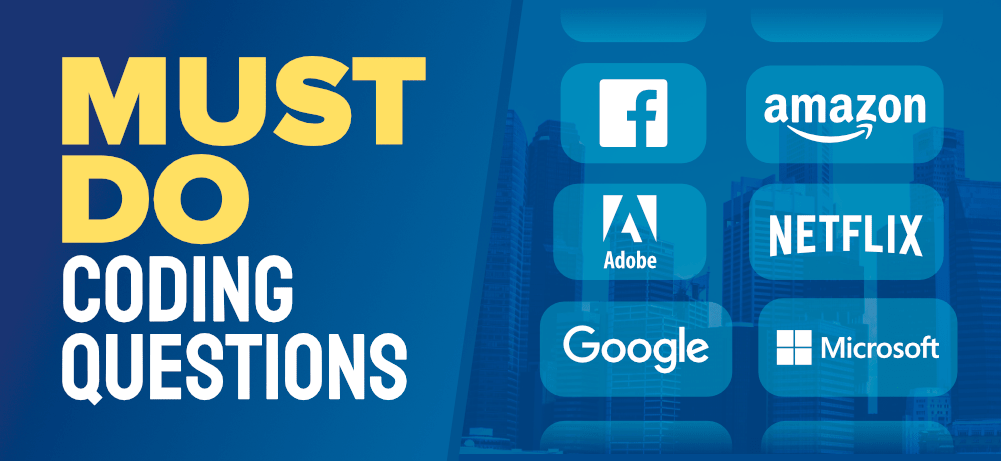 Solved the above? Go for some more Questions
Solved the above? Go for some more Questions
Solved the above? Go for some more Questions
Some More Questions on Arrays :
Some More Questions on Strings :
Some more Questions on Trees :
Important Links :
You may also check our latest online course series to learn DS & Algo is named DSA, which covers everything about Data Structures from Basic to Advanced.
Key Features of the Course
Well organised tutorials on Data-Structures and Algorithms prepared by the GeeksforGeeks Team.
Premium video lectures by Mr. Sandeep Jain, Founder and C.E.O of GeeksforGeeks.
Dedicated doubt solving team to assist you.
Assessment Tests with Video Solutions.
Performance-Based

Certificate

.

Internship

Opportunities at GeeksforGeeks.
The courses are self-paced: Anyone can register anytime, make payment and begin the course.

And, many more.
The course is available in two versions:
With Doubt Assistance: The price of the self-paced online DSA course with doubt assistance is INR 3,999. Click here to purchase your ticket.

Without Doubt Assistance: The price of the self-paced online DSA course without doubt assistance is INR 2,499. Click here to purchase your ticket

.

Preparing for AMAZON SDE Interview?
Do check out Geeksforgeeks Amazon SDE Test-Series. The price of the online AMAZON Test-Series course is INR 499.



Geeks Classes Live
An interview centric Live session focused on DSA to enhance your coding & problem-solving skills for product-based companies. The price of the LIVE Geeks Class course is INR 9,999.

If you like GeeksforGeeks and would like to contribute, you can also write an article and mail your article to contribute@geeksforgeeks.org. See your article appearing on the GeeksforGeeks main page and help other Geeks.

Please write comments if you find anything incorrect, or you want to share more information about the topic discussed above

My Personal Notes

arrow_drop_up