Mistakes You Must Avoid During Work From Home
Work from home in this COVID 19 pandemic has become the wave of the future for the IT workforce in the country. Some may find work convenient and comfortable from home but employees' responsibilities are increasing as they now have to follow more discipline and learn new etiquette.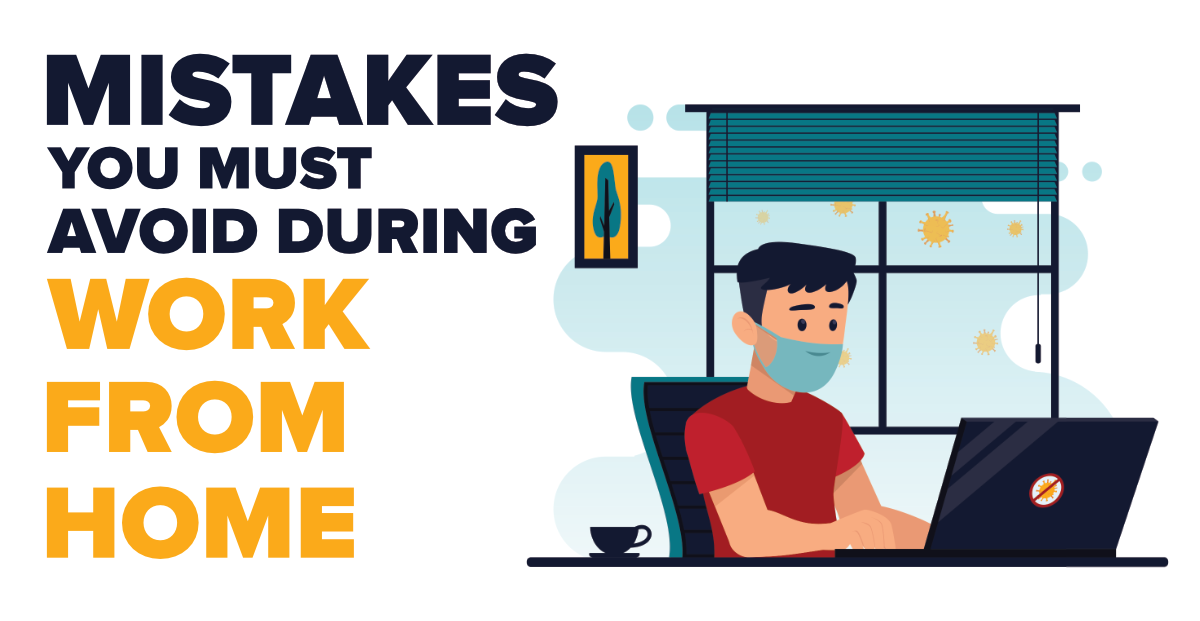 A simple mistake of yours can put your organization or your team at least in danger, especially as everyone works from home, and control of damage has become tough. There are a few goof-ups given below that home employees must avoid:
1. Don't Save Official Work on Your Personal Google Drive or Email Account
It is strongly suggested that you keep official work documents separately, instead of your google drive/email accounts, etc., to prevent unintended data leaks. Such accidental leaks can have serious implications that could be dangerous to you and your organization.
2. Don't Share the Details About Work From Home on Social Media
When chatting or sharing on social media, refrain from talking about work or posting work-related jokes and comments. These will not be appreciated.
3. Avoid Using an Insecure Internet Connection
Hackers are now targeting home networks, so you might have sensitive information that can not be leaked at any cost. It should be your priority to operate on a secure network. If you can set up a VPN, that's the best thing; otherwise, consider installing a firewall to stop any possible cyber threats when you're working from home.
4. Do Not Use the Same Internet Browser for Office Work and Personal Internet Browsing
It is highly recommended that you have a separate browser or a different profile for personal and professional use. Using the same browser for both personal and professional use may not only result in a difference in the type of data and ads you see because of the cache but can also result in other variations. For most companies, the IT department maintains track of the information given and obtained from the official program. It could cause awkward circumstances for you.
5. Don't Store Your Personal Data on Your Office Laptop
For the same good purpose as mentioned above, it is highly recommended that you do not store your personal belongings on a work computer. Besides, there are chances you will have to send the laptop to the IT department and get a new one every day you enter the office. If required, keep your personal information in a separate folder and mark them with a personal stuff badge.
6. Do Not Share a Laptop Office With a Family Member Who Works in Another Organization
Working from home at the time of a lockdown, make sure you never share your company resources with someone else in your house. Always use your laptop to work and do not allow your spouse or children to work on your office device for any reason whatsoever.
7. Never Keep Your System Unattended and Unlocked
If you have kids at home, you wouldn't want your kids to send random emails or turn on a video chat or type garbage in a presentation that you've been working for hours, it might be the biggest mistake of your life to leave your work computer unattended and activated.
8. Avoid Using A Weak Or Open WiFi
Avoid using a weak connection while officially working, particularly during the serious morning meetings. Using a poor WiFi link will disrupt communications and significantly affect the efficiency of the work. Using public WiFi is risky in general and it is riskier given the importance of official jobs. Documents from critical companies can become vulnerable to cyber attacks or hacks.
My Personal Notes
arrow_drop_up