Learn OS DBMS CN for SDE Interview Preparation – One Course for All Subjects!
In the tech interviews, apart from the questions based on your particular domain or technology such as Android Development, Machine Learning, etc., you are often asked several general questions based on various core computer science subjects such as Operating Systems, Computer Networks, etc. Though many of the individuals already know this, still they generally tend to ignore these subjects or topics that subsequently degrade their overall performance in the interview despite being proficient in their relevant technology. You need to know that preparing for these core CS subjects will not only help you to do well in the tech interviews but will also give you an edge over other candidates possessing the same skillset as yours.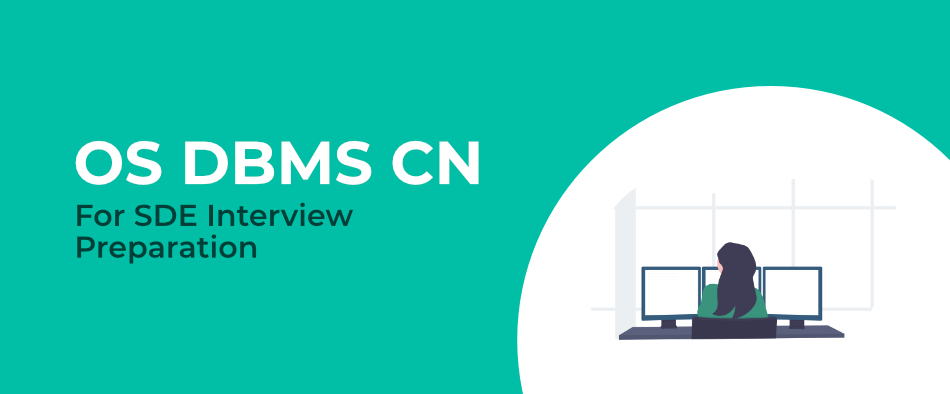 However, there comes a problem across the individuals while preparing for these computer science subjects. As these subjects like operating systems, databases management, etc are so extensive – it becomes quite difficult for the individuals, especially freshers, to find out the required & relevant topics and cover them all efficiently and effectively.
But…how would it be if you can get a learning resource that will help you to prepare for these subjects specifically from the perspectives of cracking interviews of various tech giants and that too in an efficient manner? Sounds exciting, right? Yes, we know that and keeping this in mind GeeksforGeeks is providing you with a remarkable OS DBMS CN for SDE Interview Preparation Course where you'll be able to learn Operating Systems, Database Management System, and Computer Network concepts to prepare for interviews in top product-based companies.
Course Details
This self-paced course is designed in such a way that will help you in conquering the topics like OS, DBMS, Computer Networks, and SQL for interviews in top-notch companies like Google, Microsoft, Amazon, etc. The course has premium lecture videos recorded by Mr. Sandeep Jain and theoretical concepts designed by experts. In addition, for a complete learning experience, there are numerous objective type questions for practice. Whether you're a student or a working professional, the course is recommended to each and every individual who is preparing for the SDE interviews of tech giants. Here in this course, you'll get to learn:
All the important concepts related to Operating Systems like Process Synchronization & Process Management, etc
Database Management Systems and its subtopics like Indexing and Transaction & Concurrency Control, etc
About Computer Networks and SQL and strengthen your academic fundamentals in all the mentioned CS Core subjects
Get to know the most important CS theory questions asked in the interviews of companies like Google, Microsoft, etc.
Some of the prominent features of this course are provided below:
Lifetime access to the Course
Track-based learning
Premium Video Lectures by Industry experts
Subject-wise Theoretical content by subject experts
Objective Questions compiled by subject experts
Moreover, you will get a Course Completion Certificate trusted by top universities & companies and access to the GeeksforGeeks Jobs portal along with this course – what else you need? The course is being provided to you at a discounted price of INR 1499/- and you can directly register yourself for the course by following the below-mentioned steps:
Step-1: Visit the official page of OS DBMS CN for SDE Interview Preparation Course.
Step-2: Then, Click on the Signup Button and enter the required details in the form such as name, contact number, etc.
Step-3: After signing up, you need to make the payment by clicking the "Pay Online" button.
Step-4: Then you'll get successfully registered for the course and will be able to access the course content.
For any query, you can drop us an email at geeks.classes@geeksforgeeks.org
Course Content
The content that will be provided in this OS DBMS CN for SDE Interview Preparation Course is as follows:
Operating System

Introduction to OS
Process Management
Process Synchronization
Deadlock
Memory Management

Database Management System

Introduction to DBMS
ER and Relational Model
Database Designing
SQL
Indexing
Transaction and Concurrency Control

Computer Networks

Introduction to CN
Data Link Layer
Network Layer
Transport Layer
Application Layer

Most Asked Interview Questions

Theoretical Compilation of Most asked Interview Questions from Computer Networks, Operating System and DBMS
Note: These questions are collected from over 2000 interview experiences of Amazon, Microsoft, Flipkart, Paytm, and other product-based companies.
Frequently Asked Questions (FAQs)
Q1: What type of certificate will be offered in this program?
Ans: Once the course is completed, you'll be getting a course completion certificate depending on your result in course tracks and contests.
Q2: Will the course content be available after the course end date?
Ans: Yes, the course content comes with lifetime validity.
Q3: To whom the OS DBMS CN for SDE Interview Preparation Course is recommended?
Ans: The course is recommended to everyone who is preparing for the SDE Interview of top product-based companies like Amazon, Microsoft, etc.
Q4: Does this course include programming questions?
Ans: No, this course contains video lectures, theory, and Multiple Choice Questions (MCQs) for practice.
Q5: Can I pay through online mode for the course?
Ans: Yes, the payment for the course can be made via online banking, credit/debit cards, UPI (Google Pay, PayTM, Phone pay, etc.).
Hence, if you're preparing for an SDE interview of any IT giant – then without giving a second thought, you should definitely opt for this enriching OS DBMS CN for SDE Interview Preparation Course!
My Personal Notes
arrow_drop_up