The HTML scope Attribute is used to specify the header cell is used for the header row, column, colgroup or rowgroup. This attribute does not display any visual effect on the browser but it is used for screen readers.
Uses: It is only used in <th> Element.
Syntax:
<th scope="col | row | colgroup | rowgroup">
Example:
<!DOCTYPE html>
<html>
<head>
<title>
HTML scope Attribute
</title>
</head>
<body>
<h1>GeeksforGeeks</h1>
<h2>HTML scope Attribute</h2>
<table border="1" width="500">
<tr>
<th scope="col">NAME</th>
<th scope="col">AGE</th>
<th scope="col">BRANCH</th>
</tr>
<tr>
<td>BITTU</td>
<td>22</td>
<td>CSE</td>
</tr>
<tr>
<td>RAKESH</td>
<td>25</td>
<td>EC</td>
</tr>
</table>
</body>
</html>
chevron_right
filter_none
Output: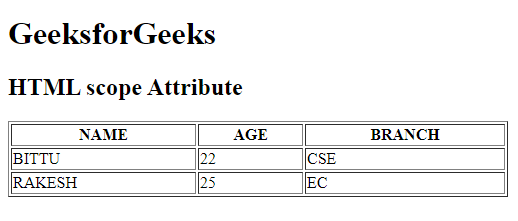 Supported Browsers: The browsers supported by HTML scope Attribute are listed below:
Google Chrome
Internet Explorer
Firefox
Apple Safari
Opera
My Personal Notes
arrow_drop_up
---
---
If you like GeeksforGeeks and would like to contribute, you can also write an article using contribute.geeksforgeeks.org or mail your article to contribute@geeksforgeeks.org. See your article appearing on the GeeksforGeeks main page and help other Geeks.
Please Improve this article if you find anything incorrect by clicking on the "Improve Article" button below.