How to Become a Chief Technology Officer?
Technology is becoming more and more important for all companies, no matter what sector they are in. In today's times, when companies need software for daily use and cybersecurity for protecting their information, then by default it pushes a focus on technology whether that's the company's primary job or not. A company may be a financial firm, a media house, or even an entertainment firm (like Netflix!) but technology is still extremely important. So Chief Technology Officers are a crucial part of the company.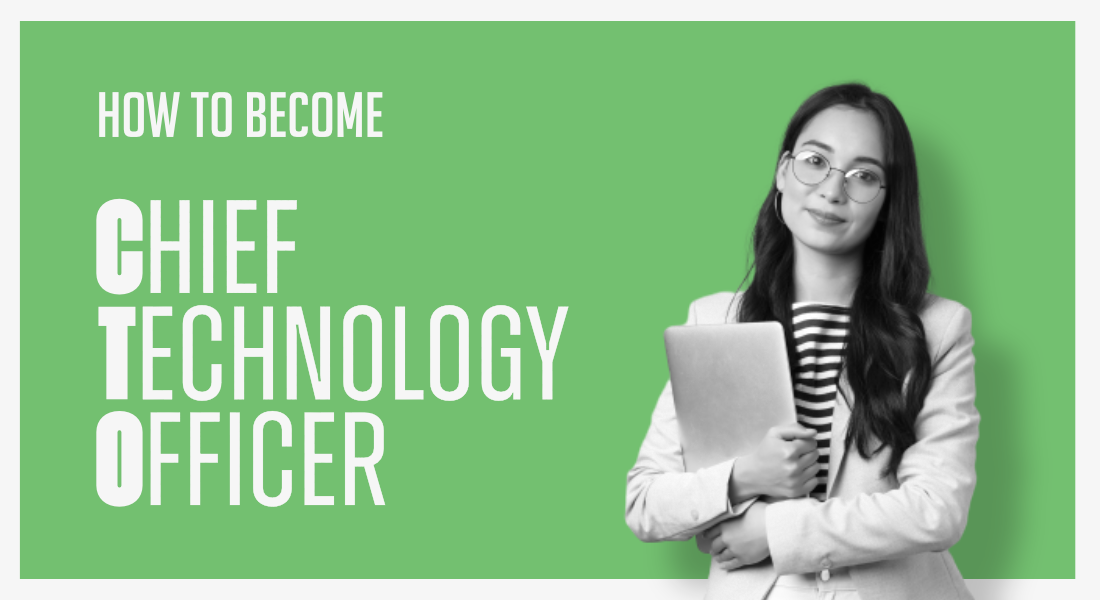 But there is still a big confusion as to what is a Chief Technology Officer? Everyone has heard of Chief Executive Officers and there are some pretty famous people in the tech world (Steve Jobs and Elon Musk come to mind!) But how are CTO's different? And what are their responsibilities in a company? Research shows that it takes a lot of hard work and loyalty to a company to become their Chief Technology Officer, with 39% of CTO's infamous Fortune 100 companies getting this role after working more than 16 years at their company. But what does this role entail? Let's find out!
What is the Chief Technology Officer?
As far as it comes to technology, the Chief Technology Officer is where the buck stops in a company! The CTO is the head of all the technological requirements in the company and focuses on both the long-term and short-term tech needs that will help the company reach its objectives and remain profitable. Normally, the CTO heads the entire IT department in a company and oversees all the IT senior managers while being answerable only to the Chief Executive Officer in the company.
Being a Chief Technology Officer is a position of responsibility in a company and requires knowledge about technological advancements as well as business management. So a CTO should know all about the changing tech landscape in their company and the world, understand the technological advancements of rival companies, and also manage the technical team and report their findings to the executive committee and CEO so that decisions can be made on how to take the company forward.
Responsibilities of a Chief Technology Officer
As we have already seen, CTO's are the best of both worlds! They have to focus on a combination of the technological needs and the IT business management of a company. So keeping that in mind, some of their core responsibilities include:
1. Technology Leadership
The CTO is the technology leader in a company. Their main goal is to create a technology vision for the company that aligns with its overall aims and objectives. They are responsible for utilizing technology to fulfill the goals of the company and create a tech-based culture where innovation can thrive. The CTO is also responsible for creating the technological team in the company and integrating tech in such a way that other employees can also understand and appreciate it.
2. Technology Research and Development
Technology Research and Development is a very important responsibility for a Chief Technology Officer in a company. Technology thrives on innovation and every year there are lots of new trends in the tech world. It's the responsibility of the CTO to keep an eye on these trends and watch the external market to provide the best competitive advantage to their company.
3. Product Development
Many companies incorporate technology into their products. In those cases, it's also the responsibility of the Chief Technological Officer to work closely with the Chief Product Owner (CPO) in product development and enhance the company products that will improve revenue and also create a brand for the company.
4. Business Management
Business management plays a very important role in the running of a company and the CTO handles this on the technology side. There are many software that companies use for business management such as Customer relationship management software, Point of sale software, etc. and it's the responsibility of the CTO to ensure that they are integrated into the company and working as required.
Skills Needed to Become a Chief Technology Officer
Now that we are familiar with the role and expectations of a Chief Technology Officer, the all-important question is how to become one? There's no simple or easy answer to this question. It takes a long time in the technology profession to reach the designation of a CTO. Also, there is no fixed way to get there as many CTOs have been software engineers, project managers, system architects, data scientists, etc. before getting this coveted role. As an example, consider that the CTO of Amazon, Werner Vogels, has a Ph.D. in Computer Science with 25 years experience as a Research Scientist, while the CTO's of Facebook and Microsoft, Mike Schroepfer and Kevin Scott respectively have an MS in computers science and also a 25 years experience in the tech industry including being a Software Engineer. That clearly shows that there's no one path to becoming a CTO in the future, although you might need at least an MS in Computer Science and at least 25 years of experience!!!
However, some common skills that you can acquire which will only help you in becoming a Chief Technology Officer include:
1. Technical Skills
A CTO should have a broad knowledge of all the skills required in the tech field. This includes knowledge and experience in software development, programming, system architecture, product development, etc. In addition to knowing the basic facets of technology, a CTO should also be willing to experiment and have an understanding of all the emerging technologies and how they can be useful for the business.
2. Business Skills
The main role of the CTO is to manage the technical aspects of a company and ensure that they provide the maximum benefit. However, this role also has managerial aspects where the CTO has to manage and supervise the entire IT department so business skills are a must. The ability to use technological know-how to further the business objectives is a very important part of this.
3. Leadership Skills
And last but not the least, a CTO should have leadership skills to effectively steer the technological side of the company in the right direction. They should know how to inspire and retail the best technical talent because great companies are created by teamwork in the direction of a great leader.
Career Path to Becoming a Chief Technology Officer
Becoming a Chief Technology Officer is a goal that has no fixed career path. The great advantage of this is you can choose your technical career in the way you want and still end up as a great CTO in the future. However, there is also a lot of confusion about how to get there because there is no clear path. So let's see an approximate method that fits into the career journeys of almost all the CTO's so you have a general idea of how to get there.
Complete your Bachelors in Computer Science or Information Technology. This is the absolute basic as most CTO's have at least this many professional qualifications.
Start your career in a technical role such as Software Developer, Programmer, Systems Analyst, etc. to understand how the real tech world works.
Pursue further education after some time in the industry. You could complete an MS in a technical field or go for an MBA.
Get a higher-level job in the industry with leadership potential. Move through the ranks until you become a senior executive at the company.
Keep abreast of the latest technologies and how your company has integrated them into the business environment. Improve your leadership skills in preparation for getting the coveted CTO role in the company!
Becoming a Chief Technical Officer is a great goal as you will get to exercise both your technical and business skills. Also, it doesn't hurt that CTO's are extremely well paid with a base salary of $162K, not including stock options and bonuses! However, this is a leadership role in a company that takes a lot of experience. So be patient and keep working hard with the long-term goal of becoming a CTO. And if you have a genuine love of technology and the necessary skills for this extremely demanding job, then you might be the Chief Technical Officer of your company one day!
My Personal Notes
arrow_drop_up