Google Cloud Platform – Get Free Cloud Credits for Students
In this article, we will look into the process of getting free Google Cloud education credits as a student developer. Google Cloud offers free education credits to help student developers prepare for their future careers. You can use these education credits to do things like deploy web apps, create new databases, and use Google's machine learning APIs.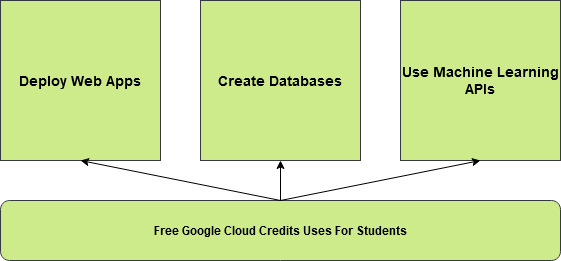 Follow the below step to get the free Google Cloud Credits:
Step 1: First, visit this link. Here you'll find this description of all the benefits that are available to you as a student developer.
Step 2: When you're ready to proceed, click on Access Benefits. Benefits are only available for students and faculty at credited higher-education institutions in certain countries. You can learn more by clicking View eligibility guidelines.
You can sign up with a school-issued Google account or a personal Gmail account. Before choosing a school account, make sure that your institution has enabled access to the Google Cloud Platform.
Step 3: Once you've decided which Google account to use, click Join Now and log in with that Google account.
Here you will fill out a quick form to let Google know who you are and verify your student enrollment.
Step 4: Enter your legal first and last name exactly as they appear on your school enrollment records. Your email address will be pre-populated based on the Google account that you are logged in with. You can switch to a different Google account if you want to. Select an academic institution from the provided list. Be sure to select your school from this list. Click the Submit button to submit the form.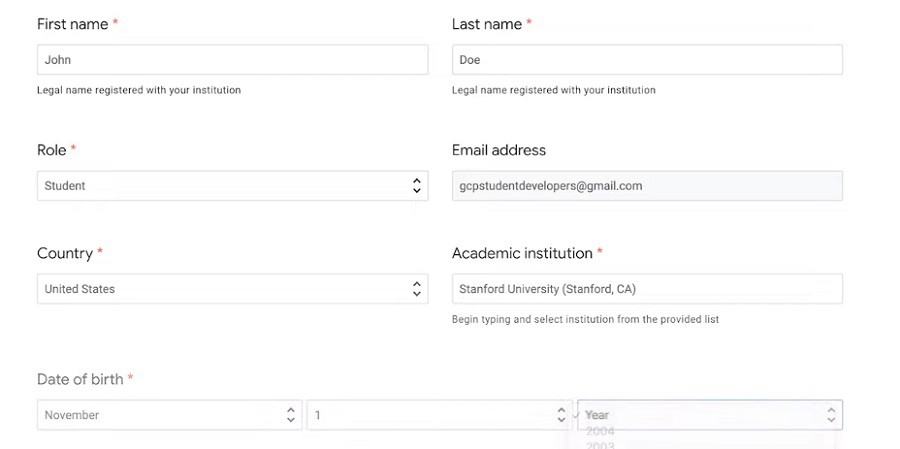 After you fill out this form, you may be redirected to the Student Benefits page. If so, congratulations. You have been successfully verified as someone who is eligible for education credits. However, some students may not be instantly verified and will need to provide more information. If you see this page, you will need to upload a school-issued document that can be used to verify your student status. This document should include your full name, your school, and a date proving current enrollment.
Acceptable examples include a school ID card with an expiration date, a class schedule, or a tuition receipt. You can also upload multiple documents that can be used to verify your credentials. Most document verifications take under an hour to complete, but some may take as long as 48 hours.
Once you are verified, you will receive a confirmation email with a link to the Student Benefits page. On the benefits page, you will see options for Google Cloud credits, Qwiklabs credits, Coursera courses, and more.
Step 5: Click the Redeem credits button under Google Cloud to proceed. This will take you to the Google Cloud Platform console, a web portal that you can consider the home base for Google Cloud. It's where you can create new resources, adjust settings, and do much more. Here it will display a GCP credit application page. If you want, you can click here to switch to a different Google account and add the Google Cloud credits there. Since the form will be auto-filled for you, you just need to click Accept and Continue.
Once the billing account is created, you will be brought to the Billing Account Overview page. On the right side, you will see a nice visual of how many credits you have remaining.
If you click on Credit details, you can see how many days you have to use them until they expire.
Step 6: Next, click on Account management on the left navigation bar. Here you'll be able to manage permissions for your billing account.
At this stage, you are all set to use GCP resources as you like and start learning.
My Personal Notes
arrow_drop_up