Difference Between Various Fields of Advanced Analytics
The analysis is the process of breaking a complex chunk of data into smaller parts in order to gain a better understanding of it. The analysis is performed on things that have already happened in the past. On the other hand, Analytics generally refers to the future. Instead of explaining past events, it explores the potential future events. Analytics is the computational analysis of data in a systematic manner used for the discovery and interpretation of new trends and communication of meaningful patterns in data. It also includes applying those data patterns towards effective decision making for the future.
There are various categories of Advanced Analytics which are as follows:
Business Analytics
Business Intelligence
Data Analytics
Data Science
Machine Learning
Artificial Intelligence
Analytics further branches into 2 areas:
Qualitative Analytics: It is about using intuition and experience in addition to planning the next decision.
Quantitative Analytics: It refers to applying formulae and algorithms to the data collected from the analysis.
Nowadays, many professionals consider Analytics as both Analysis and Analytics combined.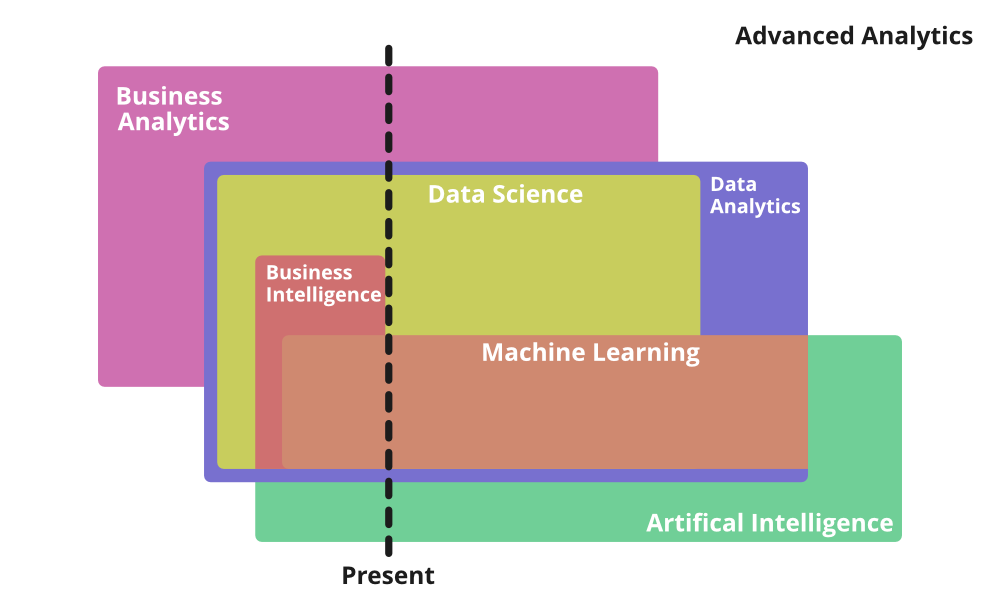 The above diagram shows the most popular disciplines of the Data Science and Business related fields and how they are related to each other.
The part on the left of the dotted line refers to the activities on past data and the one on the right refers to decision making for future planning and forecasting.
Business Analytics: In the business realm, there are operational terms like Business Case Studies, Qualitative Analytics, Preliminary Data Report, Creating Dashboards, and Sales Forecasting. Among these, activities like Business Case Studies are part of Business Analysis whereas Qualitative analytics is a part of Business Analytics. These two are purely business-related activities whereas creating preliminary data reports and dashboards and sales forecasting are data-driven business activities. Hence both the activities will lie in the blue-colored segment of the diagram.
Data Analytics: With data-driven business activities like creating preliminary data reports and dashboards and sales forecasting, Data Analytics comes into the picture. Now creating preliminary data reports and dashboards is a reflection of past data hence they will lie in the common area of Business and Data Analytics but will lie on the left side of the dotted line that is among the "Data Analysis" and sales forecasting will be on the right side as forecasting itself is a future-oriented activity.
Data Science: It is an interdisciplinary field in which scientific methods, computational processes, and mathematical and statistical algorithms are used to extract knowledge and gain future insights from structured and unstructured data. Data Science is a discipline that is highly reliant on the availability of data while business analytics does not rely on data though it incorporates part of data analytics that uses complex mathematical, statistical, and programming tools. The activities like creating preliminary data reports and dashboards and sales forecasting lie common in Business Analytics, Data Analytics, and Data Science.
Business Intelligence: It refers to the process of analyzing and reporting historical business data. The aim of business intelligence is to explain past events after evaluating business data. It must go on the left of the timeline as it deals only with past events and it must sit within the data science part as a sub-field because it is the preliminary step of predictive analytics.
Artificial Intelligence: It refers to the simulation of the human mind and its intelligence in machines to think like humans and mimic their actions.
Machine Learning: It is a subset of artificial intelligence (AI) that provides systems the ability to learn by themselves and improve from experience without being explicitly programmed. The Machine Learning rectangle is a bit controversial to be placed, as supervised machine learning takes labeled data as input whereas the unsupervised machine learning algorithms do not take labeled data.
Difference between Business Analytics and Business Intelligence:
| Based On | Business Analytics | Business Intelligence |
| --- | --- | --- |
| Definition | Business Analytics is repeated exploration and investigation of past business performances to gain insights and trends | Business Intelligence(BI) refers to the process of analyzing and reporting historical and present business data. |
| Need | Needed for future business operations and investments | Needed for current business operation. |
| Tools | SAP Business Objects, QlikSense, PowerBI, etc. | Word processing, Google docs, MS Visio, MS Office Tools, etc. |
| Example | Studying business case studies of other companies and business personalities and learning from their mistakes and ideas. | Reporting data with visuals and creating dashboards. |
Difference between Data Analytics and Data Science:
| Based On | Data Analytics | Data Science |
| --- | --- | --- |
| Definition | Data Analytics refers to cleaning, structuring, transforming, and modeling data in order to gain useful information and reach a conclusion that can help in decision making. | Data science is an interdisciplinary field in which scientific methods, computational processes, and mathematical and statistical algorithms are used to extract knowledge and gain future insights from structured and unstructured data. |
| Reliability On Data | Rely on data completely. | Partially rely on data. |
| Scope | Micro | Macro |
| Data TYpe | Deals with structured data | Deals with unstructured data |
| Skill | Statistical and Programming skills are not much needed. | Statistical and Programming skills are needed. |
| Example | Digital Signal Processing uses Data Analytics to produce a higher quality signal. | Optimizing the accuracy of predictions based on data extracted from various activities typical drilling operations in the oil and gas industry. |
Difference between Artificial Intelligence and Machine Learning:
| | | |
| --- | --- | --- |
| Based On | Artificial Intelligence | Machine Learning |
| Definition | Artificial intelligence (AI) refers to the simulation of the human mind and its intelligence in machines to think like humans and mimic their actions. | Machine learning is a subset of artificial intelligence (AI) that provides systems the ability to learn by themselves and improve from experience without being explicitly programmed. |
| Optimal Solution | Finds optimal solution. | Finds a solution whether it is optimal or not. |
| Reliability On Data | Deals with Structured, semi-structured, and unstructured data. | Deals with Structured and semi-structured data only |
| Example | Siri, customer support using catboats, Expert System, Online game playing, Intelligent humanoid robot | Online recommender system, Google search algorithms, Facebook auto friend tagging suggestions |
My Personal Notes
arrow_drop_up