Google Analytics: It is a web analytics service offered by Google that tracks and reports website traffic, currently as a platform inside the Google Marketing Platform brand. Google launched the service in November 2005 after acquiring Urchin.
Mixpanel: It is a business analytics service company. It tracks user interactions with web and mobile applications and provides tools for targeted communication with them. Its toolset contains in-app A/B tests and user survey forms. Data collected is used to build custom reports and measure user engagement and retention.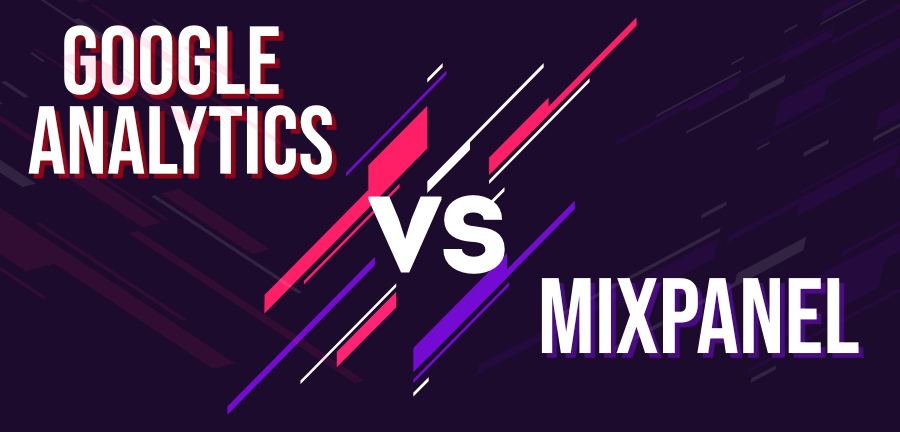 Below is a table of differences between Google Analytics and Mixpanel:
| Features | Google Analytics | Mixpanel |
| --- | --- | --- |
| Use Case | Best for page(session) based user tracking | Best for event based user tracking |
| Tracking method | It is focused on measuring pageviews | It is an event centric tool build to capture user actions. |
| A/B testing | It provides A/B testing for web | It provides A/B testing for mobile |
| Integration | Simple and easy to use | Requires knowledge of events and internal flows to setup tracking |
| Data accuracy and speed | For small scale it is accurate and fast but at bigger scale it lags | For both small and large scale reports are accurate and up to date |
| Funnel setup | Advance funnel setup is required before data can be visualized | Funnel can be setup with options to see variation in flow of tracking |
| Processing time | Takes a lot of time(in hours) to filter the reports | Quick takes few seconds |
| Reporting speed | Slow | Fast |
| Segmentation | Require setting and saving segments before usage | Segments can be can be set up on fly and can be used later on |
| Incremental properties | Automatic | Manual |
My Personal Notes
arrow_drop_up
---
---
If you like GeeksforGeeks and would like to contribute, you can also write an article using contribute.geeksforgeeks.org or mail your article to contribute@geeksforgeeks.org. See your article appearing on the GeeksforGeeks main page and help other Geeks.
Please Improve this article if you find anything incorrect by clicking on the "Improve Article" button below.