Difference between EPROM and EEPROM
EPROM (Erasable Programmable Read Only Memory) is also the type of ROM is read and written optically. To write associate EPROM, its storage cells should stay within the same initial state. EPROM provides reduced storage permanency as compared to PROM as a result of the EPROM is receptive to radiation and electrical noise. in the construction of EPROM, MOS transistors are used.
In EEPROM (Electrically Erasable Programmable Read-Only Memory) electric signal is used to erase the EEPROM's contents. EEPROM may be a non-volatile memory that retains its content notwithstanding the ability is shifted. It stores the little quantity of information used for laptop/computer BIOS. it absolutely was a replacement for the PROM as well as EPROM.
Attention reader! Don't stop learning now. Get hold of all the important CS Theory concepts for SDE interviews with the CS Theory Course at a student-friendly price and become industry ready.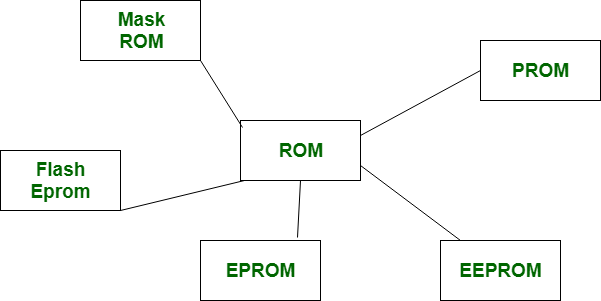 The main difference between EPROM and EEPROM is that, the content of EPROM is erased by using UV rays. On the other hand, the content of EEPROM is erased by using electric signals.
Let's see that the difference between -EPROM and EEPROM:
| S.NO | EPROM | EEPROM |
| --- | --- | --- |
| 1. | In EPROM, UV light is used to erase the EPROM's content. | In EEPROM, electric signal is used to erase the EEPROM's contents. |
| 2. | EPROM includes a rock crystal crystal window at the top. | EEPROM area unit wholly sheathed in an opaque plastic case. |
| 3. | Relative size of cell in EPROM is one. | The relative size of cell in EEPROM is 3. |
| 4. | EPROM is modern version of PROM. | EEPROM is the modern version of EPROM. |
| 5. | EPROM is the external programming. | EEPROM is the external programming. |
| 6. | Once EPROM memory is erased then it can be reprogrammed. | EEPROM is also reprogrammed after erasing like EPROM. |
| 7. | The transistor used in EPROM consumes 12.5 volt. | The transistor used in EEPROM consumes 5 volt. |
| 8. | In EPROM, hot electron injection programming technique is used. | In EEPROM, tunnel effect is used as programming technique. |
| 9. | In EPROM, an erasure consumes 15 to 20 minute for erasing contents. | In EEPROM, an erasure consumes 5 millisecond time for erasing contents. |
| 10. | EPROM chip has got to be off from the computer circuit to erase and reprogram the computer's BIOS. | EEEPROM chip will be erased and reprogrammed within the electrical circuit to erase and reprogram the content of computer's BIOS. |
My Personal Notes
arrow_drop_up