Top 7 Game Development Platforms For Developers
With the evolving use of technology, gaming industries are continuously engaging more people. Apart from using smartphones as communication devices, we also use them for entertainment purposes. This hunt results in more engagements in the gaming industry. Undoubtedly, the increase in gaming industries leads to growth in game development platforms as well. A game developer has to take care of many things like graphics, visuals, software development, etc., For satisfying all these features, a developer needs the best game development platforms.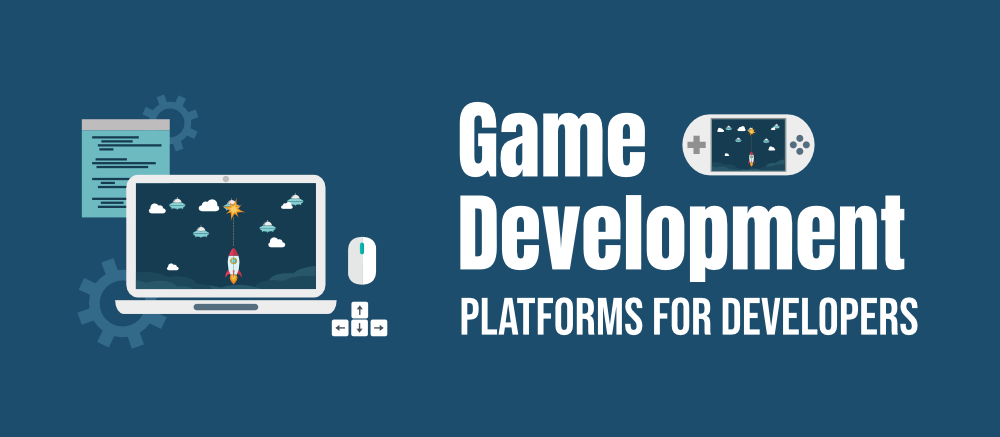 How to Make a Mobile Game?
These are the basic steps needed to create mobile games:
Discover a unique game idea
Research your audience and their preferences
Make an engaging story to attract your target audience along with the game plan
Decide the estimated cost
Choose a proper platform for your game, iOS or Android
Select the best back-end (game engine) for your game application for smooth operation
Develop a game with the proper design document, game structure, graphics & animation, prototype, and the final product
Work effectively on the testing part
Work on marketing and monetization strategies
Being in the gaming industry, you must have to use such important platforms to make a game more fascinating and enthusiastic. Such platforms help the developers in the following ways:
It helps you to establish a fast and efficient development in games.
These platforms help in considering all the facets of games such as game creation, mechanics, UI inclusion, visuals, and presentation.
You can build a game in a customized way depending on the requirements. Either develop a new game from scrape or augment some code integration for better production.
Also, it supports building Mobile AR games through ARCore, ARToolKit, ARKit, etc.,
Lastly, it offers flexibility, adaptability, and creativity while developing.
Here, we have discussed the 7 best platforms that help developers in the game development procedure.
1. Unity
Unity has almost covered half of the gaming industries. From developing astonishing 3D games to offering a real-time platform, Unity stands at the top. With an easy user interface, it helps beginners with easy and understanding tutorials and guidelines. Using this platform for student or personal use will charge you nothing. However, the pricing differs with different versions namely, plus, pro, and enterprise versions. Furthermore, it provides amazing photographic effects. This helps in building the game more interesting. Some other creative features of this tool are graphics rendering, collaboration, and next-gen runtime. It offers incredible and unique potential to the game creators and developers of the gaming industry. Moreover, it covers all the required platforms such as:
Android
Tizen OS
Windows
Fire OS
2. AppGameKit
AppGameKit is another development tool that helps developers to build android games smoothly. It offers an easy interface for the users by using an analogous coding language, that is, C++. So, anyone like an expert or a beginner can easily use it for game development. The best and most notable feature of this platform is that it is cross-platform. This means that the games developed under this software are available on different platforms at the same time. The supported platforms for it are iOS, Windows phones, and Androids. Its pricing differs as per your needs. For example:
The classic app charges around $49.99
The unlimited app asks for $66.98
You can look for other charges as per your needs. Some of the examples of games developed under AppGameKit are Rust of Adventures, Na4, LordZ, etc.,
3. CryEngine
The CryEngine software is very popular because of its graphical outputs. If you desire to develop a game with the best graphics and higher visuals, this platform suits you best. CryEngine is mostly recognized because of the inclusion of superlative tools like Flowgraphs. This tool allows the developers to build the gaming atmosphere more striking and prevailing. Moreover, some others tools help beginners to know all its properties. That helps them in creating a smooth game and top-class gaming ambiance. Particularly, you can get a definite set of tools that helps in creating animations, graphics, and a better experience. CryEngine supports all kinds of platforms and it is free to use.
4. Unreal Engine
Unreal Engine does not require any tough programming skills. So, it's kind of an easy tool to develop your games easily and smoothly. Using this platform one can easily amend their games without dealing with confusing coding. Indeed, it is a set of unified tools that allows you to make your game's visuals and simulations more powerful. Moreover, Unreal Engine provides a user-friendly and accurate design that offers to create 3D graphics. Some supported platforms are Xbox One, iOS, Linux, Android, HTML5, etc., Furthermore, this platform proposes publishing and creator licensing for free. However, you are charged a custom value for using getting the custom license.
Also Read: Unreal vs CryEngine
5. Amazon Lumberyard
Its name suggests that this all-inclusive platform belongs to the Amazon family. Amazon Lumberyard serves the purpose of developing games and creating gaming communities. It is an important AAA game engine that features Twitch integration, VR preview mode, and visual scripting gears. This amazon product includes an AWS cloud system that makes it safer and more secure. Amazon Lumberyard is freely available to use along with supportive Adobe Photoshop. The basic platforms that can handle this platform are as follows:
6. Cocos2d-x
Basically, it is a cross-platform that is based on a GUI system. Cocos2d was proposed by Facebook that develops small-size games of 1.5 MB. It is a unique suite of game development tools used worldwide. This platform supports various services such as:
Community Assistance
Scene Editing
Resource Management
Game Previewing
Documentation
Debugging
Cocos2d helps you to publish your schemes on various platforms. It is a free platform supporting iOS, HTML5, Android, Mac, and Windows platforms.
7. Titanium
The last game development platform on our list is Titanium. The Appcelerator company owns this platform. Another best podium that supports unique game development features with JavaScript. This platform covers the essential well-organized elements that save developers time from coding. The free platform with an interface with a single code base enhances the developers' interests. As they do not have to indulge in several tools and coding languages for developing their games. Titanium is supportive in different platforms below:
Moreover, this platform is free until the indie version. However, you will be charged $199 per month when you opt for the Pro version.
Conclusion:
The above-mentioned platforms are widespread and superlative for game developers. While selecting the best game development platform for your next project, you should think about the features that cater to your specific needs. For example, your budget, supportive platforms (like Android, and iOS), expectations, and game requirements. The use of these developers further depends on your skills and expertise, which could be a limiting factor in any case.
My Personal Notes
arrow_drop_up