MOODLE – A digital Learning platform
The LEARNING PROCESS comprises of three distinct phases viz., Identification and collection of various study material, Study thus collected artifacts in an organized manner and Test the understanding. Often this process involves many contributors implicitly. For example, a standard (Education or examination) board would have set the goals for us. This board would provide us with some recommendations regarding the scope and offer us a list of study material too. Teachers would have collected such recommended material and add their knowledge, expertise, and experience in developing a vivid explanation and create supporting lecture notes in order to enrich the learning experience for us. Of course, there are short-term or midterm and final examinations, be it descriptive or objective questions. By and large, a similar procedure is followed for competitive examinations with fading roles and responsibilities where the onus is mostly on the student.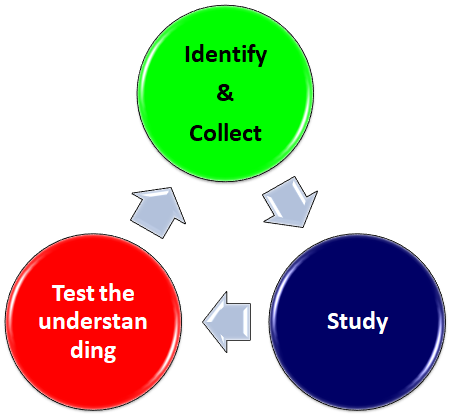 Figure1 Learning process
In recent days, the Internet and mobile devices play a vital role in our lives and there is no exception for the learning process as well. The Learning system has witnessed the strides of technology too. There evolved several digital learning models and tools that respire based on the internet. Most famous among such digital learning platforms is Moodle. Apart from moodle, there are several paid and open source learning platforms such as Courseplay, Adobe Captivate Prime, etc
What is MOODLE?
Modular Object-Oriented Dynamic Learning Environment (MOODLE) is an Open Source Learning Management System (LMS) that paves the way for digital learning with the capacity to hold various types of learning content. It is SCORM 1.2 standard compliant system. There are over 20 types of activities that can be created as part of learning content design. The learning content or the course material can include:
Simple text files
Microsoft documents (an exception to the powerpoint presentations in the native form)
Video and (or) Audio files of different formats
Files in Portable Document Format (.pdf)
The Moodle platform offers a comprehensive learning arena where students can collaborate under a moderated environment. Participants can study, discuss, take assignments and tests and obtain a certificate of completion against defined objectives of learning. Teachers would be able to create and update course material in various forms as already mentioned. Define the course format and set targets for students both in terms of timelines and minimum grade to certify the course completion.
Figure2 depicts the typical operation of Moodle: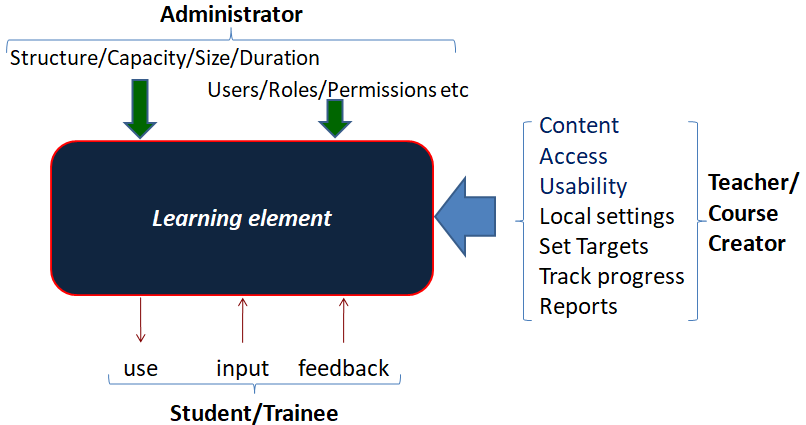 Figure 2: Operational model of Moodle platform
There are various roles that contribute to creating and maintaining the courses on the moodle platform. Among various roles, the typically important roles are Administrators, Teachers, Course Creators, and Students.
Administrators can define and modify the roles and responsibilities of any user in the system. They can also enable various access methods selectively. For example, an enable/disable mobile access. Restrict IP addresses for accessing courses. Run site-wide announcements.
Teachers and course creators would be able to create the course material. Teachers will have additional privileges to assign and track the progress of students to their courses respectively. Design and conduct surveys, quizzes, etc. Analyze responses and provide feedback.
Hierarchy of the course structure
When we examine the course structure, the following are a few interesting factors about the course structure. Figure3 summarizes the hierarchy of the skeletal organization of the course content. The smallest unit can be defined as 'Learning Element'. A set of learning elements would create an 'Activity'.
Resources/Activities – A set of learning elements that gives measurable actions for learners
Topic– Contains set of items called Resources or Activities that contain specific action oriented information elements
Course – A set of topics with specific coverage and particular objectives or goals to be achieved by learners
Category – A group of courses, for example, it resembles a book that contains multiple chapters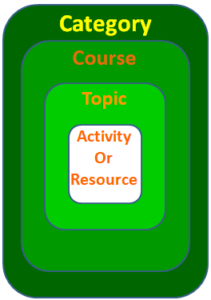 Figure3: Hierarchical view of course elements within Moodle
Platform requirements
Moodle is supported on Linux flavors, Ubuntu 12.x and higher versions Windows Server 2008 onwards. Moodle server can be installed on any web server like Apache 2.x or NGINX or equivalent.
Conclusion
Moodle is a highly capable open-source learning platform that offers all vital facilities such as publishing site-wide announcements, course level announcements. Enable and disable mobile access. Enable course creators to provide course content and material in various forms and formats. Control the course availability and evaluate participants. Conduct surveys and Feedback sessions etc. Set goals for students, track and alert them on deadlines.
My Personal Notes
arrow_drop_up