HTML <link> disabled attribute
The Disabled attribute for <link> element in HTML is used to specify that the linked document is disabled. A disabled option is un-clickable and unusable. It is a boolean attribute.
Syntax:
<link disabled> ----- </link>
Example:
<!DOCTYPE html>
<html>
<head>
<link id="linkid"
rel="stylesheet"
type="text/css"
href="styles.css"
sizes="16*16"
hreflang="en-us" disabled>
</head>
<body style="text-align:center;">
<h1>GeeksForGeeks</h1>
<h2><link> disabled Attribute</h2>
</body>
</html>
Output: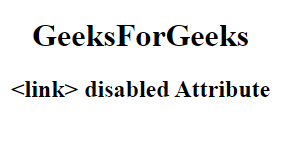 Supported Browsers:
Google Chrome
Internet Explorer
Firefox
Apple Safari
Opera
My Personal Notes
arrow_drop_up