HTML | DOM Option form Property
The Option form Property in HTML DOM is used for returning the reference of the form that belongs to Option Element. This Property is read-only that returns a form object on success.
Syntax:
optionObject.form 
Return Values: It returns a reference to the form that contains an Option Element. It returns a null value if the option is not in the Form.
Example: This Example returns an Option Form Property.
<!DOCTYPE html>
<html>
<head>
<title>
DOM option form Property
</title>
<style>
body {
text-align: center;
}
h1 {
color: green;
}
</style>
</head>
<body>
<h1>GeeksforGeeks</h1>
<h2>DOM option Form Property</h2>
<form id="myGeeks">
<select id="GFG">
<option id="sudo">
Choose an option
</option>
<option value="html">
HTML
</option>
<option value="java">
JAVA
</option>
<option value="C++">
C++
</option>
<option value="php">
PHP
</option>
<option value="perl">
PERL
</option>
</select>
</form>
<br>
<br>
<br>
<br>
<br>
<br>
<br>
<button onclick="myGeeks()">
Submit
</button>
<h3 id="demo"></h3>
<script>
function myGeeks() {
var x = document.getElementById(
"sudo").form.id;
document.getElementById(
"demo").innerHTML = x;
}
</script>
</body>
</html>
Before Clicking On Button: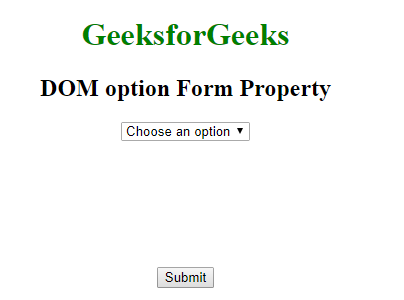 After Clicking On Button: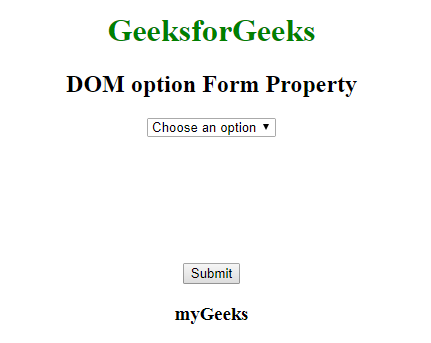 Supported Browsers: The browsers supported by DOM Option form Property are listed below:
Google Chrome
Internet Explorer
Firefox
Apple Safari
Opera
My Personal Notes
arrow_drop_up