Gap Buffer Data Structure
Gap Buffer is a data structure used for editing and storing text in an efficient manner that is being currently edited. It is also similar to an array but a gap is introduced in the array for handling multiple changes at the cursor. Let's assume a gap to be another array which contains empty spaces.
Example: Consider an example with initial gap size 10, initially, array or gap are of the same size, as we insert the elements in the array similarly elements will be inserted in the gap buffer, the only difference is gap size reduces on each insert.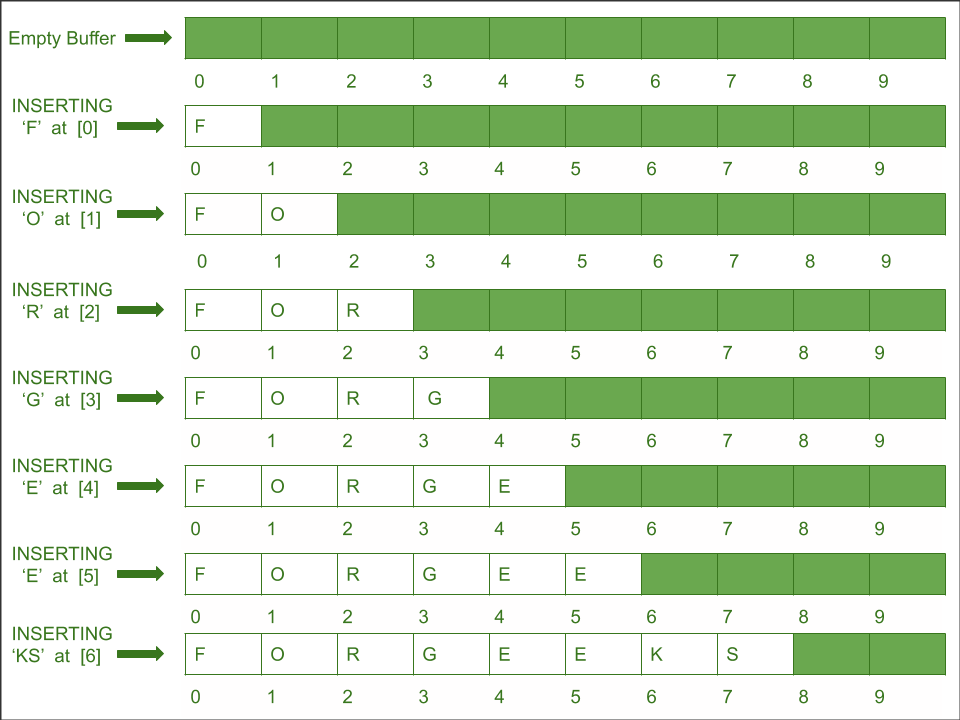 This was the basic case to insert the character in the front. Now, whenever there is need to insert a character at certain position we will just move the gap up-to that position using left() and right() then try to insert the character.
Need for Gap Buffer
Array is a data structure which stores items at contiguous memory location. However, it takes O(1) insertion at end of the array while O(n) time in front because the array will be shifted n places right, n being the length of the array.
When it comes to text editors we need a faster data structure for insertion, modification as there are multiple changes at the cursor positions.
In worst case array will take O(n) time for insertion or modification as shown in the example below.
For inserting 'GEEKS' at the front, space is made for inserting each character by shifting the array.

Basic operations in Gap Buffer