Static Web pages:
Static Web pages are very simple. It is written in languages such as HTML, JavaScript, CSS, etc. For static web pages when a server receives a request for a web page, then the server sends the response to the client without doing any additional process. And these web pages are seen through a web browser. In static web pages, Pages will remain the same until someone changes it manually.

Dynamic Web Pages:
Dynamic Web Pages are written in languages such as CGI, AJAX, ASP, ASP.NET, etc. In dynamic web pages, the Content of pages is different for different visitors. It takes more time to load than the static web page. Dynamic web pages are used where the information is changed frequently, for example, stock prices, weather information, etc.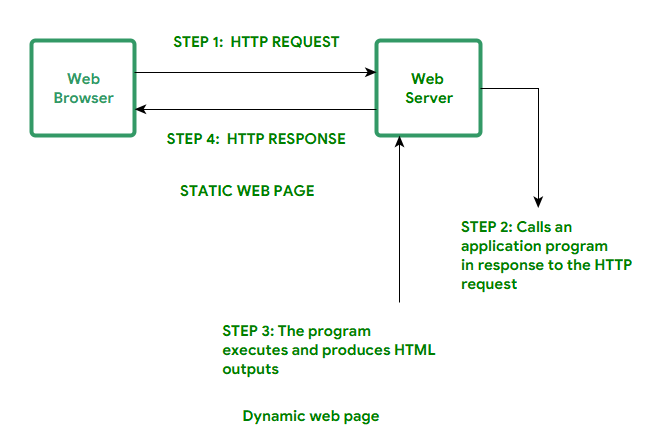 Difference between Static and Dynamic Web Pages:
| SL.NO | Static Web Page | Dynamic Web Page |
| --- | --- | --- |
| 1. | In static web pages, Pages will remain same until someone changes it manually. | In dynamic web pages, Content of pages are different for different visitors. |
| 2. | Static Web Pages are simple in terms of complexity. | Dynamic web pages are complicated. |
| 3. | In static web pages, Information are change rarely. | In dynamic web page, Information are change frequently. |
| 4. | Static Web Page takes less time for loading than dynamic web page. | Dynamic web page takes more time for loading. |
| 5. | In Static Web Pages, database is not used. | In dynamic web pages, database is used. |
| 6. | Static web pages are written in languages such as: HTML, JavaScript, CSS, etc. | Dynamic web pages are written in languages such as: CGI, AJAX, ASP, ASP.NET, etc. |
| 7. | Static web pages does not contain any application program . | Dynamic web pages contains application program for different services. |
| 8. | Static web pages require less work and cost in designing them. | Dynamic web pages require comparatively more work and cost in designing them. |
Attention reader! Don't stop learning now. Get hold of all the important CS Theory concepts for SDE interviews with the CS Theory Course at a student-friendly price and become industry ready.
My Personal Notes
arrow_drop_up
---
---
If you like GeeksforGeeks and would like to contribute, you can also write an article using contribute.geeksforgeeks.org or mail your article to contribute@geeksforgeeks.org. See your article appearing on the GeeksforGeeks main page and help other Geeks.
Please Improve this article if you find anything incorrect by clicking on the "Improve Article" button below.