7 Tips to Make the Most of Your First Internship
An internship plays a very crucial role in college students' lives as it acts as an entry gate for them to get into the professional world and to get real-world practical exposure. It allows the individuals to showcase and implement all those skills and knowledge that they've learned till now. No one can deny that the relevant academic qualification is very much necessary to get into your dream job but when you work as an intern, you get to learn and develop each and every aspect like technical skills, soft skills, work ethics, time management, professional networking, etc. required to get success in the corporate environment. And not only this, but the addition of some relevant and considerable internship programs in your resume gets you the much-needed edge over other candidates for future career or job opportunities.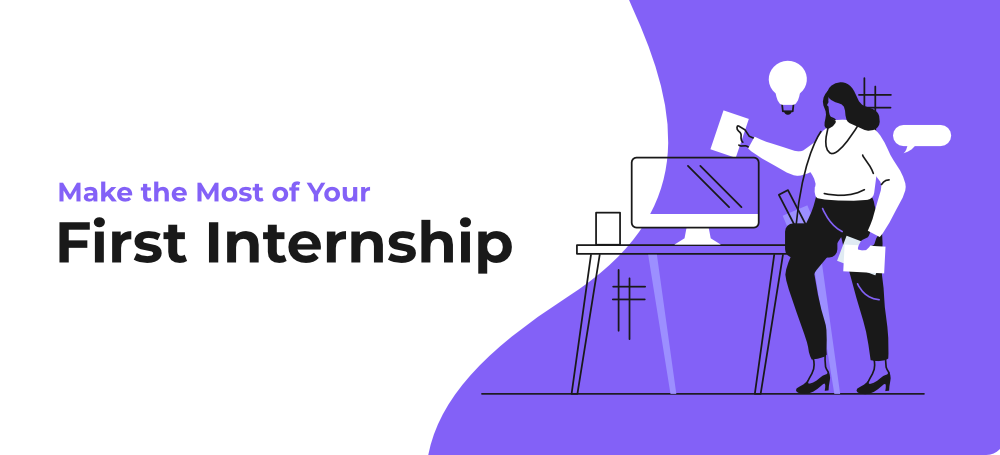 However, what the problem is – when the college students or freshers get their first internship opportunity, it becomes a bit difficult for most of them to make a smooth transition from college environment or student's mindset to the corporate world or working professional mindset. And eventually, they feel quite stressed and make some silly mistakes during their internship period that lowers down their self-confidence and restricts them to stand out among other interns. Hence, you all are strongly recommended to get prepared beforehand to ace in the first internship of your career journey.
Here, in this article, we're going to tell you some most worthwhile and effective tips that will surely help you in making the most out of your first internship or converting this internship opportunity to a permanent job offer. So, let's get started now:
1. Carry a Professional Personality
One of the most common mistakes that individuals often commit in their first internship is that they don't treat it like a full-time job opportunity and carry a bit unprofessional attitude towards it. Obviously, you must be true self at work and not be required to fake yourself but simultaneously you should maintain professionalism to keep things on the right track. You can consider checking the below-mentioned points as it will surely help you to reflect your professionalism:
Use professional language in the office for communication
Be punctual and don't be late to work or meeting
Follow an appropriate and professional dress code
Keep your workspace and allotted tasks organized
Keep your phone on silent mode during office hours, etc.
2. Understand the Company Culture and Work Environment
Furthermore, you need to clearly understand the company culture and work environment while doing the internship. You need to identify how things work in the corporate world, how the tasks or operations get done, what is the employee hierarchy level, general policies of the company, learning & growth opportunities for the employees, etc. This will surely make things more clear to you for your future permanent job goals. You won't believe but company culture and work environment are one of the most crucial parameters that candidates consider, especially the experienced ones while looking out for a new job opportunity. Other than that, it will also help you in getting some common topics to start a conversation with other employees in the particular company from where you're doing your internship.
3. Get a Clear Understanding of Your Work Responsibility
Okay, so you should also have a clear understanding of your job role and work responsibilities during your internship tenure. Firstly, when you get clear with your work responsibilities at the organization, it becomes easier and efficient for you to accomplish your allotted tasks. Secondly and most importantly, when your internship gets completed, and you apply for a full-time job opportunity in any other company, the interviewer asks you several questions based on your previous internships and at that time, an inappropriate or incomplete answer from your side can make you lose that job opportunity.
Let us understand this with an example of A and B. Suppose A and B possess the same academic qualification & skillset and both have even done their internship from the same company. Now, in an interview, when A is asked about his roles & responsibilities in that internship – he ends up giving a confusing and not-so-clear answer. On the other hand, B answers this question in a detailed and precise manner. Now, what do you think who will get preferred by the recruiter for the particular job opportunity….?? Obviously, B. And that's why you should have a clear understanding of your work and responsibilities while doing the internship.
4. Have a Clear Vision and Goals
Moving ahead, you should have a clear vision and goals while working as an intern. Many times it has been observed that college students just opt for an internship opportunity without actually identifying their vision. You need to ask yourself several relevant questions like – why do you want the internship, is the particular internship relevant to your future career goals, etc. And then you need to set the goals that you need to achieve during the internship tenure. You can also take the help of your mentor at work and discuss your goals with him/her to gain some fruitful advice.
5. Take Notes, Ask Questions and Get Feedbacks
When a college student enters the corporate world via an internship, he finds it difficult to remember all the tasks, guidelines, schedules, meetings' outcomes, etc. And to forget some of these things at work isn't an option. Hence, carrying a notebook and taking notes is undoubtedly the best practice to resolve this challenge. Other than that, if you have any doubt or query regarding your work responsibilities, etc. – you're recommended to speak up and ask questions as it will not only make things clear to you but will also show your curiosity, enthusiasm, and willingness to learn & work to the mentor or manager. Also, if you come up with an idea or plan in your mind, you can opt to discuss it with your mentor. Moreover, get regular feedback from your mentor while doing an internship to assess your performance and to identify whether you're doing well to achieve your targeted goals or not.
6. Network with Employees and Other Interns in the Company
Another major mistake that individuals often commit in their first internship is that they don't much network with other employees or interns in the company. They usually avoid growing their professional network by thinking that the internship is going to get over within 3-6 months. But it is actually not a recommended and appreciable practice. You should definitely meet and network with other people in the organization and also keep in touch with them even after your internship ends. It will surely create a positive impression of yours on other people at the organization. Also, these people will not only help you at work during the internship period but in the future, they can let you know about some worthwhile job opportunities, or even you can ask them for referrals as well.
7. Don't Focus Much on Stipend
Lastly, you're recommended to not focus much on the stipend or other perks, especially when it is your first internship. You need to understand that you'll get numerous well-paying job opportunities to earn money later but at such an initial stage of your career – it would be better if you focus more on enhancing your learning curve. For example – if you're getting a remarkable internship offer where you can get a chance to learn and grow your skills with some brilliant minds, but you'll not be provided with the stipend – then you should not lose the opportunity just for the sole reason that it is unpaid. ​In a similar context, try to avoid criticizing or complaining over little things like cafeteria issues, leaves, etc. during the internship.
So, these are several most effective tips that can help you in acing your first internship and to make the most out of it. Do remember that an internship is the very first step of your professional career ladder – hence, do not take it anyhow for granted!!
My Personal Notes
arrow_drop_up