7 Tips to Stand Out as a Freelance Web Developer
Standing out as a freelance Web Developer, it is very tough to survive in the competitive world. Due to the increase of technology in daily lives, web developers are more in demand. Despite offering the best and effective web development services, you might be unable to stand out in the freelancer's crowd. Gaming apps, innovative websites, chatbots, and other technological advancements have increased the demand for Web Developers. So, if you are thinking to take up freelancing work, you need expansions in the markets. Moreover, a freelance web developer needs to take care of several things to stand out in the competitive world.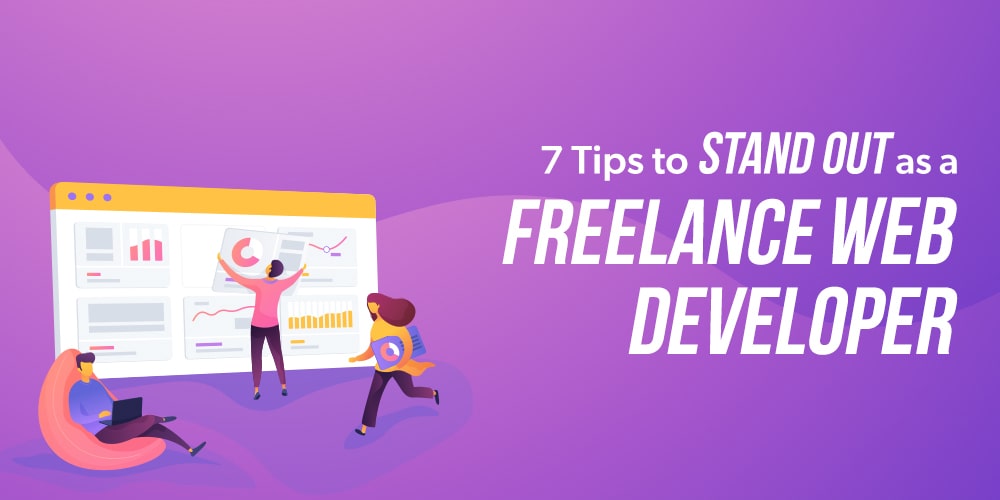 Reasons to Choose Freelancing Web Development
If you are a web developer, you might have to work in the same company for a long time or change jobs frequently to satisfy your tech desires. Freelancing helps you to work on your own conditions. Possessing all the features and skills of web developments can help you to serve easily as a freelancer. Some of the significant reasons that support freelancing in this field are as follows – It helps you to work on your own terms and conditions, there is no need to work for anyone else and you will be the boss, etc.
Tips to be a Successful Freelancer Web Developer
To sustain in the competition of the Web development Market, freelancers need to carry out certain tips & strategies. These are as follows:
1. Learn Required Skills & Identify Your Niche
Firstly, you need to develop and upgrade all the necessary web development skills such as HTML, JavaScript, CSS, and others. Enhancing your skills and focusing on them can help you to attain expertise and become professionals. Apart from being a programmer, a developer needs to be an expert in some specific areas. Identify the specific area and offers all the necessary solution to the relatable issues. Being a freelancing developer, people must acknowledge you as the best one to offer services in a particular area. It will enhance your portfolio as you can mention your specific areas of expertise as your popularity.
2. Needs to be Pro-active
To work as an effective freelancer, you need to be more active and focused. Apart from waiting for projects and recommendations, you have to step up and take the lead. Look for some potential clients and approach them with your offers and services. Most freelancers avoid looking for clients and prefer waiting for references. This avoidance can be the biggest mistake in freelancing careers. You need to put effort into your daily lives to track potential clients and professionally approach them. Since most of the freelancers fail to do so, you can easily beat the competition and stand out to be on the top lists of professional freelancers.
3. Build an Attractive Portfolio
A portfolio is an important aspect that helps in freelancing works. You need to attach an attractive and eye-catching portfolio to gather the client's attention. Make sure to build a resume with a flexible format and mention all the best services, job requirements, and projects you offer. Also, it needs to reflect all the necessary details such as your work experiences, qualities, past projects, skills, etc. Building a portfolio can make your work easier. You can simply add links to your projects in the portfolio and mention some relevant details about them. It is the best marketing device to take the lead in your field.
4. Use Social Media Platforms
Everyone scrolls their social media platforms in their daily lives. So, use these platforms to showcase your skills and offer your services. Update all your social media profiles with your skills, services, and projects to attract more clients through these platforms. Among all these platforms, LinkedIn is the most effective one for approaching clients. Recruiters give more priority to this platform to hire freelancers and full-time employees. Moreover, you can create your own YouTube channel to showcase your professional skills and tips to make yourself a brand. Also, offering your services at affordable prices on social media can help you to approach clients.
5. Generate Connections
If you want to deliver your services as a full-time freelancer, you need to build professional connections for promoting yourself. Use relevant networking sites such as LinkedIn and learn to generate connections for better reach. With the high competition, it often gets tough to attain freelance projects in the beginning. So, building connections can help. Share your articles, comment on appealing articles and posts, and engage more with them to promote. Also, you should try freelancing sites for connecting with more people to get new projects.
6. Holding Up Powerful Clients
Once you get a powerful and effective client do not let them go easily. The superlative way to hold your clients is to deliver an effective service and do not cross the deadlines. You need to put your valuable clients on top. Moreover, you have to respond to them professionally and notify the clients of all the updates. In case, you find that you won't be able to meet the deadlines, you must ping your clients, notify them and ask for an extension. Invoice your work records properly can help you to reduce conflicts during payments. Fewer conflicts will build more trustworthy relations.
7. Ask For Feedbacks
After offering your services to satisfied clients, ask for their feedback and recommendations. Approach them to recommend your works and services to their friends and colleagues for promoting yourself. Also, you can offer some discounts to these clients if they preferably recommend you and bring more clients. Moreover, these positive feedbacks and testimonies help you to expand and generate more income.
Starting as a freelancer in the web development field is not so easy. However, you can make yourself the best service provider by pushing in more effort. Apart from offering the best services and having more skills, always update yourself with the latest tools and technological advancements.
My Personal Notes
arrow_drop_up