What is SEO Page Title Tag?
Page Title tells the user and search engine about the type and the nature of the information available on your page. It also refers to the title tag displayed on the title bar of your browser window. It placed inside the head section under the meta tag in HTML. The title tag is also known as browser window which is most important in search engine result pages and the title is shown by Google as the title on search result page above URL and tag contain around 50-60 characters to show properly on google and it does not have same as on the page title.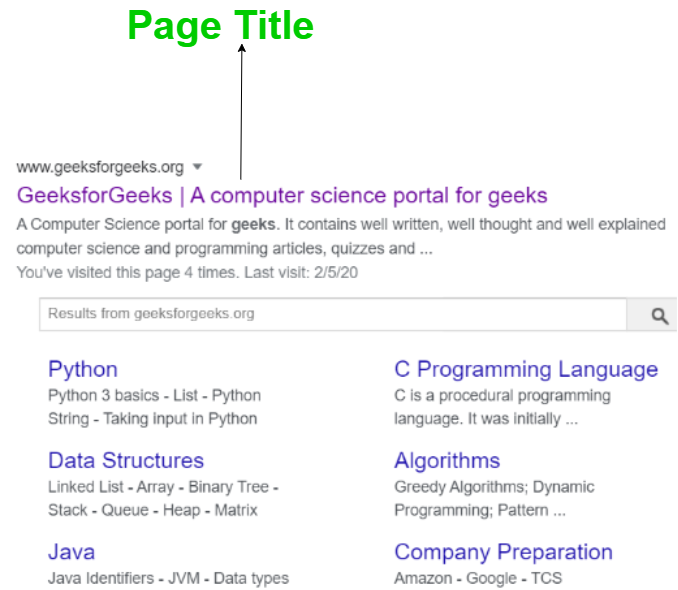 Rules for Writing and Optimizing Title Tag
1. Avoid Repetition of a Title Tag
Don't place the same title on multiple pages. Write a different title for different pages. if you write the same title for different pages you will get less traffic on your website and the user is not much interested and to make good SEO you must treat each web pages as unique one so you should avoid Duplicate title of any web page in your website so make it meaningful relevant to the web pages content.
2. List the Important Keyword
Place the targeted keyword at the start of your title and keep the least important word at the end. It is found that keywords nearer to Title have more impact on search ranking. Along with this, user experience research shows that the people may scan the first two words of a headline. That's why it is recommended that titles are the most unique aspect of the page. when you put closer title tag of a keyword it will give more impact on your website ranking
3. Keyword Placement
For targeted keyword and phrases use vertical lines and avoid the use of commas, dashes, underscores, and put your best keyword in the front of the title then order the keyword but you must make it relevant and meaningful to avoid the keyword stuffing to attract the more targeted audience for increasing organic traffic on your website.
4. Simple and Understandable:
Your keyword or phrases should simple and understandable and avoid the word such as but, then, etc.
5. Length of your Title
The length of the title contains a maximum of 60 characters. If the title is too long search engine replaced by an ellipse ("…."). Generally Google allow displaying 50 to 60 character in the title tag. Google recently changed its algorithm of calculating how long a title it displays.
6. Give a Unique Title for Every Page
Forgiving a unique title for every page it may attract more users and increases the traffic of your website and also drive higher click-through rates.
7. Brand Name
You can add the brand name at the starting or ending of the title.
8. Match Many Keywords
Use narrowing words best, useful, for beginners, advanced can make your title match more keywords, and even target more precisely. If you target beginners in any niche, just add "for beginners" after your title.
Importance of Title Tag: The title tag is an element that you set up on your page an on-page SEO element but it works best of your page. If set up correctly, the title tag is what people see in the SERPs when searching for a keyword. A good title tag put a great impact on click rate from search engine results and by clicking rate put also a huge impact on your website ranking So you must select relevant title tag which always attracts to the visitors. What are they searching for, what type of words make them click on your page.
My Personal Notes
arrow_drop_up