Tips for Making Side Projects
Have you heard the name of Facemash?
If not then let's come a bit closer and we request you to check the link History of Facebook. The most popular social networking site started from Harvard's room by Mark Zuckerberg with his college roommate and it was his own personal project/side project which is a huge success now. Udemy, Instagram, Khan Academy, Twitter, Groupon all are the examples of new ideas of side projects and the whole world is using it now.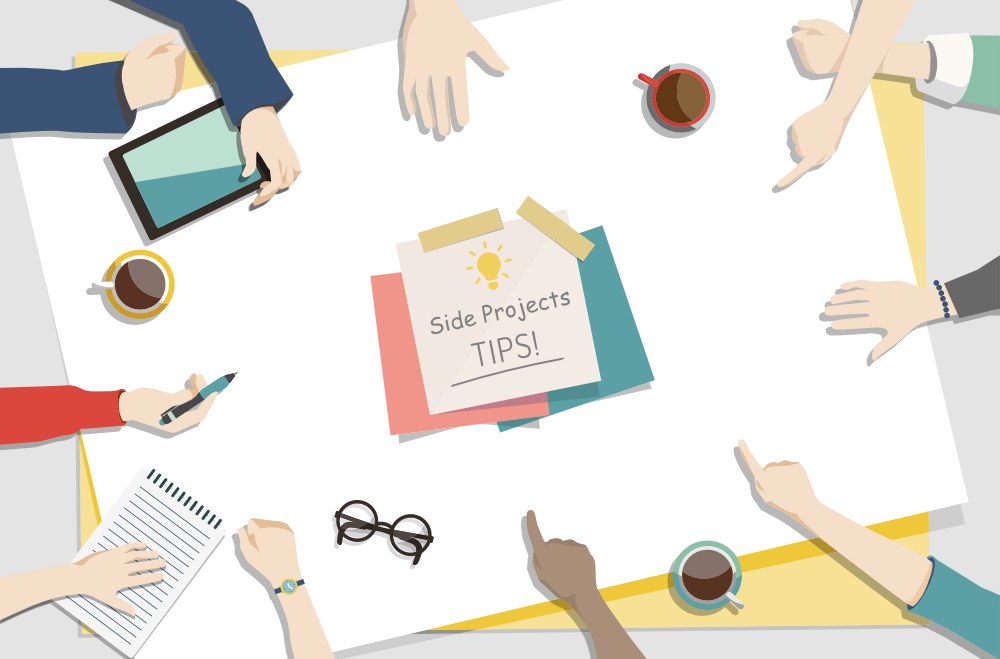 It doesn't matter if you are a newbie programmer or an experienced one, giving a kick start to a side project helps a lot in career. Whether you have the ambition to start your own business, get a new job or you want to give a shape to your new idea, side projects help in all the cases. You develop confidence as a programmer and who knows in the future it also become the definition of your success and make a big difference in your life. A lot of programmers start working on a side project but most of the time they don't finish it or they don't start it even if they have fresh and new ideas. Let's discuss some tips and tricks to turn your side project into a success.
Set a Goal and Decide Your Project: Before you start working on your side project you need to decide your end goal and also your expectations from your side projects. Few things you need to keep in mind when you decide your goal.
What do you want to learn from your project?
What do you want to achieve from your side project?
What should be the deadline that is comfortable for you?
How much time you need to spend every week or every day?
Keep track of your work every time once you are done. A newbie programmer can start a project that has been already created, it can be an e-commerce site, social networking site or anything which is interesting, not too hard, not too easy and once you are experienced and build up some confidence you can work on a complicated project or a fresh new idea. You can also pick up a project where you need to solve a problem people face in a day to day life because the world gives huge respect to those people who solve their problems. In your project, you need to decide where do you need to start, what should be the ending because in your side project you are your own boss, you are your own client, you are the one who needs to organize and plan everything or we can say you need to figure out everything by yourself.
Break it Into Small Chunks: When you start working on your side project think about your project clearly, plan and break it into small chunks then take small steps towards it. Dedicate some time towards your project each day and try to finish those chunks. For example, if you are making a web application then you can break it into its homepage, about us, services, blog, contact us and other pages that you want to include. Once you are done you can start with the frontend layout and then move to the backend. You can plan and organize everything as per your project requirement and goal, there is no specific order or step to take.
Take Action to Start Your Project and Be Consistent: Once you have decided the project you want to build and set up a deadline it's time to take action and start doing it regularly. Start doing it and don't stop until or unless you don't finish it. Regularly means you need to be consistent and not to quit in the middle, you don't have to be lazy and you don't have to procrastinate no matter whatever important thing comes in the middle of your project to break your plan or there is a new show to watch on Netflix. Make a schedule and stick on that even if it's just for 20-40 minutes a day. If you don't stick, you will eventually lose your focus and break your own plan.
You can taste measure success and truly enjoy it in your life if you are consistent throughout your work.
When you do something regularly and stick on that it becomes your habit. Once it becomes a habit you can find yourself moving towards finishing your project. It's really easy to start something but difficult to finish the same thing and most of the people quit their project after a few weeks or when they get stuck in the middle of the project. Beginners quit when they are unable to solve a problem or unable to find a bug but that is a test of your patience and no matter how much you hate it try to find all the resources or take help from others to solve the problems in your project after all you are a programmer and your real identity is you are a problem solver.
Don't Doubt Yourself: When you will start working on your project there might be some scenarios when you don't know how to build a specific module or how to find a solution for a bug. You will see yourself in a position building something new you haven't build before. It's completely fine if you don't know something or you do not have some skills to complete your project but do not limit the scope of your project. You don't have to be afraid, accept the challenge and learn the new stuff as you go. Always remember you need to learn new skills while working on a project not only to use skills that you already know.
Showcase and Share your Work: Your job is not done once you completed your project in your development environment. It's still in a folder of your laptop and you need to showcase it to the world. Put your work out somewhere even if it's not done perfectly. Let others know about your project, your process, your journey, your enthusiasm and your ideas associated with your project.
Share what you have built and what's your purpose to build that specific thing. If you want to start your business then figure out a way to make money from your project, if you want to get a job then showcase it to the recruiters, let them know what you have learned while building your project. Be a finisher whatever your end goal is behind your project. In the end, it doesn't matter if you see failure and no one tries to touch your application and have a look at it. If you feel like a failure after completing your project then start remembering about the engineers who put effort into introducing Google Plus, the important thing is you completed your project, you acquired a new skill and you gain experience from it.
Good Luck!!!
My Personal Notes
arrow_drop_up