Is Data Privacy Still Possible in the Age of Internet?
Is this really possible for all of us and the organizations to have a balance of privacy in the digital age!! Yes, the organizations can, and for that, they need to incorporate some legal protection policies for the data of their users. More likely, the personal data of those users are still demanding enforcement of such policies because, with that, hackers and other assaulters won't be troubling them anymore. Even the right to privacy for those users isn't violated and in this way, a bond of trust and engagement remains for a longer span with the organizations.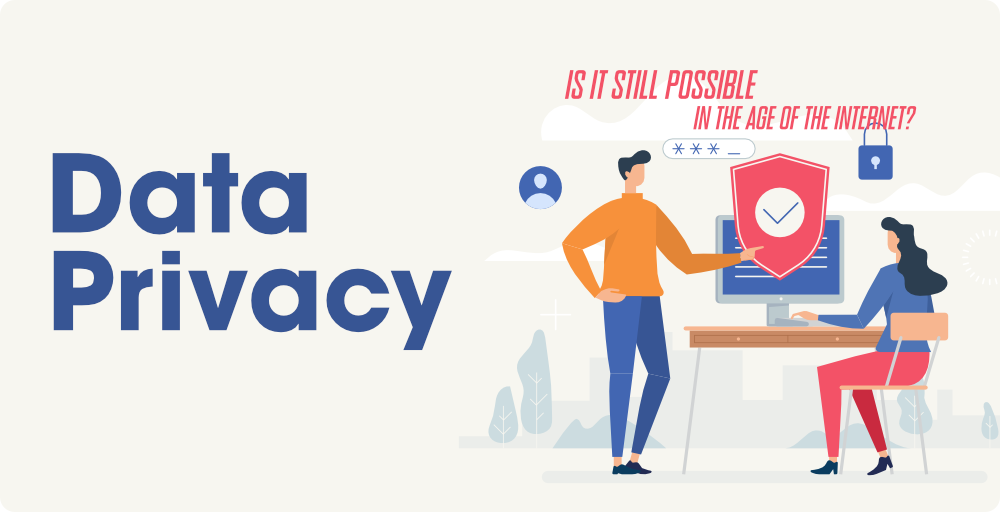 You might give a thought about data privacy in this pandemic era where everything is digitized. In simpler words, it is a bunch of processes for stopping the hackers, or other online criminals who are after your personal information which a server may store or storing online. On the internet, till 2021, approximately 1.2 million Tbs is the total sum of our personal information, and it will grow more in the future, no doubt!! Did we ever give a thought regarding its protection? If we keep on taking this lightly, then the days aren't far where digital privacy issues will invite more and more cyberattacks thereby leading to loss of reputation, theft of sensitive records, and no trust of the users too.
For highlighting the importance of data privacy in our lives, it would be better for all of us to have a look at the incidents of data breaches that have occurred in the current year. With that, the organizations will be more attentive and serious towards the vulnerable datasets still demanding the aid of privacy.
Dominos 'N' Air India Incident
Delivery of Pizza from Dominos and booking a flight ticket on Air India are something which we had done or have been doing in our daily routines. Then, this is possible that both those companies would be having your personal information like Name, Address, and other important details. Recently, an Israel-based cyber company has investigated that hackers are having data of more than 13 Tera-bytes of the customers connected with Dominos. When those hackers demanded approximately 4 Cr for returning this amount of data and no one accepted this offer, they uploaded all that data over the Internet. Such data consists of all those orders which customers placed from their end from the year 2015 to 2021. Over the dark web, this data is uploaded, and even you can see that. As soon as you type an email address and phone number over there, all those details like payment details, address info can easily be fetched.
Another important thing in this incident is that if they don't get the amount, they will also upload the details of 1 million credit cards in a month. However, the higher authorities are saying that no operational or financial loss was there in the incident. But what about the information of the customers which is compromised – this is going to entertain OTP Scams and in the end, financial losses. With Air India, the personal info of around 45 Lakh flyers like credit card details, addresses, etc has rudely awakened the businesses by going on the dark web. This data was from the year 2011 to 2021 and to prevent such data breach further, Air India has started resetting the passwords of their customers connected for so long. Further, the authorities of Air India are investigating the related abnormal activities which are compromising the ability of their servers in maintaining the security of information of those flyers.
LinkedIn Incident
While people of India were still digesting the leakage of their data already there at the servers of Facebook, LinkedIn has shocked all of those including us also with the leakage of information of its 500 million users. This info has been put on sale on a popular hacker forum where 2million records are already relying on as a proof-of-concept. You may wonder what type of data was leaked – it includes all social media links uploaded on the LinkedIn profile, email address, mobile number, and workplace information. All that information is auctioned on a 4-fig sum most probably in Bitcoin. On this, the authorities are saying that data aggregation in this incident hasn't harmed its users and there is no need of worrying about the security of the users connected with them during the tenure. But the problem which is still troubling the minds, "Is privacy dead in this internet-oriented age?" The reason for the same is that alleged information which was leaked during the incident holds some worth in the lives of the users connected for longer times with LinkedIn.
If renowned organizations like LinkedIn and Facebook are facing such breaches, will this be feasible for the users, believing a lot in the reputation and privacy of companies like Microsoft, TechMahindra, TCS, HCL, etc. to establish their bondage with those companies? In those instances, we need not step back and rather, fight for our right to privacy still valid in the digital age. With this attitude, organizations possibly prohibit hackers, or the assaulters from hacking the info of millions of users again through the databases compiling integrity, surveillance, security, and privacy. Here, those organizations must try the approaches affirmably entertaining strengthening of data privacy.
Approaches We Must know that Are Entertaining Data Privacy
After the discussions of the two latest incidents for data breaches, we must enlighten ourselves with the approaches or ways that can add value to data privacy. With those approaches, the organizations will maintain their postures while focusing on the privacy of the information of their users.
Categorizing the assets of inventories well.
Using tools managing well the environments of compliance and vulnerability.
Doing Regular Audits on Security Setups
Training and Educated Staffs Well About Ongoing Ransomware.
Update the Privacy Procedures so they sound effective.
Curatively creating backup files and restoring them.
Use of automation for reaching the unreachable updates.
Accessing the H/W Networks unreadable by the assaulters.
There could be more approaches that were missed but with the above ones, many of the privacy issues occurring digitally will surely be identified. Then, it depends upon the organizations whether to move them to trash or eradicate permanently from their roots. From starting till the end, this can be concluded that data privacy mustn't be ignored. If this is done, then it would be difficult to prevent the existence of personal data of the users actively showcasing their interests in the reputation and trust towards the organization. So, instead of thinking is privacy possible, what organizations need to do is engage much with the above approaches somewhere inviting customer-centricity and death of digital privacy issues. What we should be doing now is volunteering ourselves in the active participation of fighting against those issues giving rise to the unexpected killing of data privacy in this era of digitization.
My Personal Notes
arrow_drop_up