GRE General 2021 – Important Dates, Exam Pattern, Syllabus & Score
The Graduate Record Examination (GRE) is a renowned test that is conducted for the candidates seeking admission into postgraduate programs including MS, MBA, Ph.D., etc. in countries like United States, Germany, Canada, and many others. The GRE Test is administered by the Educational Testing Service (ETS) and the exam is conducted in more than 160 countries all over the world. The GRE General test majorly assesses you based on 3 skills: Verbal Reasoning, Quantitative Reasoning, and Analytical Writing Assessment.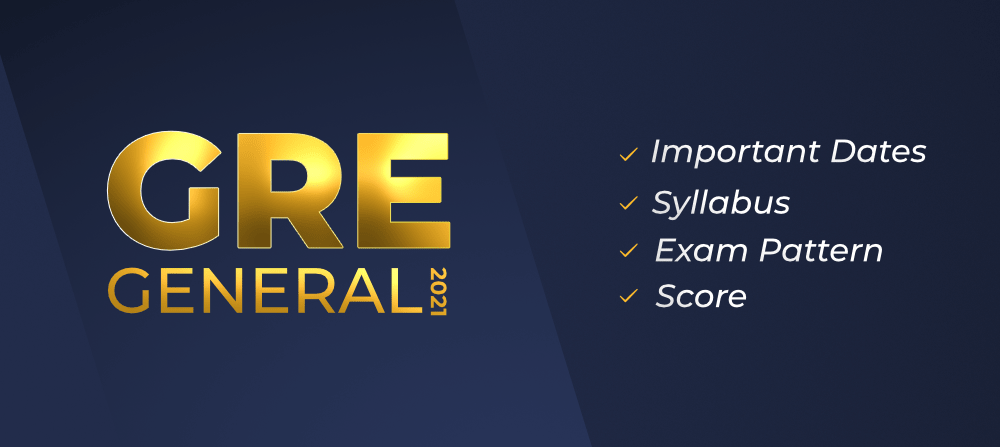 You need to know that GRE General Exam is conducted multiple times a month, and you simply can check the exam dates and seat availability from the ETS's official website. Also, you can attempt the GRE General Test multiple times, but you need to remember that up to a maximum of five tests can be attempted by an individual within a period of 12 months, and also, there should be a gap of at least 21 days between two tests.
Eligibility Criteria
There are not as such any strict criteria like age limit, specific educational qualifications, etc. to attempt this test and any candidate who is planning to go abroad for pursuing graduate and business programs can take this exam. However, as this exam is mainly for the candidates who are looking to pursue their masters from abroad they are expected to have successfully completed their UG program from a recognized university. Also, you need to remember that you should have a valid passport as proof of identity at the GRE test center.
Exam Pattern and Format
The GRE (General) exam primarily consists of 3 major sections – Verbal Reasoning, Quantitative Reasoning, and Analytical Writing Assessment. The exam is conducted in both modes: computer-based exam and paper-based exam. As GRE paper-based exam is usually held twice a year, the computer-based exam can be taken multiple times in a year. If we particularly talk about the computer-based exam which is often preferred more by the candidates, the test is conducted for a duration of around 3 hours 45 minutes.
Due to the COVID-19 pandemic, the ETS has decided to conduct GRE General Test at home (for those locations where the CBT test for GRE was previously available) for the convenience ​of candidates. According to ETS, the test pattern for the GRE home edition test will remain the same as the computer-based format, and it will be monitored online by live proctors using Artificial Intelligence technology.

So, let's take a look at the exam pattern of GRE computer-based exam:
| Section Name | No. Of Sections | Duration |
| --- | --- | --- |
| Analytical Writing | 1 Section with 2 Separate Tasks | 60 minutes |
| Verbal Reasoning | 2 Sections (40 questions) | 60 minutes |
| Quantitative Reasoning | 2 Sections (40 questions) | 70 minutes |
| Research | Varies | Varies |
| Unscored | Varies | Varies |
1. Verbal Reasoning: The verbal reasoning section has 2 sub-sections and each section consists of 20 questions that need to be solved within the defined duration of 30 minutes for each sub-section. This section usually includes around 4 Sentence Equivalence, 6 Text completion, and 10 Reading Comprehension Questions. And, the section is scored on a scale of 130-170.
2. Quantitative Reasoning: The quantitative reasoning section also has 2 sub-sections with each section containing 20 questions. A time limit of 35 minutes is allotted for each sub-section. This section mainly consists of questions based on basic arithmetic, algebra, geometry, and data analysis. The quantitative section test in GRE is scored on a scale of 130-170.
3. Analytical Writing Assessment: The Analytical Writing section mainly consists of 2 essay tasks where the first one is analyzing an issue and the second one is analyzing an argument. This section is graded on a scale of 0–6, in half-point increments.
Other sections like unscored and research are also there in the GRE Exam, but they don't actually affect your final GRE scores.
GRE General Test – Syllabus
The GRE General Test syllabus, based on the previous year examinations, is as follows:
1. Verbal Reasoning:
Fundamentals: Nouns, Pronouns, Adjectives, etc.
Verbs and Tenses
Idioms & Idiomatic Expressions
Modifiers and Parallelism
Subject-Verb Agreement
Pronoun Agreement
2. Quantitative Reasoning:
Ratio and Proportion | Profit and loss
Simple and Compound Interest | Percentage
Speed, Distance and Time
Linear equations | Quadratic equations
Statistics | Probability
Permutation & Combination
Sets Theory | Powers and Roots
Relations & Functions
Pipes and Cisterns | Time & Work
Lines and Angles | Number Properties
Triangles | Polygon |Quadrilateral | Circles
Coordinate Geometry | Order of Operations
Volume and Surface Area
Venn Diagrams | Interpretation of Data in Tables & Graphs
3. Analytical Writing:
This section basically assesses your ability that how well, clear, and effectively you can articulate your thoughts and ideas with relevant justifications, examples, etc. Hence, you need to prepare accordingly for this section.
How to Apply for the GRE Exam?
You can easily register yourself for the GRE Exam by following the below-mentioned steps:
1. First and foremost, you need to create an account on the ETS website. Then you will be required to provide the required details and complete your profile with valid and accurate information.
2. Then, you need to select the GRE Test Centre and Exam Date as per your preference and convenience.
3. Now, you'll be required to pay the application fee but before that, you will be asked to provide a few personal and academic details. Before paying the fee, you must check all the details as once the payment is made, you will be required to pay an additional amount for further changes. The registration fee for the GRE General Test in India is around $213.
4. After the payment is done, you're recommended to take a printout of the receipt for the future.
Note: Candidates can also register themselves for the GRE General Test via Phone, Mail, and Fax.
Results and Scores
Firstly, you need to know that the GRE score is valid for a period of 5 years from the exam day. You usually get your GRE General Test scores within 10-15 days after your exam, and it would be available on the official website. You can simply check your results or score by logging into your ETS GRE account. Subsequently, your GRE score will also be sent to the universities or colleges of your preference within 3-4 weeks of your exam date.
What is a Good GRE Score?: Make one thing clear in your mind, that GRE does not have a defined qualifying score. Hence, a good GRE score is that score that can get you admission to your targeted university without any hassle. Ideally, a 320+ score in the GRE General Test can land you up admission in some renowned and high-ranking universities but along with this score, you should have a descent CGPA, projects, internships, etc. in your profile.
How to Prepare for the GRE General 2021?
When it comes to exam preparation especially for such kinds of competitive entrance tests like GRE, you're required to have a solid preparation plan and quality learning resources to crack it. Keeping this in mind, GeeksforGeeks brings you the GRE – General Test Series 2021 that covers the complete syllabus for GRE Exam at a single place to boost your preparation for GRE 2021. This online test series is extensively designed considering the latest pattern and syllabus of GRE and ensures to resemble the standard of GRE.
The course consists of Practice Tracks, Mock Tests, Important Articles on GRE 2021, etc. Also, the Question Papers in this GRE Test Series are designed by experts as per the revised syllabus of GRE 2021, and you will be provided with detailed explanations as well for the complex questions after the test completion. It will surely help you in clearing the doubts and improving your problem-solving skills.

And yes, this GRE – General Test Series 2021 is being provided to you at a discounted price of INR 999/- INR 499/-
So, what are you waiting for now? You are just a click away to level up your GRE 2021 preparation game – register now for the GRE – General Test Series 2021 asap!!
My Personal Notes
arrow_drop_up