Change Font Color in Microsoft Word
MS Word or Microsoft Word is a graphical word processing program by Microsoft. It is used to make documents of various types and because of the vast features and tools provided by MS-word, it is very much user-friendly and easy to work with. MS Word is a well-liked word processing software particularly used for creating documents such as Resumes, Writing reports, Letters, Assignments, brochures, Question papers, publishing PDFs, etc. It was released in 1993, and it is considered to be one of the Microsoft Office Suite's Applications because of the powerful feature of integration with other Microsoft programs. MS Word is popular among the market because of its wide variety of features like Adding Visual Effects to your text, Turning your text data into graphs, Adding visual impact to your document.
Changing Text Color
This is one of its features provided by the word to its user. It can be used to give a different look to your document or project which you are making. For example like you are making a project in MS-Word and want the Title of it to be a colored text, then this feature will do the same. Also, it can change the color of any specific text to highlight or the whole text as per your requirement. Below we will see with the help of images and instruction and learn this easy way to change text color in MS-Word.
Steps to Change Text Color
Step 1: Open the document or create a new one in which you want to change the color of the text
Step 2: Now, go to the Home tab as shown below

Step 3: Now, select a text or paragraph of which the color is to be changed.
Step 4: Go to the font section in the home tab (marked in the image below.)

Step 5: Click on the font color button (marked in the image below.)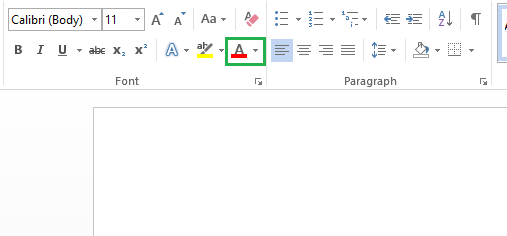 Step 6: Choose the color from the options provided in the menu.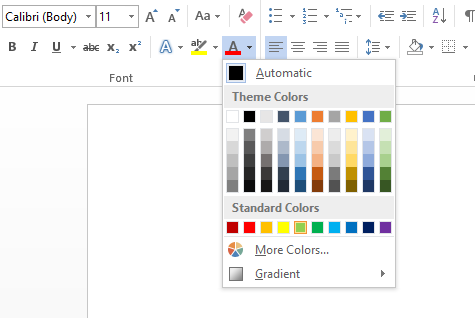 Step 7: Here, the color of the text change from black to green.
This way you can change the color of any text which is required, or you wish to change.
Attention reader! All those who say programming isn't for kids, just haven't met the right mentors yet. Join the Demo Class for First Step to Coding Course, specifically designed for students of class 8 to 12.

The students will get to learn more about the world of programming in these free classes which will definitely help them in making a wise career choice in the future.
My Personal Notes
arrow_drop_up