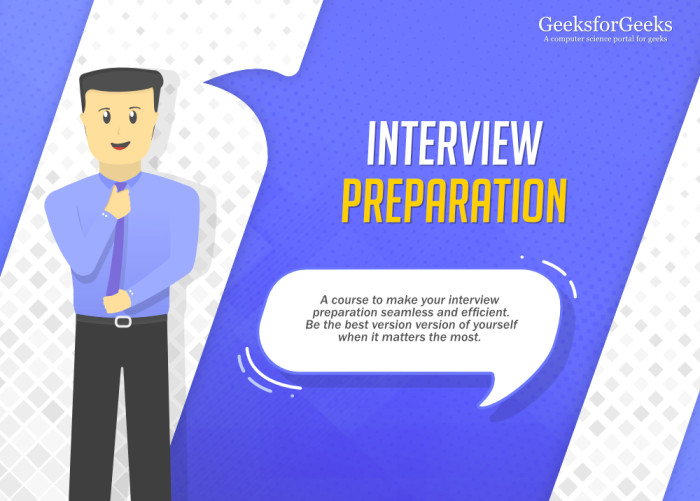 In Software Engineering roles there are mainly two domain of people preparing for interviews:
Freshers
Working Professionals
GeeksforGeeks brings a completely free Interview Preparation Course designed for both working professionals as well as students to prepare for coding interviews.
Let's try to figure out the problems each of these two groups face when it comes to interview preparation:
Freshers or Students: In general, freshers lacks the experience of attending interviews. They are not well aware of the interview pattern and process.
Working Professionals: They have prior experience of attending interviews. What they don't have is enough time to plan things up, to figure out a perfect set of questions to practice, to research about the recent changes in the interview process and many other things which are a crucial part of the interview process.
In other words, when we compare these two groups of people who are preparing for interviews, anyone can say that the people falling in the second category(Working Professionals) have comparatively very less time to prepare than Freshers as they are already in some jobs with fixed timings.
How does this course solve the above problems?
This course reduces the heavy load of planning and gathering resources from your shoulders by covering all important things as listed below:
Preparation Guideline: This course is designed to cover every single detail starting from the initial process of preparing resume to covering the most asked questions in the interviews.
Practice Tracks: We have prepared a complete track of previously asked interview questions and newly framed questions based on various important DS and Algo concepts. One of the key features of the tracks is you can go to next track (if any), when you score passing marks in current track.
Mock Test: This course will have a series of Mock Placement Tests simulating the real interview environment which will help you analyze yourself and prepare at the last minute before attending the actual interviews.

3 Programming question
Questions of varying difficulty
This course is completely free and commence from 15th December 2018. Register yourself at GeeksforGeeks Courses | Interview Preparation Course.
Important details about the Course:
Course Duration: This course is conditional and there is no fix duration of the course. You can go to next track anytime, when you score passing marks in current track.
Course Venue: Anywhere around the globe where you can get to manage a computer and a working internet connection. The complete course will be conducted online at GeeksforGeeks – Courses.
Course Fees: This course is completely free of cost. There are no hidden charges.
Attention reader! Don't stop learning now. Get hold of all the important DSA concepts with the DSA Self Paced Course at a student-friendly price and become industry ready.
My Personal Notes
arrow_drop_up
---
---
If you like GeeksforGeeks and would like to contribute, you can also write an article using contribute.geeksforgeeks.org or mail your article to contribute@geeksforgeeks.org. See your article appearing on the GeeksforGeeks main page and help other Geeks.
Please Improve this article if you find anything incorrect by clicking on the "Improve Article" button below.