7 Key Tips to Crack the GATE Exam in First Attempt
Graduate Aptitude Test in Engineering (GATE) is one of the most competitive and toughest exams across the nation. Every year nearly 10 lakh students appear for this particular exam and among those, only 16-18% qualify – these stats would help you to get an actual idea of the level of GATE exam. Though to go for such a huge competition and appear for this exam is surely worthwhile as it offers you a direct gateway for PG admissions in the country's top colleges and entry-level positions in Indian PSUs.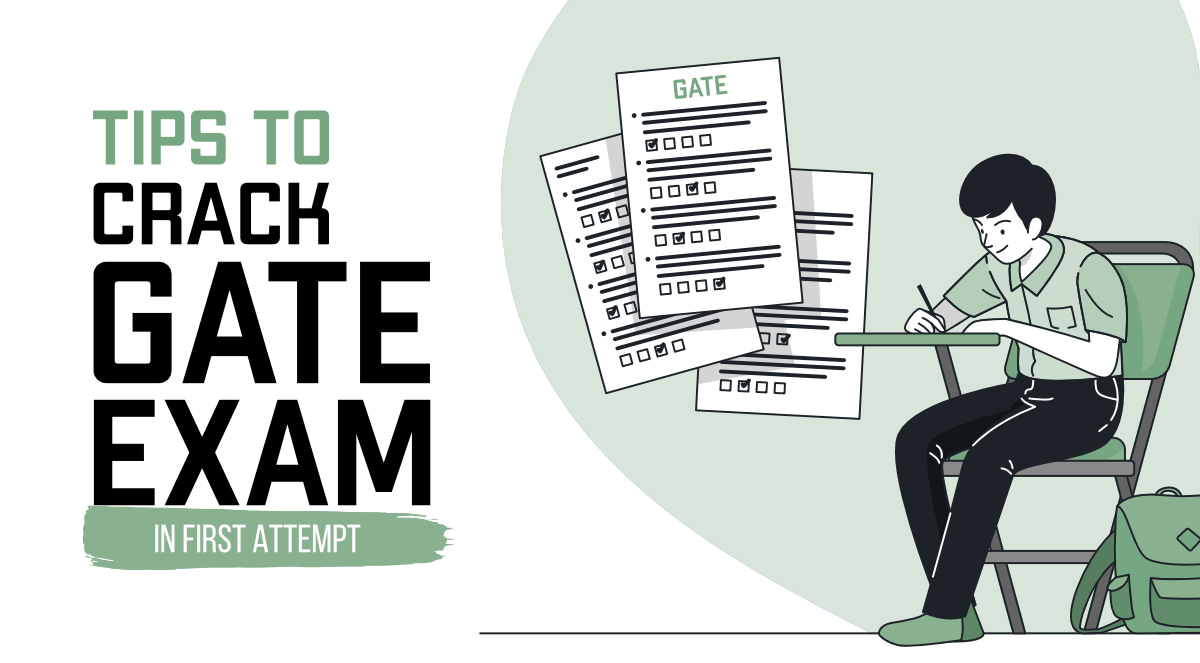 And you also need to know that it is indeed achievable to crack the GATE exam with a BETTER SCORE, even in your FIRST ATTEMPT – all you have to do is follow the right strategies consistently. There are many mistakes that are often committed by the GATE aspirants, in particular by those who are appearing for the exam first time such as procrastinating the preparation for the last few days, not following the right strategies and approaches, etc. But what they don't know is this little carelessness can cost them the precious one attempt of the GATE exam.
Now you must be thinking, who will tell you about these preparation strategies and approaches to crack the GATE exam, right?
Don't worry about that, GeeksforGeeks is here!!
Here, in this article, we'll let you know about several most-productive preparation tips in a detailed manner along with several worthwhile additional tips that can surely help you to qualify for the GATE exam in your first attempt. Now, without wasting much time, let's get started:
1. Get a Clear Understanding of GATE Exam Pattern & Syllabus
Now many of you'll say – What's new in this?
To be honest, Nothing! Still, many times it has been observed that the majority of the students start their preparation without having an in-depth understanding of the GATE exam and getting familiar with exam pattern & syllabus. GATE aspirant should always know priorly all these crucial details – time duration, no. of questions asked in the exam, marking scheme, difficulty level, etc. Also, the GATE CSE syllabus includes many subjects and topics such as Mathematics, Data Structures & Algorithms, Operating Systems, Digital Logic, Compiler Design, and several others. You're required to identify the weightage for each subject so that it'll be easier for you to create a preparation plan accordingly (we'll discuss it in further steps). The best strategy for this is to go through the previous year question papers and analyze them. You can also discuss the same with your mentors and can read the official GATE exam notification thoroughly.
2. Do Your Self-Assessment and Evaluation
One of the most under-rated aspects during GATE preparation! The self-assessment is very much necessary as it allows you to identify your present level in accordance with the GATE exam and you get to know about your strong & weak areas as well. For instance, you may be good in Data Structures & Algorithm but you generally struggle with Computer Networks. Hence, once you'll find out all these aspects you can conveniently build on your strengths and weaknesses to score better in the exam. It'll also help you while creating a timetable as you can allot more time to your weak subjects for getting better in it and can give an adequate amount of time to strong subjects as well to become more proficient.
3. Pick Out the Right Study Resources and Prepare a Study Plan
You must know how important healthy food is for a healthy body and mind, right?
This applies here also when you're preparing for the GATE exam or any other competitive exam as well. You need to pick out the worthwhile study material and preparation resources for effective learning that'll eventually bring you up a better score in the GATE exam. You all are recommended to allot some separate time, before actually starting your preparation, only for this process of selecting the right study material whether it be books, online courses, offline coaching, YouTube lectures, or any other.
Furthermore, you need to prepare a well-focused study plan for your GATE exam preparation. It helps you to stay focused on your goal and to keep things organized. Though there is no need to follow someone other's study plan or schedule, you can make it on your own as per your convenience – all you have to ensure is that the created plan will allow you to cover the complete syllabus along with the revision process conveniently and efficiently.
4. Complete the Syllabus with Smart Study Approach
What is this Smart Study Approach…?? Okay, let's understand – suppose there are two students, A and B, preparing for the GATE exam. A starts his preparation directly without prioritizing the subjects or topics based on parameters like weightage, difficulty level, etc. Also, he doesn't set daily and weekly targets and doesn't monitor his progress. On the other hand, B prioritizes the subjects according to their weightage and focuses more on high-weightage subjects. Also, he creates a proper to-do list and set various short-term and long-term targets. Now, it can be clearly assumed that B is more likely to prepare well in comparison with A due to the Smart Study Approach followed by B.
Also, in particular with the GATE exam, you need to divide the entire syllabus in such a way that there will be no chance to miss out on any high weightage or important topic. Also, the easy to score subjects should be covered appropriately to score well in the GATE Examination.
5. Do Revise the Entire Syllabus Effectively and Efficiently
The importance of REVISION is SUPREME! In fact, after having a discussion with numerous GATE toppers and other candidates who appeared in the exam, we've found that it is the thing that impacts a lot in your final performance in the GATE examination. You all are recommended to revise all the topics at least 2 times to score well in the exam. Also, what most of the students do is they left the revision process for the last few days or week that is actually an inappropriate revision practice – you're required to revise regularly to get some positive outcomes.
One of the best strategies for revision is to prepare short notes or use flashcards while going through the concept for the first time and then use these during revision to recall all those concepts in a shorter time.
6. Solve Previous Years' GATE Papers and Attempt Mock Tests
How can you consider yourself well-prepared for the exam, until and unless you test your knowledge? Indeed, mock tests are the best way to do the same. Also, it helps you to familiarize yourself with the actual GATE environment scenario such as time limit, type of questions, etc. that boost your confidence. It has been observed that practicing previous years' papers and appearing for the mock test help the candidates to increase their score with a good margin in the actual GATE exam. Though you can start solving the mock tests anytime during your preparation, you're recommended to dedicate at least 1 month before the GATE exam for it.
Also, only giving the mock test is not sufficient, you need to analyze them also to find out your mistakes, your weak & strong areas, etc. so that you can work on them accordingly.
7. Read/Watch Out the Topper's Interview
If you're thinking of which way can be reading or watching out topper's interview help you then you need to know that you can get some really useful insights from there. For instance, there can be some silly mistakes that they've committed during their GATE exam and after going through their exam experience interview – you can get aware of all those mistakes and avoid them during your exam. Also, you can get to some remarkable preparation tips or strategies that can really help you a lot to do well in the GATE exam. Though you need to remember some points during this process – firstly, don't spend too much time on this as it won't be a worthwhile step for you. Also, don't try to compare yourself with others – each one has its own abilities and strengths.
Also, there is usually exists a major concern among all the GATE aspirants that what mode they should opt for GATE preparation – Online or Offline. So, you need to understand that both the options are worthwhile and are having some advantages & disadvantages of their own. And you can choose any one of them based on your requirements and preferences. Several additional quick tips to crack the GATE exam are listed below:
Start early and don't rely on last-minute preparations.
Prepare your own notes.
Familiarize yourself with the GATE Virtual Calculator.
Work on speed and efficiency as per the GATE exam format.
Keep your mind calm & healthy.
Pretty much sure that the above GATE preparation tips will help you to ace the GATE examination. And if you will follow the right approaches with dedication and maintain consistency while preparing for the exam, then no one can stop you to get success. At the end, just be positive and confident while going out for the exam!!!
My Personal Notes
arrow_drop_up