Online vs Offline – Which One is Better for GATE Preparation?
Life is a matter of choices and every choice you make makes you.
This is especially true for the GATE exam where around 10 lakh students appear annually and only around 16-18% qualify. In such a scenario, you have to actively make a choice every day to focus on studying rather than wasting your time using social media. You have to choose to neglect parties, trips, etc., and focus on learning more and more every day. Basically, you choose to work very hard for some time so that you can reap the benefits later!!!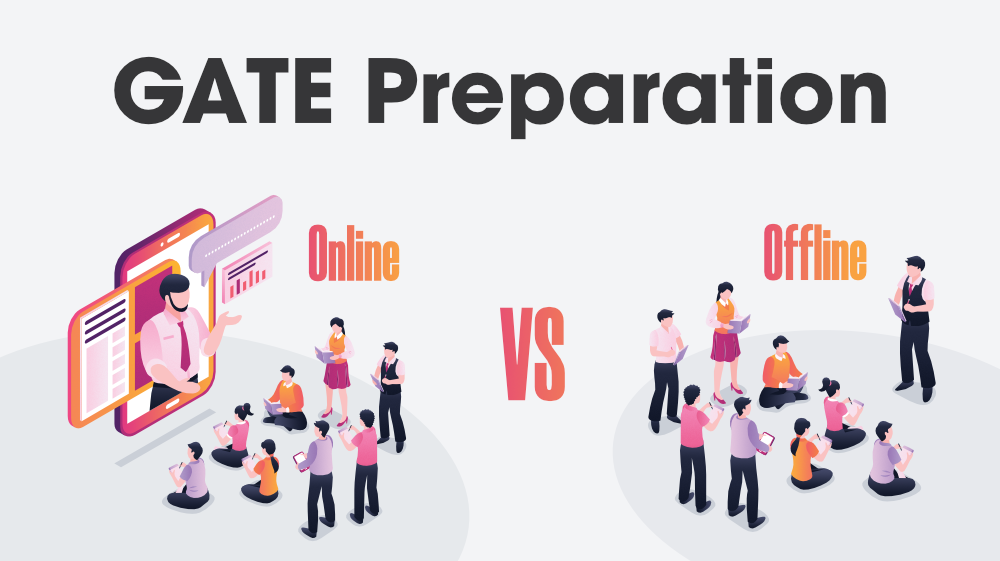 Another important choice you have to make is whether to join offline or online coaching for GATE Preparation in case you require any. This choice can be quite complicated to make as there are many options these days which can range from the conventional offline coaching classes to the recently emerging online GATE preparation courses. This new complexity is the reason this article deals with "Offline vs Online: Which is better for GATE Preparation?" so that you can make an informed choice.
Some Factors to Consider
There are many factors that may lead to a particular choice in favor of offline coaching or online coaching. First, let's understand these:
1. Do you have enough discipline?
It is very important to be disciplined while preparing for the GATE exam. And this is easier said than done!!! You need to have a strict study schedule and that's not enough, you need to stick to it as well! This is a little easier if you opt for offline coaching as a fixed class schedule will create some measure of consistency in your preparation. On the other hand, if you go for online coaching, it is up to you to stick to a preparation schedule religiously (In spite of all the distractions). But ultimately you have to exercise discipline for self-studying, even if you opt for offline coaching, otherwise, your GATE preparations attempts are doomed!!!
2. How much money are you willing to spend?
Your choices for offline or online GATE coaching depends a lot on how much money you can spend. In case you are insanely rich, this point is not important but for all you middle-class candidates, it is necessary to consider the affordability of various coaching classes. In general, offline coaching classes can be quite expensive with the more famous ones charging insane amounts! This is worth it only if you are able to secure a spot in the top batches with the best faculty. Otherwise, it is better to opt for the best online coaching available in the market as it is much cheaper comparatively.
3. Are you fine with commuting long distances?
You will most probably have to commute long distances if you opt for offline coaching. And this is only if there are even any good offline coaching centers in your city!!! This back and forth traveling can be quite disruptive when you are preparing for a heavy-duty exam like GATE. But this problem doesn't arise with online coaching as you can comfortably prepare within the confines of your home. So it really depends on you. If there is a good offline coaching center near your home, then go for it. Otherwise, opting for the flexibility of online coaching is the better choice.
4. Do you prefer a guided study or self-paced study?
Everybody has a different method of studying as per their convenience. If you prefer studying in a guided & classroom-based environment then you should go for offline coaching. This will make sure that you are at least concentrating on your studies while in class and also provide you with a strict schedule to follow. However, if you think you prefer self-paced studying and also have the discipline required for it, then, by all means, go for online coaching. This will provide you the freedom to study at your convenience and structure your schedule as you want it.
5. Can you manage without in-person doubt clarification?
You'll obviously have doubts while preparing for the GATE exam but the important question is how do you want to clarify them? In offline coaching, you can directly clarify your doubts by asking your instructors and you will get instant responses. However, the validity of these responses depends on the knowledge of your instructor so make sure that guy is brilliant!!! But the situation is different for online coaching as you'll have to post your doubts online and it may take some time to get the required response. But if you post your doubts on a public portal then you may get lots of responses from other candidates that may also broaden your understanding of the topic.
So what coaching should you opt for?
There is no correct answer to this question. Rather, the answer that you choose is the correct answer for you!!! You should explore all the options for both offline and online coaching available to you and make the choice that suits you best according to your study habits, current knowledge level, financial situation, etc.
What are some options available?
For those of you who're looking forward to going online for the GATE exam preparation, GeeksforGeeks has launched a new course to make it much easier for you.
This course, named Sudo GATE 2021 is completely FREE and is designed considering the pattern of previous year GATE papers. It contains tracks that cover important questions from previous GATE CS exams and also contests that contain fresh questions. Sudo GATE 2021 also contains 2 Test Series covering the whole syllabus of GATE, including Mathematics and Aptitude. Also, there will be 11 subjective Tracks, 11 Subjective Contests, and 3 full-length Contests.
The course includes:
Important Articles, Blogs, and Notes from GeeksforGeeks
Important Articles, Blogs, and Notes from Online Various Sources
Subjective Tracks, which will contain Important Questions based on Regularly Covered & Maximum Weightage Topics
Subjective Contests, which will contain fresh Questions according to the latest GATE pattern
Full-Length Mock Test, which will cover the syllabus of GATE CS and weightage as per GATE previous question paper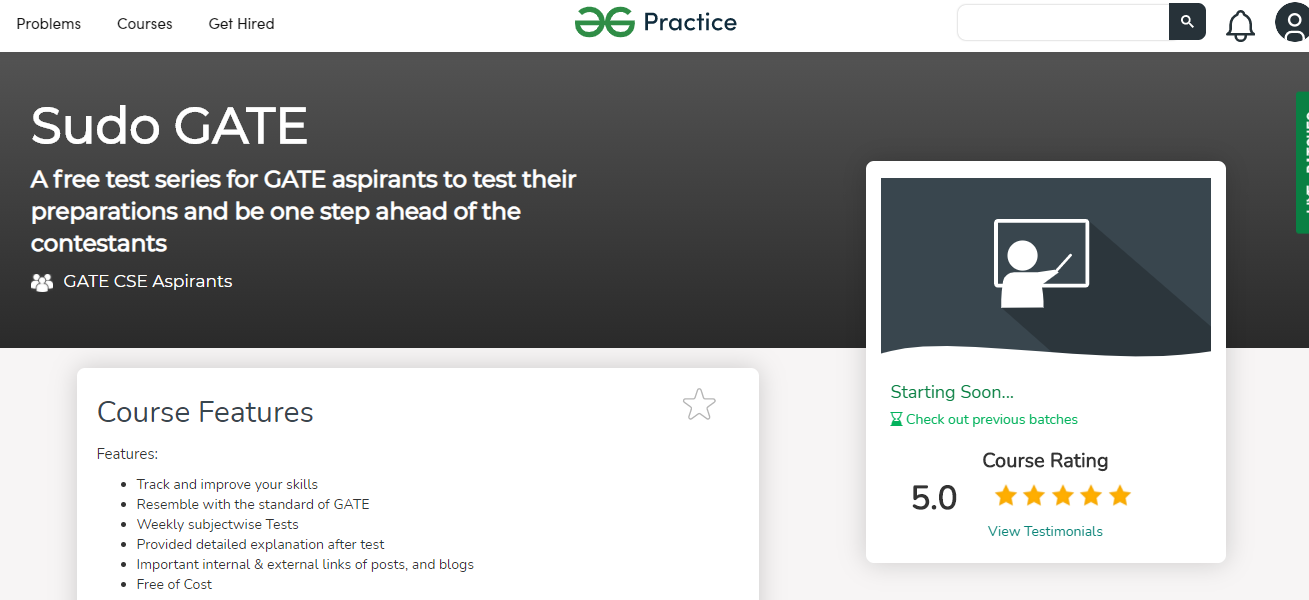 You are just a click away to begin your GATE preparation!!! Register now for the Sudo GATE 2021 course by clicking on the button below.
My Personal Notes
arrow_drop_up