7 Best Blog Niche Ideas To Make Money In 2021
How to Make Money Online? – Doesn't matter if you're a student or a working professional, you definitely would have typed this query on Google at least once in a whole.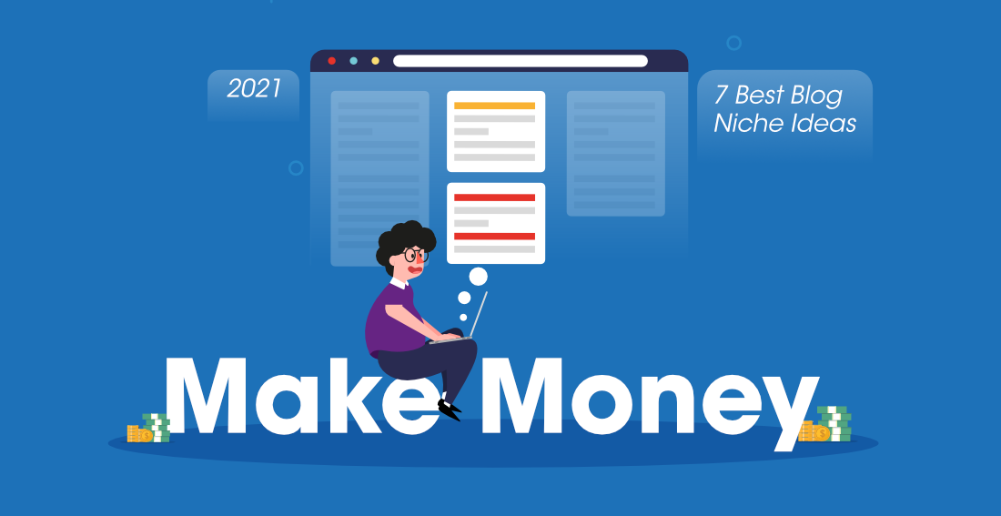 Furthermore, when you search this query on Google, the search results are shown to you – and subsequently, you click one of those links to know about the online money-making strategies. Now, a web page gets opened that consists of various ways to make online money in a detailed and organized manner.
But wait…now you don't require going through the entire content as you have already got your answer!
How…??
The solution for your query is that web page or you can say BLOG itself! Yes, blogging is indeed the most-effective and proven way to make a real income on the internet. And not only from monetary perspectives, but this particular area of work also leverages you with some remarkable advantages such as you can work from anywhere, no requirements of huge setup or infrastructure, share your knowledge with anyone across the world, and many others. Moreover, as the number of internet users is increasing – the opportunities in the blogging domain are also increasing significantly. All you need to do is choose a relevant blogging niche for yourself and start writing.
Before moving further, let's first discuss – What is a Blogging Niche? A blog niche is a particular domain or topic that you are targeting for writing content on your blog. It is the most crucial factor that defines the further journey of the blog. Though, it seems easier – to find a worthwhile blog niche is quite a challenging job. You need to come up with a niche that is popular as well as profitable by considering various aspects such as your area of interest, competition level, target audience, etc. Also, you need to stay updated with the market trends and know that what people are searching for. For instance – there may be a case where you found a blogging niche that was very much popular 8-10 years ago but now it is witnessing very low traffic.
However, to make things easier for you – here in this article, we've compiled a list of the most profitable and in-demand blog niches for the year 2021 that you can consider starting your blogging journey:
1. Tutorials and Learning Resources
In the year 2021, from a high school kid to a working professional – everyone is relying on online platforms to fulfill their learning goals. Keeping this in mind, you can opt to start a blog around a particular subject in which you are proficient and feel confident to teach others. It can be anything, for example – if you're really good at Computer Networks – you can create a blog solely dedicated to it and can provide various tutorials and courses on your blog. Though what you have to keep in mind before proceeding with this niche is that first identify your target audience as the content prepared for beginners or students will be different from the one prepared for the experienced ones on the same topic. Also, when it comes to monetary benefits – apart from the advertisement method, you can also make a real income from an e-learning blog by providing premium content or courses, eBooks, etc. However, you're strongly advised to not compromise with the QUALITY factor in this niche particularly.
2. Personal Finance and Investment
Undoubtedly, in recent times, it has been observed that people are getting more aware and concerned about financial management and investing process. Everyone wants to save and grow their money! Hence, if you're quite good at finance, stock market, investments, and other related areas – you can create a blog where you will be providing financial guidance and investment strategies to the people. It is indeed one of the most profitable blogging niches in 2021. Moreover, according to your interest and domain knowledge – you can narrow down this niche and your audience as well. For example – you can start a blog around personal finance only for students or can come up with various investment and savings schemes for working professionals. The only thing that you need to keep in mind while opting for this niche for your blog is that do not provide any false information or content in your blog as it will not only make you lose your audience but may also lead to loss of money to the people who are following your blog.
3. Career Advice
If you've ever searched on Google like, 'How to get placed in Product-based Companies?' or 'How to get admission in top business school in India?' – then let us tell you, you're also a part of the huge audience of this niche i.e., Career Advice. In such a highly competitive era, people are always looking for some effective and worthwhile career advice over the web. Hence, you can start a blog around it where you'll be guiding people as per your knowledge and interest that can help them to achieve their career goals. You can choose any particular sub-niche, for instance – if you're working as an SDE in an IT company, you can guide the students for the same or if you've ever cracked any competitive exam like GATE, CAT, etc. – you can provide the roadmap to the students also for cracking such exams. Though, try to go with only that sub-niche in which you've already achieved success or having a strong knowledge of the domain to get some positive results. In addition, you can also provide in-person career counseling sessions to your audience to expand things.
4. Technology and Gadgets
No one can deny that technology is evolving at such a fast pace and subsequently this blogging niche is also growing rapidly over the web. People want to stay updated with all these latest technologies & gadgets – and you can fulfill this particular requirement by providing them with all the latest updates and information about the new technologies and gadgets through your blog. If you're tech-savvy, you can opt to create a technology blog where you can educate your audience on the latest technologies and gadgets that are already available or going to release in the market. You can narrow down this niche also such as you can prefer to cover only smartphones or software & apps or any other area. And the best thing about this niche is that you can get various affiliate marketing opportunities to increase your revenue. For instance, if there is a new device or gadget launched by a company and you found it worthwhile and promising then you can contact the product owner and market it on your blog to benefit your audience and of course, to generate some extra income. Isn't it a win-win situation for both?
5. Health and Fitness
In particular, after the advent of the global pandemic in 2020, people have become more self-aware and conscious regarding their health and fitness aspects. And the number of people searching for related queries such as yoga tips, healthy diet, home exercises, etc. over the web is increasing exponentially. Hence, if you're genuinely interested and having some knowledge of health and wellness – you can grab this opportunity and create a blog around it. Though, you don't need to be an expert or a professional trainer or an all-rounder- all you need to do is find a relevant sub-niche whether it be such as regarding Nutrition, Meditation, Mental health, Physical Exercises or any other in which you feel confident and start to provide the content around it to your targeted audience. However, if you're having any professional experience or achievements in this domain, it will surely add credibility to your blog. You can monetize the health and fitness-related blog through advertising or you can say Google Ads, providing premium content on monthly subscriptions, selling diet plans, etc.
6. Gaming
The online gaming industry is expanding so fast and you would probably be able to determine this from the data by various standard reports that there are more than 300 million online gamers available only in India. Hence, Gaming will surely be a profitable blogging niche considering the rising demand and popularity of this particular domain. As the Gaming niche is very vast in itself, you can opt to create a specific sub-niche as per your choice like tutorials for a particular category of games, walkthroughs & tips, new launches, game streamings, and many more. However, while creating a gaming blog, you need to consider several crucial points such as the blog theme should be unique, creative & engaging, playful writing style, etc. as a majority of your audience will be youngsters, and they usually don't prefer to go through any unappealing or lifeless content. When it comes to monetizing your gaming blog, you can collaborate with various gaming studios and promote them on your blog. You can also join affiliate programs and sell various gaming gadgets or products through your blog.
7. Review and Comparison
One of the most interesting and profitable blog niche – Review and Comparison. In today's digitally-advanced world, people now have the tendency to explore the web before making a decision or choice whether it be buying a new mobile phone, finding out a vacation spot, picking out a movie to watch, or any other happening. Keeping this in mind, you can consider starting a blog around reviewing and comparing things. Though Review and Comparison is quite an extensive niche in itself and even some of the above-mentioned blog niches can fall under it, for instance – you can only opt for reviewing various technologies and gadgets available in the market. Hence, you need to pick out a sub-niche as per your interest and convenience. For example – if you're a movie maniac, you can review movies on your blog or if you're an avid reader, you can give it a try to review and compare various books, etc. However, whichever sub-niche you'll choose, you're strongly advised to only write honest and genuine reviews to maintain the credibility and authenticity of your blog.
So, these are some of the best blogging niches that can help you to mark your presence in the blogging world and are capable to generate a handsome amount of money as well. There are several other profitable niches as well that you can consider as per your interest such as Personal Development, Travel, Business & Marketing, etc. However, despite choosing any niche, there's one thing that you need to remember – Blogging requires utmost patience and consistency from your side. You can't expect to get the results within a few days or weeks but if you'll put the efforts in the right direction, you will surely get success!
My Personal Notes
arrow_drop_up